2017 has been quite a year, and we've seen our fair share of excitement here at Appointedd HQ. As is customary at this time of year, we're looking back and reflecting on some of our best bits. Cue emotional X Factor montage music.
New partners
As always, we were excited to join up with fellow forward-thinkers to bring advanced technological solutions to businesses all over the world. We kicked off the year by announcing our partnership with AEVI.
Online booking firm Appointedd secures global partnership – BBC News https://t.co/duLngWPuq6 #fintech #startup pic.twitter.com/SBCu5TaRwA

— Appointedd (@appointedd) 27 January 2017
We were also happy to work with new partners AppInstitute to plug seamless online booking into mobile apps for small businesses.
UK Tech Firms Partner Up to Help Businesses Build Powerful Mobile Apps @appointedd @AppInstitute https://t.co/DLuWDsaA76 pic.twitter.com/ZRW3LZsCop

— Spreng Thomson (@SprengThomson) 18 May 2017
New customers
Of course, we also welcomed a whole host of new happy customers into the Appointedd community, and had the pleasure of chatting to many of them for our case studies.
Among other things, we entered the wonderful world of weddings by teaming up with Fuze Ceremonies to establish the very first celebrant service bookable online in the UK, as well as providing online booking tools to the world's first wedding department store the Wedding Gallery. Here's to many happy impending marriages booked through Appointedd!
Entrepreneurs join forces to launch booking service @appointedd @FuzeCeremonies https://t.co/ph2NiU0hh6 pic.twitter.com/2D1irWDYIN

— Scotsman Business (@scot_business) 12 September 2017
New features
It's been a bumper year for updates to the Appointedd online booking and scheduling software, and the development team has been hard at work on some of the most anticipated new features. There are far too many to list here, but a few of our favourites include user permissions, optional payments, agenda view, multi-organisation accounts, booking statuses, and of course our API. On top of that, our microsites have had a makeover, we have a shiny new booking dialogue, and the setup wizard has been revamped and is now cleaner and quicker too.
The best way to explore all our fantastic features, new and existing, is to start a free trial and try them out for yourself. Because our system is evergreen, you'll always have access to the latest updates as soon as they're released.
New payment method
Appointedd was thrilled to be chosen to be one of the first businesses in the UK to offer its customers the fantastic payment processing power of Braintree. Through this shiny new integration, customers will be able to benefit from the technology and support of Braintree coupled with the scale, backing, and confidence of partnering with a PayPal service. #winning
Press coverage
Appointedd has seen a lot of press coverage this year. Back in October, we were included in Wired's best startups in Edinburgh.
You can find Appointedd in this roundup of the best startups in Edinburgh ?https://t.co/QIGuR2M2pg #edinburgh #startup

— Appointedd (@appointedd) 13 October 2017
Lead Developer Billy Jones talked timezones and time changes in The Scotsman, and we also had coverage on the BBC, The Herald, and BQ Live to name just a few.
Awards
Back in September we were thrilled to see CEO Leah Hutcheon win Small Business Entrepreneur of the Year at the Scotland and Northern Ireland round of the Royal Bank of Scotland Great British Entrepreneur Awards, as well as being named runner up in the Innovation Entrepreneur of the Year award category.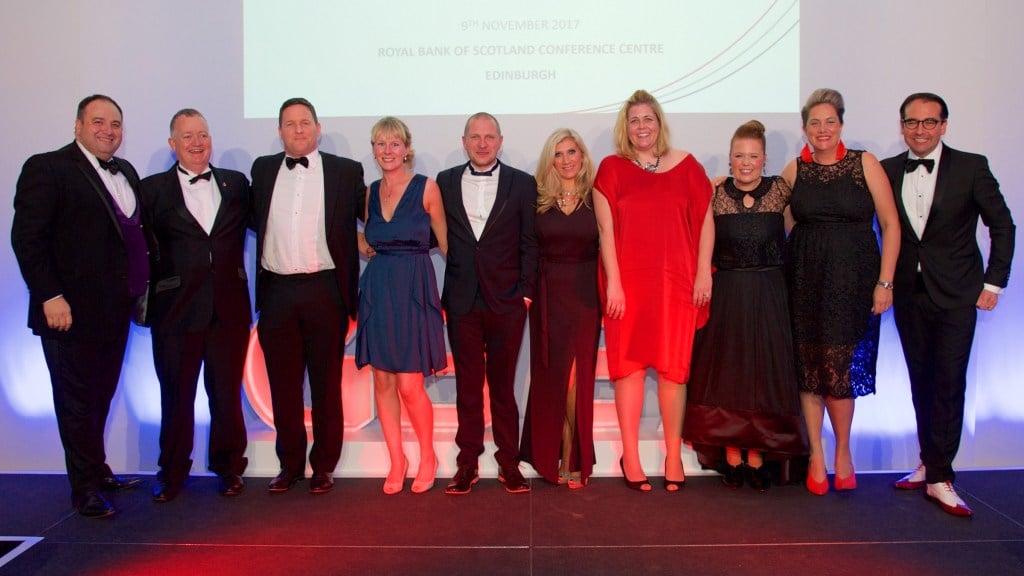 Leah had this to say about the accolade: "This award comes at a really exciting time for Appointedd as we continue to grow and evolve from start up to scale up. Although we are a small business, we work with companies and organisations all over the world. Thank you to the amazing team Appointedd for their continued drive and ambition at a time that is truly transformational for tech."
So proud that #TeamAppointedd, and our newest member, Hedy, got a shout out at the @EntrepreneursGB Awards from @GordonMerrylees! #GoDo pic.twitter.com/eBtTTXKmdu

— Appointedd (@appointedd) 21 September 2017
What a lovely view from @LeahHutcheon desk today! #GBEAedinburgh #TeamAppointedd @appointedd @EntrepreneursGB pic.twitter.com/M8Uj46eKIp

— Ashley McKinnon (@mckinnonface) 13 November 2017
Team Appointedd was pleased to be highly commended for Innovation in Business at The Edinburgh Chamber of Commerce Awards, and shortlisted for a Scottish Business Award.
Leah was also named as a finalist for Entrepreneur of the Year at The Scottish Women's Awards, and as regional finalist for EY Entrepreneur of the Year Awards. Exciting stuff!
Ministering to UK tech
This year has seen UK politicians take a more serious interest in tech, and naturally Appointedd had to get in on the action.
Leah made us all proud by giving a keynote speech at Scottish Parliament as part of the Business in Parliament Conference…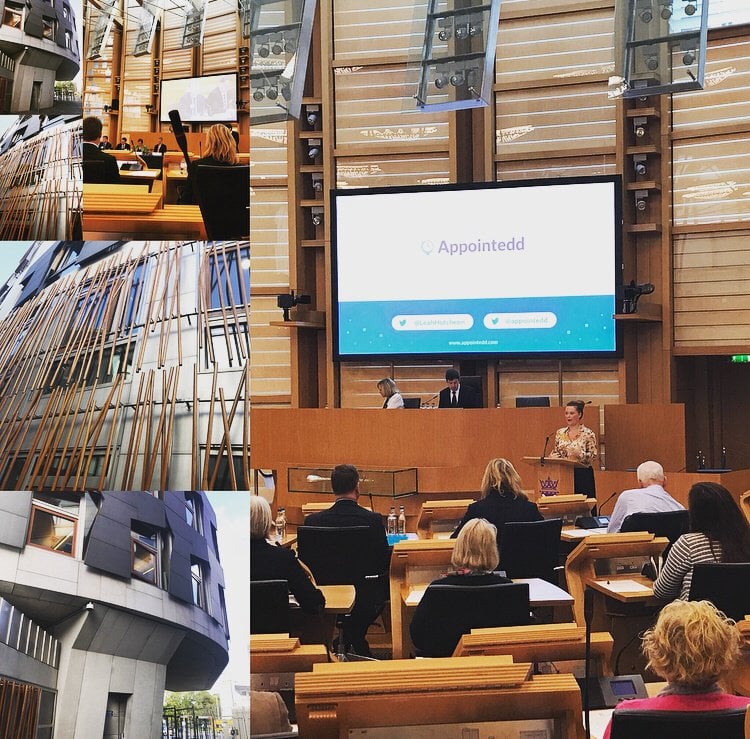 Watch the Business in the Parliament conference from earlier today featuring Leading member @LeahHutcheon @ScotGovFM https://t.co/QCEIrMmIn6 pic.twitter.com/IKiuHZrMW9

— Entrepreneurial Scot (@EntrepScot) 29 September 2017
Fantastic morning for #TeamAppointedd – Keynote speech in Parliament ? A great honour and lots of great opportunities from it! #BIPC2017 pic.twitter.com/oima4VY6tz

— Appointedd (@appointedd) 29 September 2017
…after which we got a mention by Nicola Sturgeon at the Business Women Scotland and Womens Enterprise Scotland awards!
First Minister @NicolaSturgeon talks of inspirational story by @appointedd leader @LeahHutcheon at #BWSWESawards pic.twitter.com/sVBmNzethZ

— COLOUR ELEMENTS (@COLOURELEMENTS) 26 October 2017
Leah has also become a mentor for the Unlocking Ambition Challenge, delivered as part of the Scotland CAN DO programme which aims to make Scotland a world-leading entrepreneurial nation.
"I look forward to being able to challenge others and unlock ambition" Leah on Unlocking Ambition @CanDoScotland https://t.co/xMq8aEe4Ki

— Appointedd (@appointedd) 2 November 2017
And to top it all off, our own Ashley McKinnon accepted an invitation to 10 Downing Street (!) to talk all things Tech Nation.
"Were these the very stairs Hugh danced down in Love Actually?" serious reporting from Appointedd's visit to 10 Downing Street https://t.co/zdBa4ieQsX #TechNation #economy #budget2017 pic.twitter.com/r667odmEv0

— Appointedd (@appointedd) 3 December 2017
---
We hope your 2017 was just as eventful and that 2018 is even better. Onwards and upwards!
Published on 20 December 2017