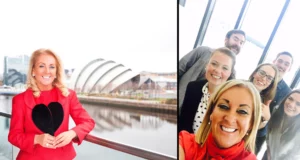 It's not all doom and gloom when it comes to #smallbiz news. Here at Appointedd, we are dedicated to building the strongest team we can to navigate the undoubtedly stormy waters ahead. As such, we are delighted to announce that experienced entrepreneur Marie Macklin CBE, CEO of The Klin Group and Macklin Enterprise Partnerships, has joined Appointedd as a Non-Executive Director.
Marie has a wealth of experience in construction, financial services, and banking. She developed The Klin Group into a successful property, land development and regeneration business. In 2014, Marie was awarded a CBE in the 2014 New Year's Honours List for Services to Economic Regeneration and Entrepreneurship in Scotland.
Marie will feed into Appointedd's growth strategy, as we scale our online booking and business management software, both in the UK and internationally.
Founder and CEO, Leah Hutcheon said: "It has been fantastic having Marie join the Appointedd Board. Marie brings an innate commerciality and a ton of experience when it comes to building a successful business. She has already made some amazing introductions, and has got the whole team thinking about the business from a different angle."
"We are at a very exciting stage of business – we have recently launched a global partnership, and have another to announce soon. Marie's skill and experience will be invaluable when it comes to navigating the challenges that come with scaling internationally."
Marie Macklin CBE said, "I am absolutely delighted to be an investor and join the experienced Appointedd board. I look forward to working with Leah and the team in driving the business forward on to the global stage with the unique services Appointedd have devised. It's a privilege to be part of such an energetic team with such entrepreneurial flair."
Published on 27 June 2016