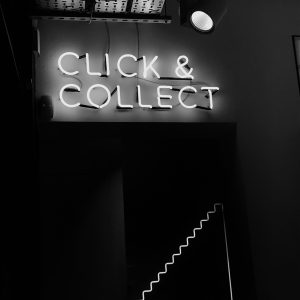 Click and Collect is familiar to anyone in the retail industry. Customers have their online orders delivered to their local store, and pay a visit to that store to collect.
Appointedd brings you Click and Collect Plus – Click and Collect, but with added benefits that allow you to process orders safely, abide by social distancing, and generate further revenue opportunities among your customers.
What is Click and Collect Plus?
Click and Collect Plus allows you to process order collections safely, by having customers book their own dedicated appointment to collect their order.
Create bookable pick up slots, allow your customers to book those slots online, and process order collections safely and efficiently while minimizing contact between customers and staff.
For more information on Click and Collect Plus, take a look at our handy support guide.
How does Click and Collect Plus help me process orders and maximize revenue?
More than just enabling customers to order online and pick up in store, Click and Collect Plus presents you with opportunities to sell additional products and make recommendations to customers.
Appointedd can collect information from customers during the booking process, allowing you to learn more about your customers, and offer them targeted products and services.
A trigger for booking a guaranteed collection time can be fired when an ecommerce purchase is made. A recent Appointedd survey on shopping after COVID-19 found 75% of shoppers would like the ability to book a guaranteed collection time after making an online purchase.
Depending on how retailers want the customer journey to flow, Appointedd can make recommendations as to whether you should embed a booking widget on your success page, offer a choice of delivery options, or a button popover.
The Appointedd Smart Communications suite gives you a direct line to every click and collect customer, which enables you to trigger an email offering customers the chance to book a click and collect time as soon as their order arrives in store.
For ultimate revenue maximization, some retailers are even offering luxury personal experiences to high-value customers, for example a complimentary virtual styling session to give them a chance to use the makeup products they've recently purchased.
Why do I need Click and Collect Plus?
In the new normal for retail, the fastest way back to profitability is by earning customers' trust and making them feel safe and secure in returning to your stores.
Click and Collect Plus helps you earn that trust, by putting customers in control of order collections. They can book their own collection slot at a time that suits them, while knowing that they won't be queuing up in a busy store waiting for their order.
From your perspective, Click and Collect Plus empowers you and your team to process order collections safely, and take advantage of Appointedd's booking tools and intelligent data in order to generate further revenue opportunities that are more likely to result in sales.
Published on 10 June 2020