Appointedd is teaming up with live video shopping specialists Confer With, empowering retailers to engage the new post-pandemic customer. Transforming the virtual retail experience, the integration of our cutting-edge technologies actively drives higher basket values, quality conversions and personalized retail experiences. 
This new partnership will help retailers capitalize on the opportunities and mitigate the pressures of ever-changing consumer expectations. By offering customers virtual appointments, businesses can expect to see average order value increase north of 30%, in addition to the 10 x conversion rate from appointment booking to paying customer.
Reinventing the virtual experience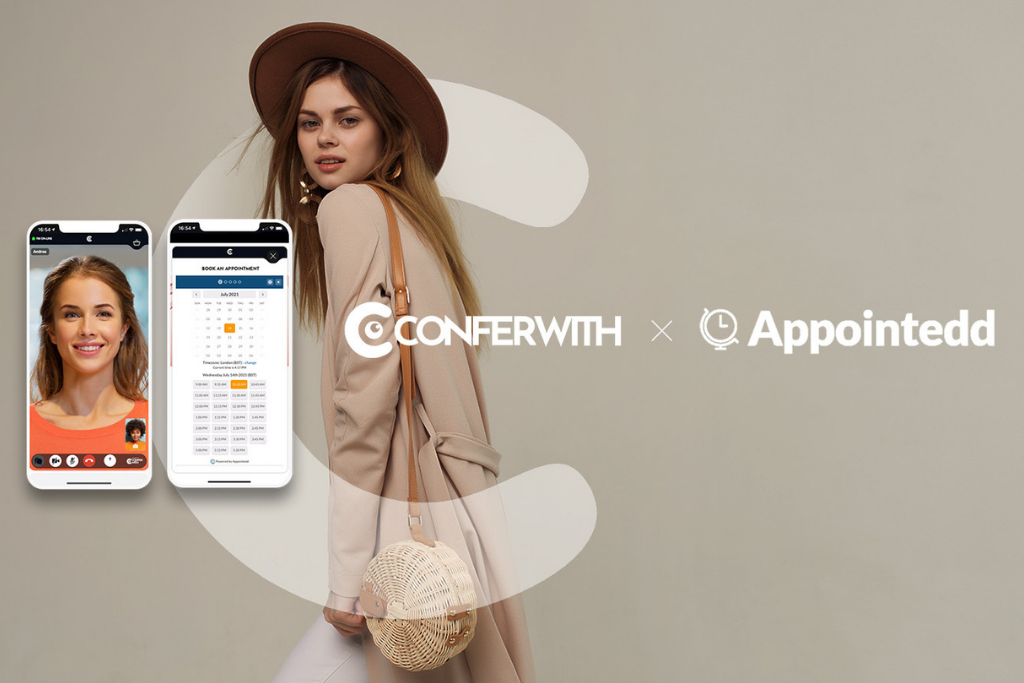 You don't have to look too far to realize that customer expectations are changing. 71% of consumers now think more carefully about purchases, using technology to gather and compare information across several branded platforms. However, retailers are still grappling with orchestrating unified experiences across these platforms.
Omni-channel experiences are no longer exceptional but expected, and retailers are searching for ways to get ahead of the competition.
Frictionless search and buying experiences, matched with hyper-personalization are proving to revolutionize the online shopping experience, forever changing the way we interact with brands. 
Appointedd's online booking tools, partnered with Confer With's video shopping platform are empowering retailers to not only take part but lead this retail revolution.
The live video shopping journey revolves around four core pillars: match, engage, immerse and convert. Core pillars that when implemented by forward-thinking retail brands, can increase online customer enquiries by 360%.
Match: with customers where it matters most 
McKinsey's recent research into global consumer sentiment found that 56% of consumers express discomfort when interacting with online user experiences, with many even struggling to find sufficient product information. Taking into consideration that 70% of consumers would actively consider other options if it took more than a few clicks to access what they wanted, brands can no longer afford to possess anything other than a flawless online customer experience.
The new Appointedd X Confer With partnership empowers retailers to connect customers with sales reps when they are most engaged. Allowing customers to make well-informed decisions with the most in-depth product knowledge available.
Appointedd's award-winning online booking tools seamlessly integrate with Confer With's software, not only allowing customers to book virtual appointments in a matter of seconds but enabling retailers to both automate and manage all bookings, rescheduling and cancellations, saving staff up to 8 hours of manual scheduling a week.
Strengthening the frictionless customer journey, Appointedd's automated communication suite ensures that when a booking is made, cancelled or rescheduled, customers receive an automatic email notification, reducing appointment no-shows by 67%.
Multi-time zone features ensure retailers can engage a global customer base with their new Confer With virtual appointments by taking the stress out of confusing time zone math.
To further enhance the customer journey, custom question fields during the booking process ensure each virtual assistant is fully equipped with the customers' unique preference information, enabling a truly personalised experience and basket to be created on the call.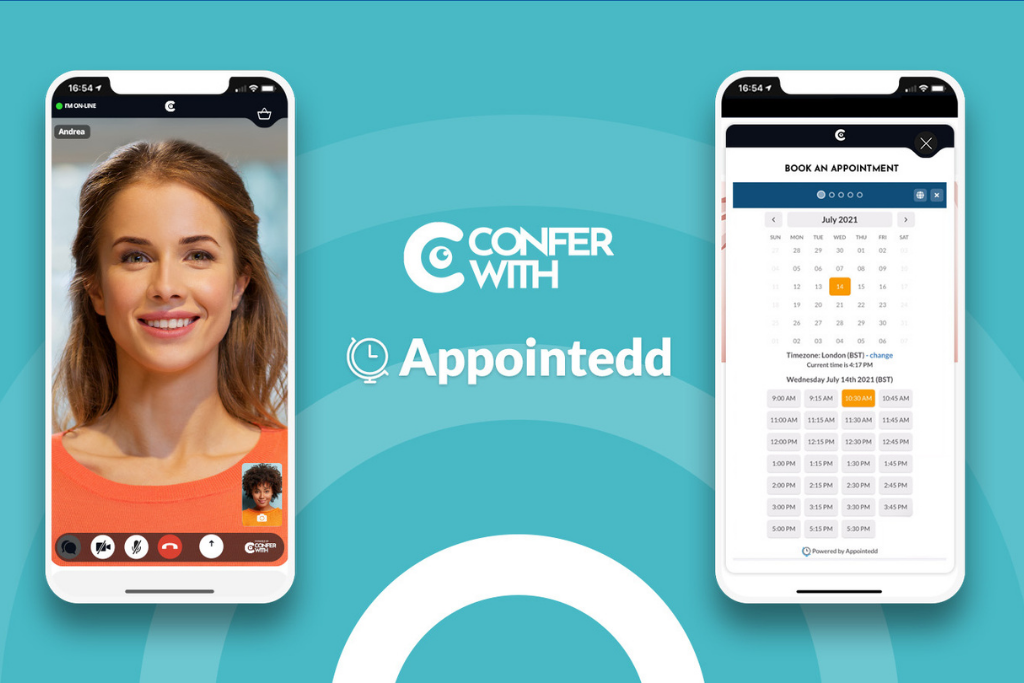 Engage: customers with personalized expert knowledge 
Establishing a quality digital dialogue that is rooted in personalization has been found to have an immense impact on purchase intentions. Recent research has found that 80% of shoppers are more likely to purchase from brands that deliver a personalized experience. 
Therefore, engaging with a virtual assistant is key to that success. Once a customer interacts with a product or schedules a virtual appointment, they are connected to a one-to-one video call. Inside the video call, your specialists can perform a needs-based analysis to personalize the customer journey. Creating effective digital dialogue equips your team with valuable customer knowledge built on trust and transparency.
Immerse: the customer in a unified experience
Whilst conventional video calls possess little to no immersion, Confer With seamlessly integrates with your product catalogue, enabling sales specialists to guide customers through your entire product offering. Combining your product catalogue with Confer With's software also allows you to:
Monitor stock levels 
Combine unique customizable packages for each customer
Demonstrate your products in a visually engaging manner
Schedule future online and in-store appointments
Empowering your sales specialists with hyper-personalized tools to collaborate with customers, instead of just selling, creates a conversion rich environment.
Unlocking the power of upselling
In contrast, a low conversion environment can best be visualised as the aimless scrolling of rows upon rows of options. It's a core hurdle to achieving average order value targets.
The Appointedd X Confer With retail solution integrated with any ecosystem, allows businesses to immediately capitalize on the endless upselling opportunities through:
Alternatives – The collaborative nature of a retail consultation allows sales specialists to further understand the customer, showcasing the most suited products.
Additions – Once the customer has revealed their preferences, specialists can display products straight from their recommendation engine, immersing the customer with visually engaging imagery of other relevant products based on their purchase behaviour.
Build loyal customer relationships that convert 
Appointedd X Confer With retail technology ensures a flawless customer experience from booking to purchase. Allowing customers to book your specialists in a matter of seconds transforms transient website traffic into engaged opportunities, establishing a quality transition to the Confer With platform.
With Confer With's basket technology, the customer and specialists can both add items to the virtual shopping basket. Once the session is complete, the virtual basket is automatically transferred to the eCommerce basket on the company's website, allowing the customer to review and purchase.
Appointedd also allows customers to book time with specific sales specialists, allowing them to build relationships with customers. Our automated appointment follow-up comms provides a personalized touchpoint, encouraging customers to make repeat bookings with their favourite specialist.
Want to learn how Appointedd X Confer With's cutting edge retail technology can power your virtual customer experiences? Book a call today
Published on 2 August 2021