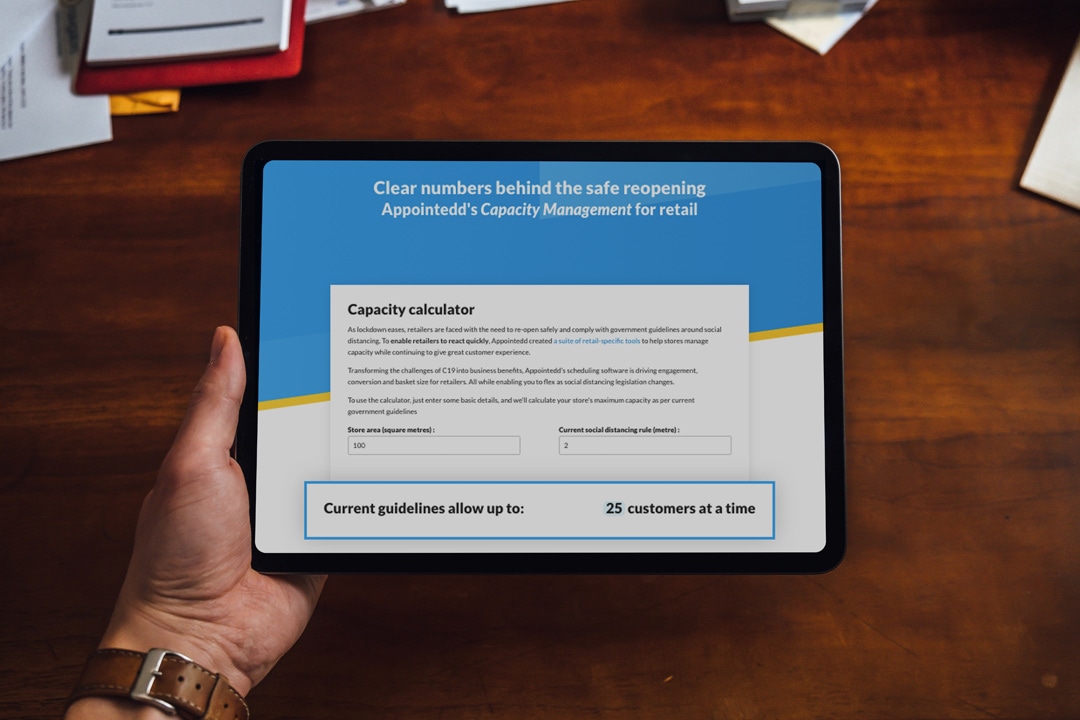 As the government restrictions slowly lift, it is important that retailers are able to flex the capacity of their stores in accordance with local government guidelines.
Appointedd has developed a capacity management calculator that allows retailers to calculate their maximum capacity based on the size of their store and current social distancing restrictions in place. Calculate yours here.
With store capacity and social distancing measures being front and centre of media attention, Appointedd's Covid Secure Capacity Management feature is perfect for retailers who are focussed on welcoming as many customers as they can back in-store, while adhering to government regulations.
Using Appointedd, retailers can give their customers the ultimate flexibility about how they come in-store:
Book a store entry time online via your company website

Walk-in and be greeted by a staff member who will check the customer in (with or without data capture)

Scan a QR code on the storefront window, and the customer will choose the next guaranteed entry time for that store, or any nearby store.
Appointedd's real time availability engine takes into account the current occupancy of each store during the online booking process, so customers are only shown store entry times which can accommodate them or their party. 
All of these methods are capped to your calculated maximum store capacity, as per the current social distancing measures, making it easy for you to forget about counting customers and get on with delighting them.
And the best bit of all, is once you have Appointedd's Covid Secure Capacity Management feature in place, you'll be ready for whatever comes next!
Read more about Appointedd's Shop Safely retail features in the press here: Online booking of entry slots and fitting rooms among the innovations shoppers want to see when they head back to the High Street.
Published on 10 June 2020