Coming together as a team is something which we all know is important, but in a remote world, some hurdles exist to this happening in a way that we're used to. However, on Friday, Team Appointedd came together as one to reflect on the year that's passed, our achievements and struggles, and to look to the future and the excitement and great opportunities that await us.
We kicked off the day with an introduction from our Founder and CEO Leah Hutcheon, who shared some fabulous success stories from businesses who've used Appointedd to survive and thrive in 2020. We reflected on how our product, team and business has changed and evolved over time – consistently pushing ourselves out of our comfort zone to go above and beyond. With change as the only constant, of course it hasn't been easy, but we took a step back to reflect on the incredible growth and impressive graphs which show the massive up-tick in booking numbers, particularly in the last year.
The number of bookings taken via Appointedd between Dec 2019 and Oct 2020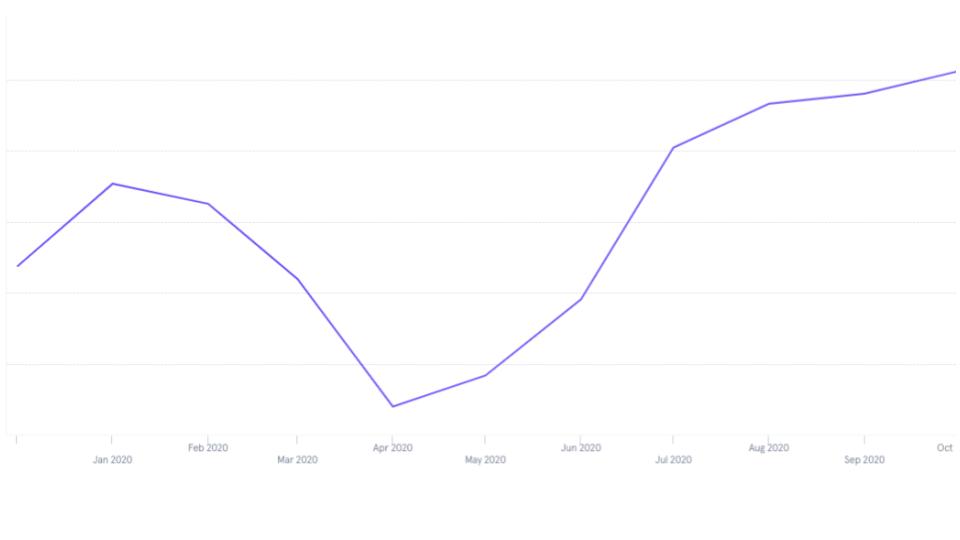 We then spent some time reflecting on our product roadmap – what's worked well and less well over the past few months. If 2020 has taught us one thing, it's not the strongest that survives… it's those most adaptable to change. As an organisation, we've been reading up and reflecting on how we can best iterate and respond to these changes as we build, develop and enhance our product.
We reflected on the creativity of our clients and how they have used Appointedd's product to meet the "new" needs of their customers. Leah shared the ins and outs of how luxury beauty retailer, SpaceNK meet their customers virtually, whether that be in-store or at home. They limited in-person interactions but built genuine customer relationships via face-to-face consultations, masterclasses or events – all powered by Appointedd ? I think we all had a 'pinch yourself, you're not dreaming' moment when reflecting on just how many companies we helped adapt (and survive) in 2020, from leading retailers like Charlotte Tilbury and Furniture Village, to the NHS trusts and two of the Big Four accounting firms.
We even powered a virtual beauty masterclass hosted by Pat McGrath Labs x Naomi Campbell!
After a wee coffee break and some time away from Zoom (more important now than ever!) we re-grouped to go through our customer journey, from marketing, business development, account management, legal, compliance, implementation and growth, hearing from everyone who gets involved at different stages of the journey and understanding how we best serve our customers. We've seen this evolve drastically in 2020 as businesses are faced with urgent and ever-changing restrictions and deadlines to get set up to deliver virtual services and ensure they are fully equipped to face a remote-first world.
Throughout the day, we had our "Wall of Love" live – where each person in the team had a page for colleagues to share appreciation, shout-out and thanks for that individual's hard work, efforts and contribution to the team. This grew and grew throughout the day with countless stories of where the team have gone above and beyond.
After another wee Zoom interval, we took to our screens for a superb session with our CTO Greg Dickson and Account Executive Eszter Boldog on advanced widget usage, developing our understanding of how customers can utilise our booking widgets to enhance their customer experience and online presence. The seemingly endless opportunities that our booking functionality offers was a real eye-opener and left us all feeling very excited about helping our customers to use Appointedd in the best way possible.
Next up, lunchtime – a wee break for fresh air and sustenance, and for some of us, an exciting knock at the door as our Sips cocktails arrived – more on that later (time to pop them in the fridge for now…).
There was no danger of a post-lunch slump for the team as we did a deep dive into our new dynamic comms functionality – allowing our clients to take control of their email content. We then had an insightful overview of our Infrastructure and learnt about some of the new technologies we are using from the newest member of our team, Software Developer Helena Kolberg.
Friday the 13th isn't necessarily a day that superstitious folks might choose for a team day, but we were not deterred – in fact we took action to individually reflect on what we feel lucky for: from family, great colleagues, mobility, a lack of boredom, fabulous customers… it was a long list that left us all feeling very grateful.
To wrap up the day, Greg and Leah gave an overview of basecamp's Shape Up – a book by Basecamp which looks at the product management life cycle and how we structure teams and development around this. All the while, the Wall of Love was filling up!
The wrap up
We wrapped up the day and came back together for a team chat and debrief, before a quick costume change for some and a nip to the fridge to tuck into our Sips cocktails.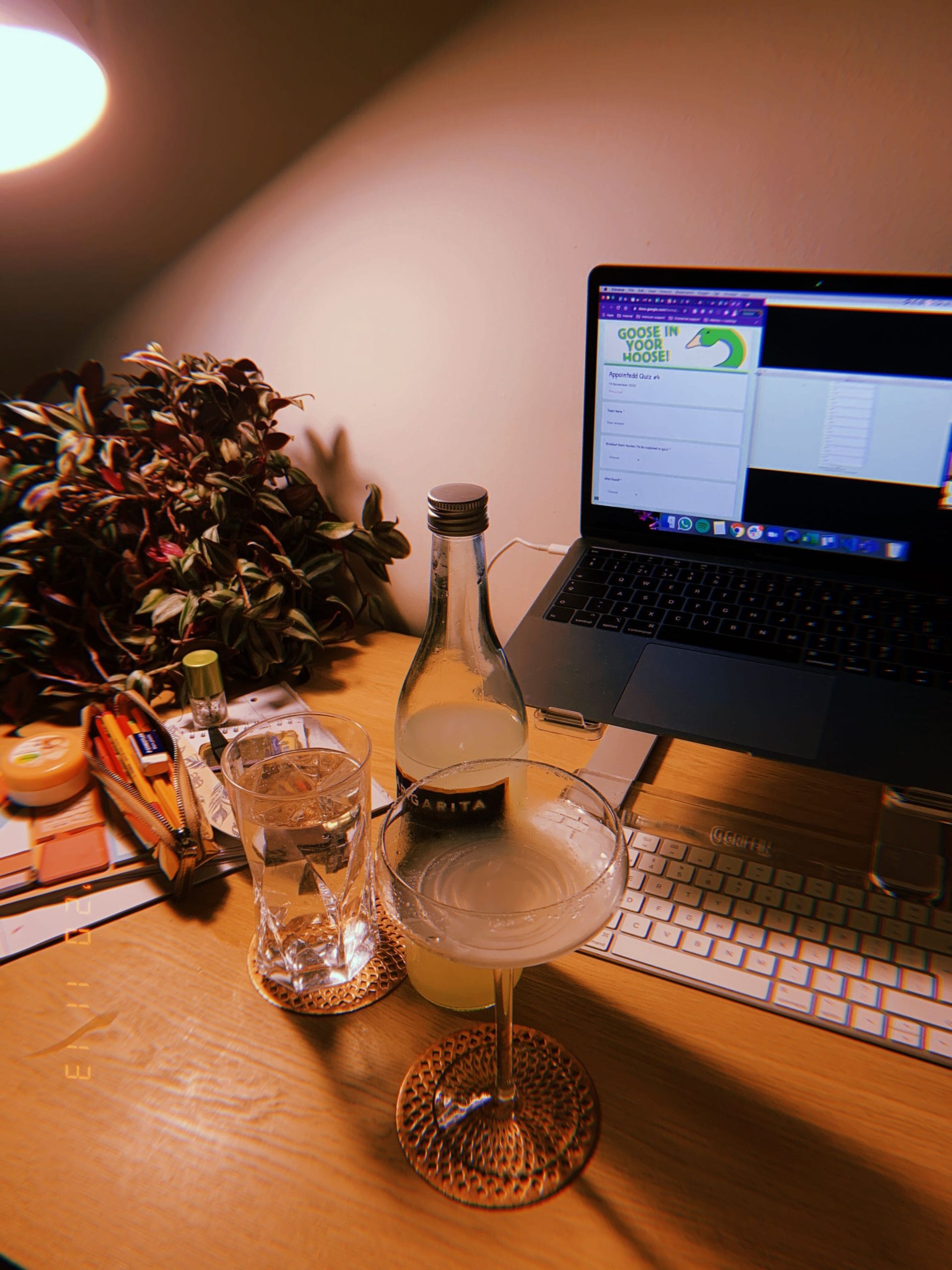 At 6pm, we were joined by Goose's Quizzes for a fab session of flexing our general knowledge muscles and a music round which saw some truly dazzling Appointedd dance moves. We wrapped up the evening with some Quaraoke (Quarantine-Karaoke) and some members of the team even treated us to some live music. An excellent end to an excellent day which left us all feeling thankful for a great team and very excited for the future.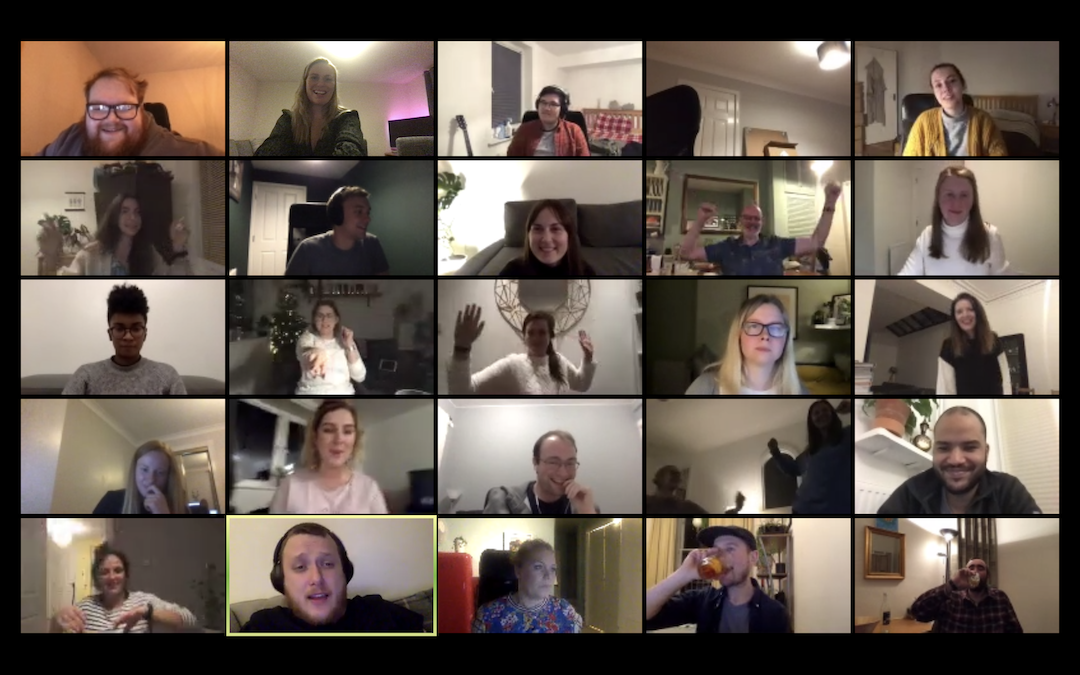 Published on 16 November 2020