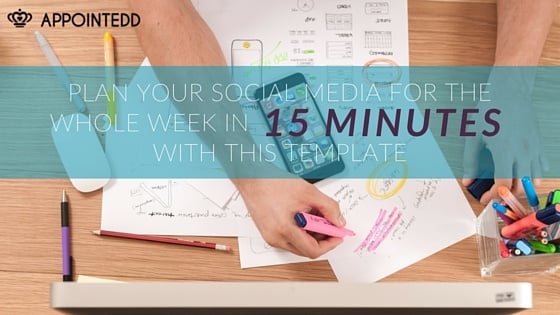 Social media is one of those things that, like a Jamie Oliver recipe or the perfect ponytail, requires a lot of effort to give the appearance of being effortlessly successful. We've raved before about what fantastic tools social media platforms are for promoting your business, but what people don't often talk about is just how much work goes in to cultivating a following and keeping the whole thing ticking over.
If your social media strategy has been based on improvisation so far, you're probably rapidly coming to see it as a tiresome chore. What seems like a minor side task – I'll just put out a tweet or two when I have a spare minute… it'll only take a second to share that on Facebook… – actually has this insane ability to eat up the minutes, and before you know it you've lost an entire morning just to tapping desolately at your keyboard, trying to think of something, anything, to say.
Like anything, the more time you have to spend on it, the better it'll be, but here in the real world we know you don't always have the time to spend hours agonising over hashtags. Well, with a bit of forethought and planning, it is possible to get your social media for the whole week plotted out and posted in just a quarter of an hour. Here's how:
Foundations
In order to get to the point where you can get your tweets and posts done and dusted in a few minutes, you first have to put in a bit of time to build the template that facilitates that. It's a one-time thing though!
Where?
First, you need to decide which networks you'll be using: bearing in mind that it's generally better to do a few of them well rather than stretching yourself too thin trying to single-handedly maintain a Twitter, Facebook, Instagram, LinkedIn, and whatever else.
For the purpose of this example, we'll talk about Facebook and Twitter as the most widely used platforms.
How often?
Next you'll need to plan out an average number of posts on each for a week. For Twitter, this is usually about 20-30 tweets a week, or 3-5 a day. Facebook needn't be quite as often, maybe between 5 and 7 posts a week, but it all depends on the type of business you're promoting and where your customer base is most active. The most important thing on any social network is not to over-post and spam your followers – the quality over quantity approach is one that benefits you and them. If you're not sure how much to post, just have a nosey at your favourite businesses and brands on social media and see how they do it.
What?
Once you've plotted out a timetable of where to post and how often, you can start to think about what it is you'll post. This will provide you with some much needed guidance that will hopefully stop you going blank when you're faced with that empty box. So for instance, if you're going to put out three tweets a day, you could designate one for general promotion of the business, one for a link to your blog, and one for a link to an interesting (and relevant!) external article.
On your marks, get set…
Once you've put together your social media template, you'll start to find you can schedule your posts for the week much more quickly. With the plan already in place, it simply becomes a case of populating it with this week's content.
To make things extra speedy, you can group the tweets or Facebook posts by category and work through them all in one go. So if you know you need 9 sales/promotional posts for the week, work on those first (you can even break them down further into smaller groups, e.g. 3 posts about a special offer, 4 about services you offer, and 2 general promotions). Then you can move on to your posts sharing your blog or blogs for the week, and finally source your external content to share. This is the most time-consuming category in my experience, as seeking out good content can be difficult, but with time you can build up a list of solid go-to sources that regularly put out quality articles/advice/videos etc. and streamline the process by simply scanning through them.
With a bit of practice, and a strong plan in place, it's possible to get the process of scheduling your social media down to a few minutes. Put together your own social media plan and see how much it can help!
If you want even more help, download our guide to Facebook for business which includes a 10 day content plan