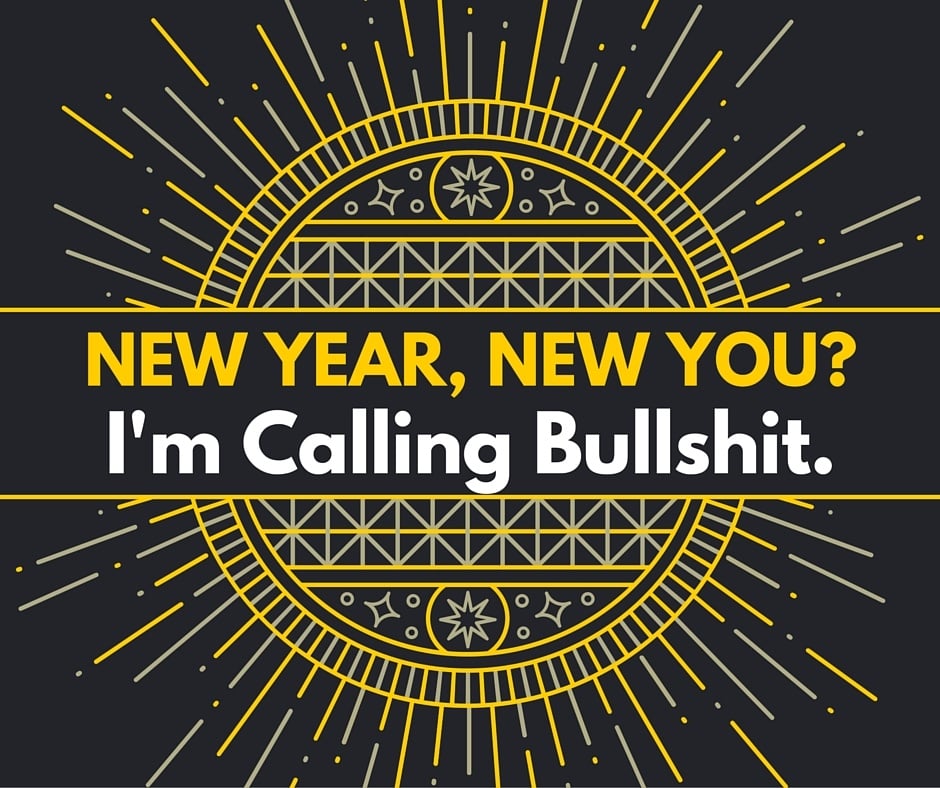 So everything's going to change this year? In your business AND your personal life?
Bullshit.
Sorry for the coarse language. But, really, do any of us believe in that any more?
I saw a friend's Facebook post just before writing this.
"Well my 2015 new year's resolutions were to buy a house and learn to play the saxophone. Only one thing I can say to those – PAHAHAHAHA what was I thinking?"
Kind of says it all, I think.
We all spend New Year's Eve making plans about how much better we're going to be in the following year.
We make big plans, for big change. Maybe a new skill, or a complete new way of living. Maybe we'll lose weight and add serious growth to our business. Whatever it is, we think ambitiously and believe we can revolutionise our lives.
And then we let ourselves off until the 4th or 5th (or whenever is convenient to us – well, we'll be hungover, or we'll need to spend time with the family, or we should really make the most of it while it lasts… Sound familiar?).
And then life gets in the way.
It's no bad thing. In fact, I would argue it's the way things should be – go with the flow, enjoy life and make the most of every opportunity.
But it doesn't get the big leaps and bounds happening, does it?
Well, let's do things differently this year. Let's make one small change. And let's make it sensibly, so it really makes a difference.
I'm suggesting you pick a new tool. And, of course, if it's relevant, I'm suggesting that you pick ours. Appointedd. It's a full business management software system for people who run their business by appointments.
It enables you to take online bookings, and they just appear – as if by magic – in your diary (both your Appointedd diary and your normal one – iCal, Google Calendar, Outlook etc).
We then do some super cool stuff to manage your whole business in one place.
We create a customer record, with full details of the customer, their contact details and info about what they have booked and when.
We track the financial impact of the booking, so you can see what your turnover is like and who is spending the most money with you.
We manage your tasks and track your productivity (and your team's, if you have staff).
There's a whole email and SMS marketing suite for if you want to boost your income easily by marketing to your existing customers.
And we'll give you booking tools for your website and Facebook page so you can convert your website visitors and Facebook fans into new customers instantly.
It's really pretty revolutionary…
If you don't run your business by appointments, you might still want to give Appointedd a whirl. It's proven to increase conversion on sales emails and meeting requests (people find it much easier to book a time to chat when it suits you both, rather than getting into the constant to-ing and fro-ing that comes with an email/phone exchange). And from £10 per month, it hardly breaks the bank.
But if Appointedd's really not your thing, don't let that put you off grabbing another new tool and letting that lose on your business. There are thousands to try, and every one could be the silver bullet you need to ensure 2016 is the year you rock your business and make your dreams come true. Here are a few I'd recommend…
For project management: http://www.allthings.io/ or https://trello.com/
For accounting: http://www.freeagent.com/
For HR: https://workbasehr.com
For cashflow: http://floatapp.com/
For team communication: https://slack.com/
For marketing: http://www.hubspot.com/
So go forth and make one quick change that will really create change in 2016. Appointedd, and most of the other tools here, only takes ten minutes to set up. So give a new tool a whirl and impact your whole business this new year!
Have an amazing new year and sorry for the sales pitch. It's one of my new year's resolutions to sell more 😉
Published on 31 December 2015