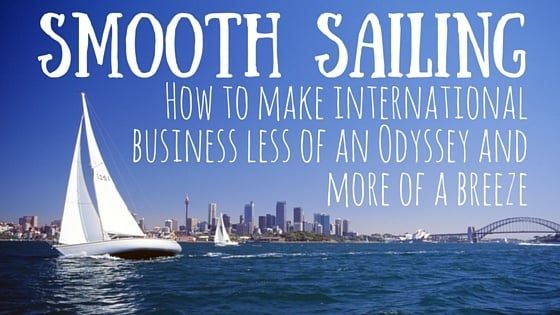 We all love the internet – provider of amusing animal videos et al – and one of its biggest advantages is its ability to bring people together the world over. It is, in fact, a global marketplace in all senses: the place people go to share stories, information, meet up with pals, and (crucially) buy and sell.
For SMEs and freelancers who either already operate internationally or are hoping to take their business across the pond (or anywhere else in the world), there's not a whole lot standing in your way in this digital age. But it can still feel a bit daunting, and there are definitely stumbling blocks that make it a more complicated and time-consuming undertaking than being a simple home-grown, one-country operation.
With that in mind, here are what we reckon are the main headaches, and how to take your Odyssey-style seafaring saga of international business pursuits and turn it into a smooth crossing on a luxurious ocean liner. Pass the champagne…
Time-Zoning Out
Because the world is round (breaking news, I know) there are these things called time-zones that basically exist to be an inconvenience to people trying to conduct business on a different continent. You set up a conference call for 10AM but you're still fast asleep while your client in India is sitting at their computer ready and waiting. You forgot to specify that was 10AM GMT…
OK, it's not a problem that's totally debilitating for anyone with access to a search engine and/or calculator, but coordinating appointments across time-zones is really a faff we should have moved past in 2016. And we have! For users of Appointedd's online booking software, time-zones are something you don't need to spare a thought for, since appointment times are automatically configured to wherever you are in the world. Your client has booked a call with you at 8AM their time, and you know that means 2PM your time because that's what goes into your schedule! It's a little thing that makes cross-border business infinitely easier.
Find out more about Appointedd's time-zone conversion features here!
Swimming Against The Currency
So you've managed to talk to your overseas client thanks to your time-zone conversion appointment system, now the project is underway and the time comes to be paid. International bank transactions are notoriously expensive, and they can take longer than usual to get to you. Not to mention that if you're on the wrong end of the exchange rate, you could be missing out.
What you really need is some way of automatically invoicing your clients anywhere in the world, and even taking payments at the time of booking through your website or microsite. Why yes, since you ask, Appointedd has got you covered there as well. Thanks to Appointedd's collaboration with Stripe this is exactly what you can do, and you can even accept payment in Bitcoin which totally gets you out of those costly transaction fees.
Learn about accepting Bitcoin payments!
If you're planning to set sail and take your business international, or if you already have and are just looking to make the whole thing a bit less fraught, Appointedd can really help the smooth outweigh the rough in a big way. Why not treat yourself to a free trial and see what we could do for you?
Published on 27 January 2016