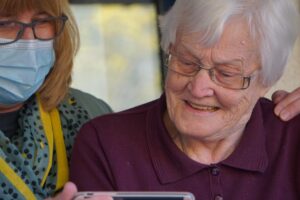 We understand care homes have been hit the hardest by Covid-19, and safety has been the top priority among care home staff. That's why it's been so difficult for families to visit care home residents during lockdown, with most suspending all but essential visits. Learn how Appointedd can help care homes practice safe, socially distanced visits.
Thankfully there's now hope that the situation in care homes is starting to change for the better. Scottish Health Secretary Jeane Freeman recently announced that "significant progress" had been made in tackling the virus in care homes, and soon it will be safe for some care homes to receive visitors.
If a care home has had no Covid-19 cases for 28 days, residents will be able to have a single named "key visitor" for an outdoor visit, at a distance and with both people wearing face masks.
Given that fantastic news, Appointedd wants to help care homes reunite residents with their loved ones, and manage those visits safely. Here's how our online booking technology can help care homes conduct safe, socially distanced visits.
Enabling visits by request
Appointedd's online booking system allows care homes to have full control and visibility over their bookings from a single system, by enabling care homes to take requests for appointments from anyone who wants to visit one of their locations:
Residents' families

Prospective residents and their families

Doctors, dentists, and other medical professionals
The request function gives care homes the ability to triage visits, sorting them in terms of urgency – in the case of a medical need or to support residents, i.e. prioritizing residents who haven't had a visitor recently.
For care home staff, the request function gives them confidence that every visit is under their control and at their discretion, ensuring the safety of residents is the highest priority. It's also simple to manage – accepting a request is a one-click process, and triggers an automated communication flow to the resident's family.
For residents and their families, requests help reassure them that visits are still ongoing, but also that they're being managed carefully and with the safety of residents at the heart of the process.
Setting maximum capacity for safe visits
A key component of safe, socially distanced visits in care homes is limiting overall capacity: knowing exactly how many people it's safe to have visiting any care home at a given time – this includes the grounds, as all care home visits will take place outside to begin with.
Appointedd helps care homes keep a close eye on capacity by enabling each care home to run an instance of the software where they can set their own capacity limits and visiting hours.
Appointedd's capacity management functionality allows you to set the maximum number of visitors by…
Location:

i.e No more than X people visiting a single care home at one time

Area:

i.e. A maximum of X people in the garden, grounds, covered outdoor space, etc. 

Resident:

i.e. A total of X visitors at a time for each resident
Every Appointedd account comes with its own dedicated microsite, meaning care homes can easily set up a visitors page where residents can be listed by name, and their families can book visits with them.
Not only can families book visits with their loved ones in just a few clicks, Appointedd gives care homes an overview of every visitor, in all locations, at all times – reuniting families while ensuring social distancing is being adhered to.
Appointedd also automatically collects data from every user interaction, allowing care homes to easily gather information about visitors and residents that can help with test and trace operations, as well as compliance.
Empowering virtual visits, sanitization, and specialist care
Right now we're all doing things a little differently, and thinking of innovative ways to stay connected to the people we care about.
Here are just a few of the ways Appointedd's functionality can be used to help care homes and residents through a difficult time:
Virtual visits: For more remote care homes, or even just if demand for visits is extremely high, Appointedd allows virtual visits to be booked – our Zoom integration means you can set up up your account to automatically generate and distribute video links for every booking
Sanitization buffers: Our Buffer Up functionality creates time buffers between appointments, which can be used to reduce the number of people entering and leaving the home at the same time, and to ensure there is time to properly clean the area between visits.
New resident arrivals: Appointedd can be set up to allow hospitals to book in a time to drop new residents off, streamlining the process for care homes and making sure that everything is in place to give every new resident the best possible welcome.
Tours for prospective residents: Visits for families to be shown around the care home before a resident moves in.
Medical visits: Allow doctors, dentists, and consultants to book appointments with residents ahead of time.
—
Given that 31% of care homes in Scotland continue to have at least one suspected case of coronavirus, welcoming back visitors has to happen gradually and by taking every precaution.
But after such a long time without a visit from loved ones, it's also important that residents are able to see their families, so long as those visits are managed safely.
That's where Appointedd's scheduling software can help. Whether it's enabling visits by request, managing maximum capacity, or even creating a platform for virtual visits, Appointedd can help care homes practice safe, socially distanced visits that help bring families back together.
Published on 26 June 2020