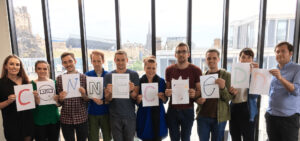 You already know that Appointedd is the most flexible online booking system out there, and that our multi-time zone scheduling functionality was the first of its kind – but perhaps you didn't know that Appointedd is also incredibly well-connected. In fact the most connected online booking tool you can get your hands on…
To celebrate just how seamlessly Appointedd integrates with software and apps across a spectrum of areas, we're excited to launch Connectedd: our very own portal for discovering some of our top picks of integrations that will add booster rockets to your business.
Read on to discover more about the kinds of tools we work with to bring you the most effective and inclusive business management platform possible.
Accounting
In the accounting section of Connectedd you will find top online bookkeeping software such as Xero, Quickbooks, Sage, and of course, FreeAgent. This is your one-stop shop for effortless, stress-free integrated finance management.
CRM
To give your customers the best, and to optimize your client base, we've gathered together some fantastic Customer Relationship Management tools that will go hand-in-hand with your Appointedd system. Explore the possibilities with SugarCRM, Vtiger, Salesforce, and Dolibarr.
Web + Online
The modern business depends on the success of its online presence to drive sales and service, so give yours a lift with the website builders and online tools that work with Appointedd. Take bookings from your Weebly or WordPress website, and get your Appointedd diary synced with Eventbrite and Doodle for extra functionality.
Business Operations
Make all those time-consuming admin tasks a whole lot easier with Appointedd's integrations with top streamlining apps and tools. Epos Now, Ento, OrangeHRM, and Ranqx are all included here.
Calendars
Appointedd has a two-way integration with all major external calendars, including Google, iCloud, Office 365, Outlook, and many more. Always be on top of your diary and never worry about being double-booked by connecting your Appointedd diary with your calendar.
The possibilities are endless when you get Connectedd!
Published on 10 August 2016