Falkirk Business Hub is a modern business centre based on the original site of Falkirk's General Post Office. It was converted in 2013 and now houses businesses of all shapes and sizes, from translators to plumbers to solicitors. The Hub uses Appointedd to manage their meeting room bookings – we caught up with FBH Manager Douglas Farquhar to talk about how booking has changed and the art of combining technology with the personal touch.
A New Way to Book Space
"The business centre itself is now fully occupied, so what we're focusing on is increasing the use of the meeting rooms and coworking, and one of the reasons why we brought Appointedd in was to help with the bookings." The Hub previously took all room reservations over the phone, but, by combining their manned reception with Appointedd, the way they take bookings has changed: "It allows people to go online and check availability for meeting spaces and make bookings if they want to," Douglas told us. "They know then that they've made the reservation when they're thinking about it and then they get a personal follow-up from one of our hosts who'll contact them to confirm the reservation and go through the personal details."
The Appointedd system goes hand-in-hand with The Hub's live reception and stops any double-booking by keeping everything up-to-date: "Our hosts put any bookings that come in over the phone or in person into the Appointedd calendar, so that if someone is then looking to make a reservation online they can see what's available. Anything offline becomes online in the Appointedd system so they're both showing the same thing."
Powerful Promotion
An added benefit of using Appointedd for The Hub is that it's given them another way to boost their online promotion: "We do a lot more social media and online advertising now than we were doing, and being able to promote the fact that you can book online has been useful for us. It's given us a tool to actually advertise, and it lets people go and have a look and say "Oh right, that is available" so even if they don't actually click through the process and make a booking, they are using the system to access the information."
Client Convenience
Something that's very important to The Hub is excellent service for their clients, and the way they use Appointedd reflects that: "Our clients are finding it a useful service because they have a general overview of the calendar, so they can see availability; they like that. And I think the fact that it calculates how much it's going to be for them is good, because you can put in the number of hours that you're looking for and it tells you what the total price will be for that room. So it's easy for them to see and easy for them to use.
"We understand clients like to be able to access information when it suits them and they tell us that Appointedd makes it easy for them to do so. As it's also easy for us to manage, it's a win-win solution! People want information quickly and they like the fact that it's easy to access, and they can have a total overview of availability of the rooms, but they also like the fact that we still do the personal follow-up afterwards. The main thing that we're concerned with at Falkirk Business Hub is making sure we deliver really high-quality service, and that kind of personal touch is still really important, so Appointedd works well with us from that point of view. We can still personalise it to fit us so it works well with our own services."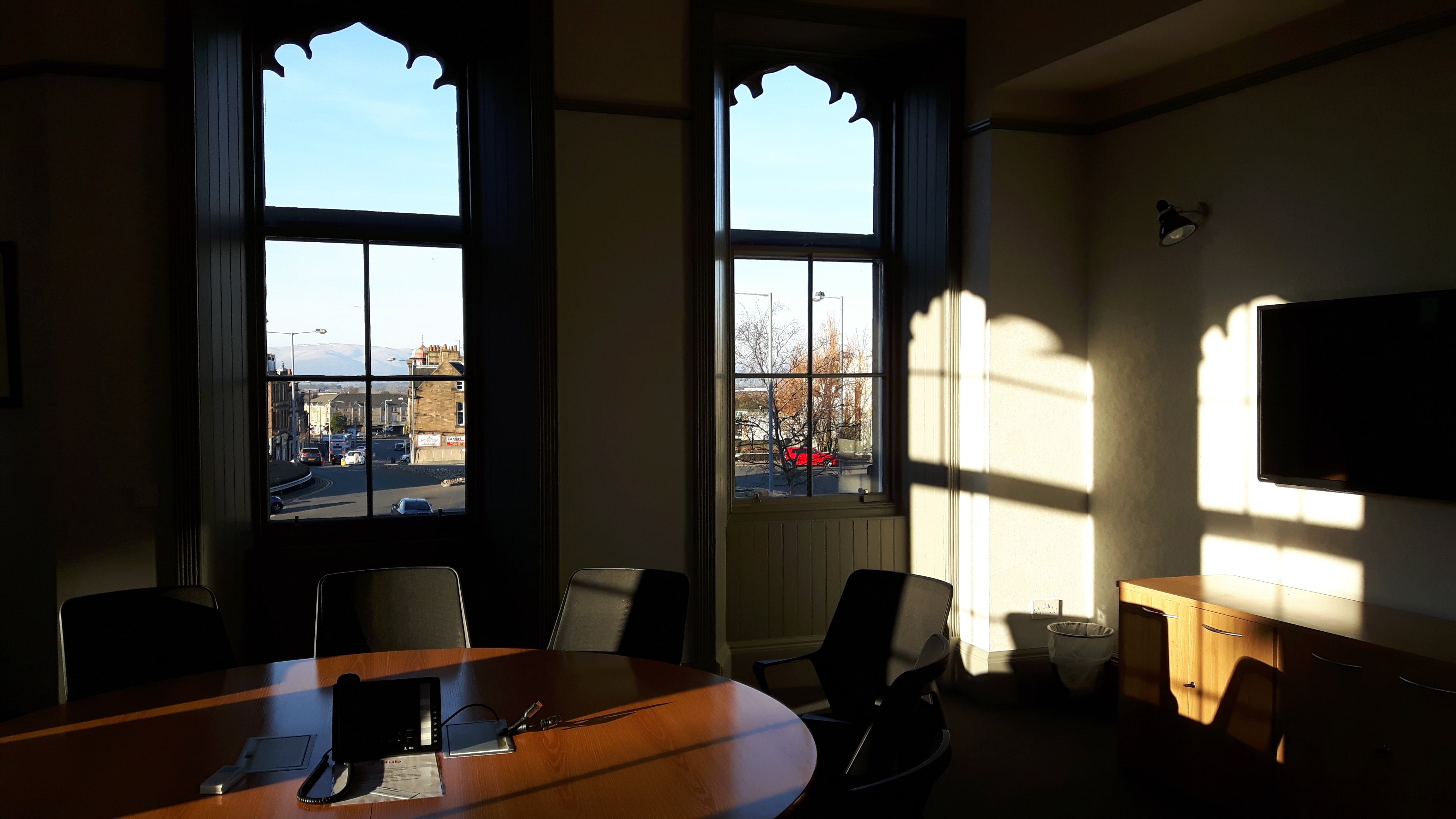 Stress-Free Admin
And what about The Hub staff? What do they think of Appointedd? "In terms of the admin side of it, it just kind of manages itself. Our hosts get a notification to say that a booking has come through, and then they make contact directly with that person. We get all the information we need about them from the Appointedd system and then we get in touch with them to confirm the booking. They find it really easy to get the confirmation in an automatic email and then follow that up."
And by making the meeting room availability transparent with Appointedd's online booking tools, there's less leg work involved for everyone: "Our meeting rooms range from small one to four people rooms, up to spaces that can host fifty-nine people, so all sorts of different businesses use them. Some use the smaller rooms for quiet project work or interviews, and in the larger rooms we have language classes, AGMs, conferences and training and everything in between! People want a quick answer to something. They're thinking about it there and then, they want to know: Should I book that? How much would it be? Is it available? and that's a benefit of the Appointedd system."
Thanks to Douglas at Falkirk Business Hub for talking to us. You can learn more about The Hub's facilities on their website here and book their meeting rooms through their Appointedd booking app.
Published on 23 September 2016