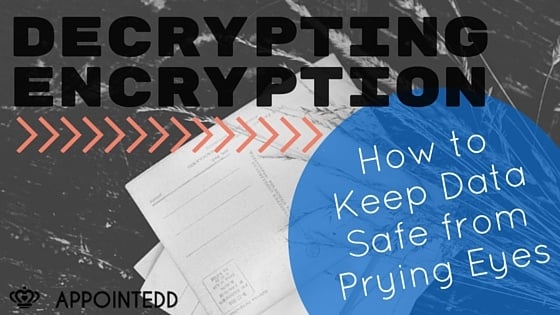 The recent case of Apple vs the FBI has brought the issue of encryption back to the fore in a big way, and it started me thinking about the importance of encryption for small business owners. For Apple, undermining the security of their devices could have massive commercial implications for them, not to mention ethical ones. But even if you're not manufacturing smartphone strongholds, securing your data is still a super important aspect of running your business, for you and your clients.
But encryption can seem like a ridiculously complicated thing if you're not used to that kind of thing. What does it mean exactly? Well, encryption is basically the act of 'scrambling' information so that it becomes unreadable to anyone who doesn't have a key. Technically, just writing a message in a very simple number-for-letter code would be encryption, but it could be cracked in a heartbeat so wouldn't do much good. Modern encryption needs to be much harder to decode, and there are varying degrees of strength in encryption usually on a sliding scale of free basic encryption methods to more expensive, more secure options.
So do you, as a business owner, need to think about encryption? Well, I would say yes. In fact encryption is something we should all be concerned with on a personal and professional level. It's an important tool for keeping your data, and the data of others, safe from prying eyes. So here are some key areas to start with:
Secure Email
The vast majority of all your business communications, internal and external, are likely conducted via email, so it's a good idea to have a solid encryption system in place. It's often been said that standard email has the security of a postcard, which means that sending sensitive information, such as a client's personal details, in an unprotected message is a big no-no.
The good news is that there are plenty of email encryption services available, and you're bound to find one suited to your needs and budget. Topping the charts at the moment are HP SecureMail and DataMotion, but if you're looking for something a bit less costly that will still keep you and your customers safe, HushMail has packages suited to different sized businesses.
Whole Disk Encryption
Encrypting your PC hard drive is a must, especially if you're out on the road a lot. According to Symantec, 34% of data breaches in 2012 were due to lost or stolen devices. In other words, keep an eye on your laptop bag! For peace of mind if nothing else, it pays to make sure it's encrypted as default, so that even if something does get misplaced the data can't be accessed by anyone else. Bitlocker is old reliable in a sense, although if you're concerned about potential 'back doors' in Microsoft products (as many increasingly are, see earlier reference to Apple vs FBI) there are other free whole disk encryption options available, as well as reliable paying options that get good reviews like Sophos, McAfee, Symantec, Checkpoint, etc. etc.
File Transferring
For keeping information safe when transferring larger files, there are a few options. By far the best on paper is Gigasize with no upload limit and encryption features for a comparatively low rate.There are of course free options for file transferring but encryption is usually only included as a feature with paid services. As always, it depends on the information you're wanting to move around, and how sensitive it is. If the files you're sending include intellectual property, for example, that needs to be looked after.
Data Security
Encrypting your data and your customers' data is of the upmost importance. Fortunately, Appointedd uses the highest level of security on our systems so you never need to worry. We have an SSL Certificate which means our software, apps, widgets, and microsites run on the 'https' protocol. This encrypts data transfer between the client (browser, app etc.) and the server automatically!
Of course, there are all kinds of things you might need to be encrypting depending on what your business does and what technology you use: you might want to encrypt your portable drives, or you might store data in the cloud and want to safeguard it (a very good idea). Whatever you need to protect, there will be a solution for you out there, it's just a case of comparing features and deciding which one fits best. One thing's for sure though: taking time to encrypt now could save a lot of headaches in the future, so don't let it fall by the wayside!
Published on 4 March 2016