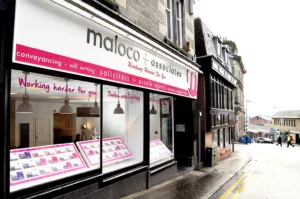 Things are moving fast in the world of estate agency. From hybrid agencies to virtual viewings and selling houses on Snapchat, the modern estate agent has a lot to get to grips with. So we spoke to one forward-thinking agency, Maloco Associates, about how they are making the most of the new online scheduling tools at their disposal.
Michael Maloco started his Dunfermline-based estate agency and solicitors firm in 2006. For eight out of the last ten years, Maloco Associates has been the number one selling agency in the area and has won several industry awards in that time. We spoke to Michael about the business, challenges in the industry, and how Appointedd is helping them embrace new opportunities.
Changing times for property sellers
With all his experience, Michael is well aware of all the ways the property industry is changing: "Estate agency is literally and metaphorically our shop window if you like, and we're facing challenging times. With market disruptors such as Purplebricks, as well as the changing face of our estate agency clients, we need to be aware of the needs of our current audience."
Maloco Associates is up for the challenge though, and keen to move with the times "In the past year we have done a number of things, like start our online bookstore, and set up our instant evaluation tool. And now we offer a 'book your own pre-sale evaluation' service through Appointedd."
"With market disruptors such as Purplebricks, we need to be aware of the needs of our current audience."
New opportunities
When I ask if Michael has noticed a difference after two months of using Appointedd, the answer is conclusive: "Absolutely. We've had a number of people use it; it's looking like a useful addition. It frees up staff, but it does more than that: we've seen an increase in the number of evaluations we're going to. It's just the ease."
Getting online has proven a valuable asset for the firm, that actively brings in new clients: "Some of the online disruptors – the new business models and hybrid models – there's obviously something good in what they're offering. They're slick in certain regards. So we have this scenario: someone alights on your website and likes what they see but they need to phone someone in the morning to book their pre-sale evaluation. Then, as they're surfing that night, they land on another site where they can book in pre-sale evaluations there and then. In that situation the chances are they might never phone you at all. So that's the advantage of online booking from Appointedd: getting evaluation opportunities that we would otherwise not get."
"Any time of the day, rather than having to call the office and wait for a phone call back – you know that 'telephone tag' thing that you so often have with people during their busy working day – people are able to go online and book their appointment. And it's been well received. Quite a number have booked that way and I'm happy with how it's going."
"That's the advantage of online booking from Appointedd: getting evaluation opportunities that we would otherwise not get."

Open all hours
The beauty of online booking is that it's open 24/7, and coming into work to find a full diary has become "the norm" for Michael's team. "They're happy to come in and find their diary full up. When you thought you were in for a quiet day and then you come in and find your day full, it's all a bit of a boost. That is what we see; people normally book between 9 and midnight, when we're long gone from the office."
Convenience… and comfort
I also ask what his clients have had to say about Appointedd: "Just that they've found it easy. One lady said that she'd been looking on the website, and she used the instant evaluation tool that we have. Then she got an automatic email offering her a tailored evaluation of her home, and she thought 'Yeah, why not'; she clicked on the button to book, and it was all done. She did all that sitting up in bed in her PJs."
Thank you to Michael Maloco for this interview. You can find out more about Maloco & Associates and the services they offer on their website, and also find them on Facebook.
Published on 31 March 2017