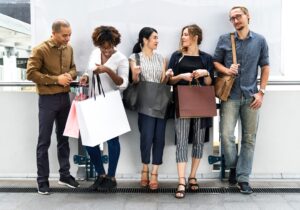 If you struggle to keep your business competitive, you're not alone. Retail involves a lot of moving parts that must be wrangled into a cohesive system – your retail tech stack. In the current landscape, innovation and agility constitute key characteristics of a successful, thriving business.
Innovation, automation
There are many benefits to implementing a tech stack. For one, it allows you to gain operational efficiencies that both reduce costs and offer more streamlined customer service. An essential component of this is the introduction of automation, which stacking helps you do across all areas, from internal processes to marketplace performance. The use of technology that functions through automation results in reduced admin for staff, meaning they can focus on delivering excellence within their core role.
So for instance, when your marketing department can automate their email campaigns and the qualification process, as well as continuous user tracking and nurturing, more time can be dedicated to improving and growing reach and effectiveness. Similarly, by automating call scheduling for the sales team, reps have more time to concentrate on selling and generating revenue.
The ideal tech stack incorporates some element of automation to bring innovation into the heart of the business, making it possible to expand into new services and elevate the experience customers receive.
Custom tech stack vs. retail management software
Another important reason to opt for a technology stack is to replace cumbersome legacy systems. There are plenty of retail management software (RMS) offerings on the market, and no doubt many retailers get by using these systems to manage their businesses. The idea makes sense: in order to ensure that all the cogs in this complicated machine work perfectly together, surely you need to have one solution that manages them all. Don't you?
While the advantage of a complete RMS is that, theoretically, everything is consolidated into one core system, in practical terms this doesn't always turn out to be the case. As the saying goes, when you try to be a Jack of all trades, you end up being master of none, which means that although your RMS may have all the functionality you need on paper, you quickly discover that the marketing tools are inadequate for large retailers' needs, the stock management side is too simplistic, or the POS equipment doesn't suit you. At that point you have a choice between continuing to use the inadequate tools provided, or you go to the additional expense of implementing a supplementary tool.
Why doggedly stick with software that lacks precision and limits your operational agility as your business scales, when you could have a complete solution made up of exclusively best-in-class tools, moulded specifically to your needs? That's where the retail technology stack comes in.
Implementing a stack gives you the benefit of being able to select tools that have just the functionality you need. Moreover, when you use tools developed to do one specific task, you can get best-in-class functionality for every facet of your business, rather than mediocrity across the board. By bringing together all these high quality tools into your stack, the end result is something that behaves like a custom-built solution, for an affordable price. Not to mention, the flexibility of stacking your tech encourages business growth thanks to ever-improving functionality and scalable models.
Why build a retail technology stack?
Get the best-in-class solution in every area of your business to improve efficiencies and drive revenue

Throw off clunky, over-complicated, and outdated systems

Always be up to date with the latest technology to stay competitive

Only pay for what you need
Designing the perfect retail stack
Deciding which tools should make up your stack begins with identifying the problems you would like to solve. Delving into problem areas will tell you what needs to be addressed.
As well as examining challenges, look at your areas of strength and how you could further improve these high-performing areas. If you have a successful personal styling service, for instance, could this be elevated by providing online booking to streamline and maximize service uptake and drive more footfall in-store?
Once your areas for improvement are delineated, it's time to do your research and look into the best tools for each of your requirements. Don't be tempted to look for something that does all or most of the things you need; you are looking for the most effective solution to each of your unique, individual problems. There are many unbiased platforms for real user reviews that you can use to compare tools, such as G2 Crowd, Capterra, and Fit Small Business. In some cases, the reviews for a product on one site are very different to those you find on another, so it is worthwhile looking at a product listing on a few different sites for a more accurate overall impression.
By approaching your digital transformation in this initially compartmentalized way, you can ensure that your choice of tools fits perfectly with your needs. This selection of independent tools will come together to form your high-performing and connected stack.
Retail tech stack contender checklist

Although you should assess the tools on offer against the individual needs of your business, there are a few overarching characteristics it's worth looking out for when making your comparisons.
Is it evergreen? Tools that have a custom codebase can be appealing because they are so customizable, but you don't want to be saddled with paying expensive upgrade costs or fees for dev work to make small changes. An evergreen tool will stay up to date automatically, so you don't have to worry about falling behind.

Do they offer strong support? When you trust another company with an important part of your business, you need to know you can get help when you need it. Check for reviews that specifically mention the quality and availability of customer support, as this will flag up potential difficulties you might encounter working with them.

Will it keep you compliant? With new data protection laws like the GDPR in play, you need to make sure the tools you use are reliable, secure, and compliant with regulations. Check that they offer things like uptime guarantees, strong security protocols, and (in the UK) CyberEssentials accreditation.
The lure of the custom build
Businesses often entertain the temptation to invest in an actual custom-built system, reasoning that the initial expense will be mitigated by not having to pay annual subscriptions to third parties. This is another false economy in many cases, because the fact is that building something tangential to your main business means you will never be able to match what is on offer by companies that invest all their time and resources into developing that solution. On top of this, with technology progressing so rapidly, it is not just the initial build that you must factor in but any time and cost associated with updating the system when it inevitably becomes obsolete.
Take for example the behemoth that is Airbnb. Airbnb uses a number of third party tools to improve its platform, on top of all their custom-built tools. They process payments, for example, using Braintree, and automate mobile communications with Twilio. Although a billion dollar company like Airbnb could probably take on the task of developing their own solutions to these needs, the benefit of using already established and reliable tools is that it saves them time and expense creating something that may not measure up to the capabilities on offer elsewhere.
Starting your research
The most important part of putting together the ideal stack is to be clear on what will suit your specific requirements. Shelling out for a tool with all the bells and whistles when what you really need is something simple and intuitive is going to be counterproductive. As a starting point, however, here are a few popular tools to investigate.
Online booking

When it comes to a smart scheduling tool that's a great fit for all kinds of retail use cases, Appointedd has you covered. It's flexible, user-friendly, evergreen, and highly customizable, and a host of household name retailers use it to drive footfall and nurture customer relationships.

Product testing

The problem of over- and under-stocking is one that plagues many retailers. Mallzee Insights addresses these issues by helping you predict the popularity of a product before it goes to production, which can increase gross margins by 2.81-6.11%.

POS

Whatever your needs, there's bound to be a point of sale system out there to suit you; here are some of our favourites and most popular choices. Epos Now is cloud-based and feature rich (and benefits from a full integration with Appointedd's online booking tools). iZettle is a great choice for small businesses, and Square is a popular sleek and user-friendly choice.

Ecommerce

Two of the most highly rated ecommerce platforms are Shopify, which users compliment on its ease of use, and Magento, which is a robust and scalable option.

App commerce

With more and more traffic coming from mobile, but mobile web conversion lower than desktop, offering customers an app where they can benefit from a dynamic and highly personalized experience is a must. Poq is a great tool for retailers to get their products onto a customized app.

Personalization

Using data to deliver personal experiences and recommendations to shoppers is an important part of the successful modern retailer. True Fit helps brands harness this data set and machine learning to do just that. Monetate also offers the ability to offer personalized recommendations to your customers.

Referrals

Mention Me is a nifty tool that lets you offer happy customers the chance to easily become referrers for your brand, for fast customer acquisition.

Payment processing

Although PayPal is pretty universally recognized and trusted, lesser known options include Braintree and Stripe, which both have low processing fees.

Implementing your retail tech stack
Once you have your top choices, it's time to consider your implementation process and how your selection will work together.
When it comes to getting your tools up and running, the best providers will make the implementation, or migration from an existing system, as seamless as possible for you. To help the transition go as smoothly as possible, set aside the time to train staff on the new system so that your team feels confident taking it forward.
Trialling the new tools in a small number of stores before rolling out across all locations is also recommended, as this will allow you to see how the new systems work in practice, and where there are any gaps in its capabilities. Once the stack is functioning well in your test run, expanding the solution to your wider company will be smoother, quicker, and more cost-efficient.
In terms of how to connect your stack into one unified system, there are a few different methods. Lightweight options include using a platform like Maestrano, which is a free service that allows you to consolidate various applications under one login and dashboard, pulling certain data between them. For a more DIY approach, Zapier allows you to connect apps and automate workflows between them, and the use of webhooks and APIs can also give you just the result you need. You could also simply look into which tools have full integrations already in place, such as Appointedd's integrations with tools like Cronofy, Epos Now, Stripe, and Free Agent.
How big name retailers are stacking their tech
The Wedding Gallery
The world's first ever wedding department store in London employs a tech stack that allows them to offer streamlined and highly personalized service to their customers. Taking online bookings with Appointedd from their website allows them to offer one-on-one consultations, fittings, and more. Combining this scheduling capability with Epos Now for their point-of-sale solution, and Sugar CRM for customer relationship management, gives them a full view of bookings, sales, marketing, and all communications with customers. Most important to The Wedding Gallery is the ability to imbue every interaction with customers with exclusivity and luxury, so using tools that allow them to tailor their service precisely to clients' needs elevates the shopping experience to something really special.
Retail: an industry in flux
We all know the retail industry is seeing huge changes at the moment thanks to so-called 'Amazonification', as well as changes in spending habits and more interest in experiential shopping. More than ever before, a big part of success in this landscape is the ability of retailers to stay agile. Implementing a tech stack allows you to harness the innovation of market-leading applications with a precise focus on your areas of need to keep your business future-ready.
You can find out how Appointedd works with global retailers like Marks and Spencer here.
You might also like:
The future of retail is all about old school values with help from the right tech
Facetime and footfall: driving in-person engagement with online and digital tools
Published on 11 October 2018