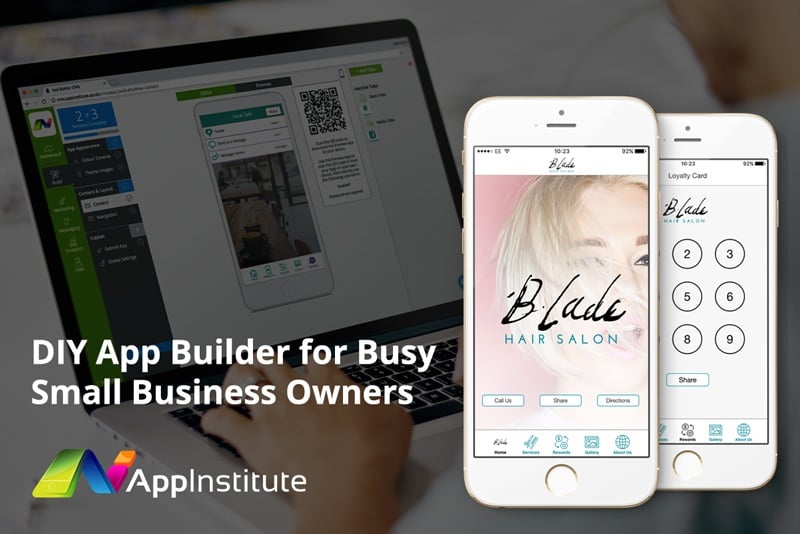 We're happy to announce that Appointedd has partnered with app building platform AppInstitute! Our new partnership makes it simple to create Android and iOS mobile apps for your business without writing a single line of code, and seamlessly integrate Appointedd's online booking to power conversion and grow your business.
Simple, professional apps
AppInstitute simplifies the process of building and publishing an app for your business from start to finish. You can even create an app in minutes by pulling content from your Facebook page directly into your app. Once your app is published to the Apple and Google Play stores you can start to take advantage of powerful mobile marketing tools such as location based push messaging, mobile loyalty programs, m-commerce and more!
AppInstitute works with users across a wide range of industries and has a choice of sleek and professional templates for every kind of business to get your app up and running in no time at all.

Booking directly from your app
Appointedd's customisable booking platform can be easily embedded onto your AppInstitute app so you can start taking bookings in minutes. What's more, the Appointedd booking app provides a simple way for customers to make bookings 24/7 from your business app, as well as facilitating online payment, and expanding marketing reach. Push notifications also provide a way to optimise the app for conversion, with online booking as a strong call to action that drives business in real time.
Imagine: sending out a simple push notification to your customers that reminds them to book their next appointment, they make the booking in a matter of seconds, then receive a confirmation text. So easy! By downloading your app your customers have a fast, convenient way to make their next booking that is just a tap away.
Appointedd and AppInstitute work together to help you get the most out of your business and your app. Plus, Appointedd users get an exclusive 50% discount off AppInstitute's AppBuilder Pro or AppSmart plans. Learn more here!
Published on 5 April 2017