"Time is a great healer, but a poor beautician." – Lucille S. Harper
Unfortunately, technology can't reverse the ageing process (yet..!), but it can certainly help us maximize our productivity in our day-to-day working lives.
To help you on your way we've put together a 'tech toolkit', so you can save time and focus on what matters – growing your business!
Slack
One of the reasons email has become less useful over the years can be attributed to the sheer amount of spam one receives on a daily basis. This makes it harder to cut through the noise and communicate with your team.
Emails, texts, Facebook chats, Whatsapp groups – why on earth would you need another communication platform?!
Well, because Slack will fit nicely into your business to replace all of the above.
Slack encapsulates all the functionality of email, instant messaging, file sharing, reminders and…it's free for small teams! You can integrate tons of your existing tools so it'll streamline your day-to-day business and be the beating heart of your business in no time.
Trello
Another awesome (free) tool you should be making the most of is Trello's task management software.
Trello is a system of boards, lists and cards that gives you a visual overview of what is being worked on and who is working on it.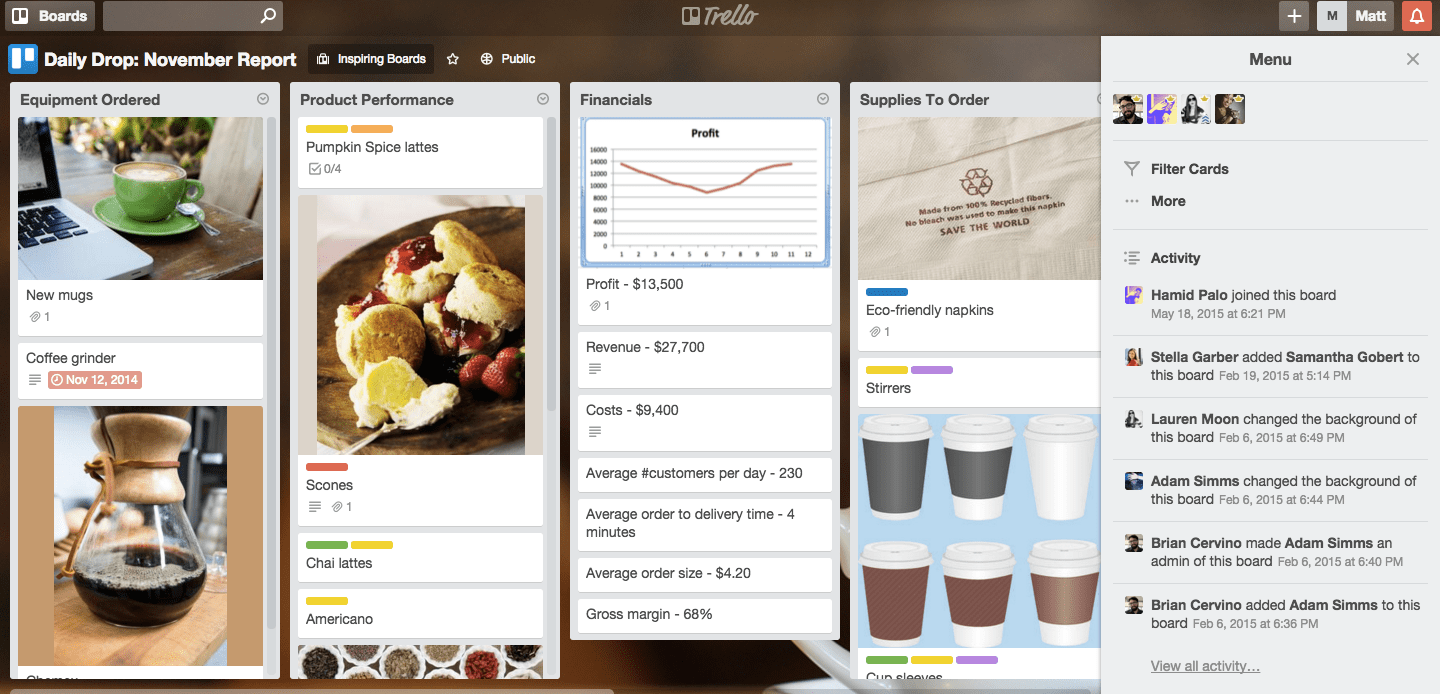 You might be needing to manage a promotion for a business, or even an ad hoc event – its adaptability makes it perfect for most project management! Here at Appointedd, we use it to track our operations.
Weebly
It's easy to discard the online component of your business, but with a growing digital community you simply cannot afford to miss out!
Weebly is one of the most popular website builders in the world, and there's good reason for it. No technical skills required, the drag and drop feature makes it a breeze to add text, images and forms to your site.
With Weebly you can also integrate third party web applications. If you operate a booking-based business, check out how you can integrate your website with Appointedd here. This means you can create a live online booking site for your business in minutes – and it's mobile optimized too!
FreeAgent
"In this world nothing can be said to be certain, except death and taxes" – Benjamin Franklin
FreeAgent's beautiful accounting software can certainly help you with the latter! From expenses and payroll to time tracking and estimates, this tool will certainly make your life that bit easier.
Why not check out FreeAgent's tour to see how they can help you? Again, it integrates with Appointedd, so if your business charges for services or appointments, you need never touch a financial transaction again. Just hook up Appointedd and FreeAgent and handle your accounts from online booking to balance sheet – all without you having to do a thing. And with FreeAgent's ability to report direct to HMRC, your tax return will be a breeze!
Buffer
Buffer is another fantastic tool you can use to save time and grow your business.
With Buffer you can schedule all your content across a range of social media platforms so you can spend less time in front of the computer and more time engaging with your customers in person! And don't worry, if you haven't got any content to distribute, just check out the 'Suggestion' feature for some ideas!
You can even install a Chrome extension, allowing you to schedule and share links, videos or pictures as you browse.
Appointedd
If you're operating a booking-based business then Appointedd might be the tool you need to bring your business bang up to date.
Appointedd connects many aspects of your business, all in one platform. From allowing your customers to book online, to producing financial and productivity reports on business activity, Appointedd joins the dots for busy businesses.
Why not get in touch?
We love chatting with small businesses, if you'd like to talk with us to find out more just click here and book a time best suited to you.
Published on 14 January 2016