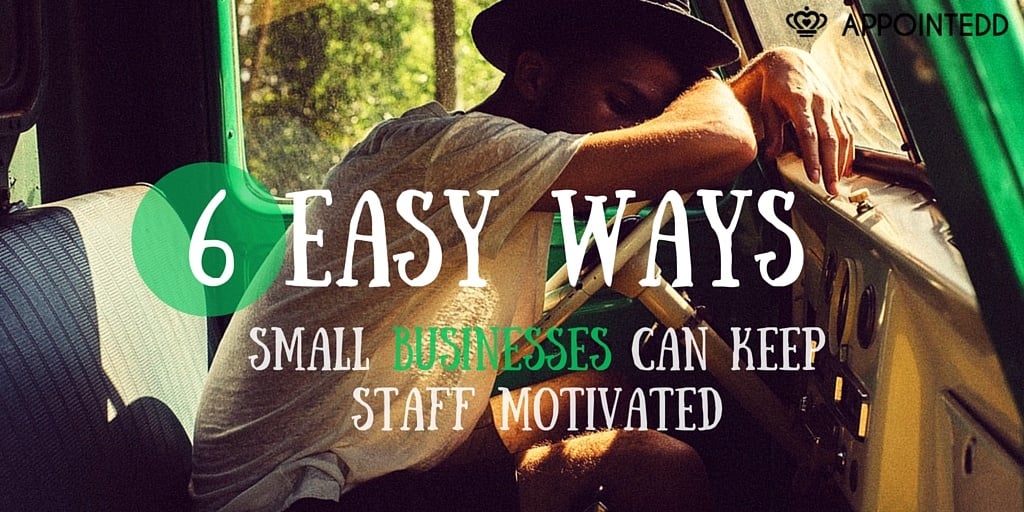 Staff are the bread and butter of every small business. Taking care of them should be high on your list of priorities. But we know managing and motivating staff can be a challenge, especially if you're a busy business owner.
Money isn't the only way to keep staff happy – but if you're on a budget, finding ways to reward them is like searching for a needle in a haystack. So with that in mind, we've brought together a few of our favourite easy ways to keep your staff motivated and happy in the workplace.
1) Listen to Your Staff
Communicating regularly with your staff will keep them interested and motivated to do their job to the max. Have a 20 minute private chat at the beginning of each week and ask them how they are. What areas of the job do they love (or really don't love)? What do they want to achieve? Find out more here.
2) Set Goals
Everyone wants to be interested in the work they do. Keep things fresh and interesting by setting new goals for your staff to achieve each week – no matter how small. Pin them on a board somewhere for all to see (Trello is great for creating individual or group tasks and staff can easily access it free from their phone). So if they hit the goal, offer a little prize (such as a box of chocolates or bottle of bubbly). Keep them engaged in the work they do by setting goals related to job responsibilities, so staff learn along the way.
3) Rewards Schemes
If you're on a budget, there are bundles of ways you can give staff little treats. Perkbox offers tonnes of free rewards such as food, product discounts and cinema tickets. It's free to sign up, and have other options for bigger rewards if you're feeling really generous (e.g for Christmas presents). Yippee!
4) Get Together
Socialising and participating in group tasks and activities together can help motivate your staff as a team. Try planning a day on your calendar where everyone can be together so you'll have something to look forward to. Being able to communicate and work together is super important to job satisfaction too. Have a staff day once a month, go to a yoga class or head out for dinner.
5) Say Thank-you Regularly
It may sound simple but saying thank-you more often reminds people they are doing a good job. This gets forgotten sometimes and your staff need to hear it. Appreciation keeps them feeling motivated to continue the good work they are doing. Write a handwritten card to each staff member when they go above and beyond. Buy everyone lunch on a Friday to say thanks for their hard work that week, letting a different staff member choose where each week. Or even just buy the bacon rolls on a Friday morning like we do at Appointedd. Little things like that are memorable and keep you connected.
6) Get Creative
Make your workplace a little more creative and inspiring. Pop photos of work by your staff on your website or Facebook page to show you are proud, and for your clients to see what they are capable of – so motivation and marketing all-in-one! Make the workplace welcoming and happy with a few plants, flowers, or colourful paintings. Create friendly competitions where your staff have to create new ideas that could be used for your business (e.g a new process or logo). Watch them get excited at the prospect of their creative ideas coming to life. Exciting times!
So there you go! Six easy ways small business owners can keep staff motivated. Go on, give them a try today.
Published on 19 January 2016