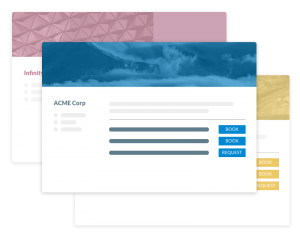 A free Appointedd online booking microsite is an incredibly quick and easy way to manage your business online. There's none of the time, effort, or expense of a custom website, but you can still benefit from having all your business information and services available online.
What exactly is a booking microsite?
A microsite is a one-page standalone website where you can display information like the name of your business, contact details, photos, reviews, and, most importantly, the services you offer. The microsite lets your customers book or request your services online in just a few clicks.
Every Appointedd account comes with a free microsite, so that even businesses without an existing online presence can start taking bookings online in minutes. Under two minutes to be precise.
To see one for yourself, take a look at Kirsty's microsite here.
Now that's cleared up, read on to discover our top tips for making the most of your fabulous free booking site.
1. Customise and optimise
Although your microsite is automatically generated for you when you create your Appointedd account, microsites always do better when they're fully jazzed up and customised. It's worth spending a little bit of time thinking about what you want to display there besides your services.
One of the most important parts of fitting out your microsite is filling in all the essential information about your business. Not only will this be a big help to conversion, but it will optimise your microsite to rank on search engines. For instance, if you want your microsite to come up when someone searches for 'cookery classes in [your town]' then try to fit this into your business description somewhere.
It's also a good idea to style your microsite to suit the nature of your business. Appointedd's editable microsites let you really make it your own with colour themes, custom banner images, and more. See our support guide to editing your microsite here.
2. Glowing reviews
One of the best ways to convince a potential customer to book with you is to display some incredible reviews from your fans. When customers make booking accounts on your Appointedd microsite, they have the option to leave you a review which will be displayed right there on the microsite itself for any visitors to see. You can encourage your customers to write you a review in your customisable email and SMS notifications, for example you could send them a thank you message after their appointment, asking them to book their next appointment or leave a review. See our guide to creating notifications for help with this.
3. Link everywhere
Having an online booking microsite is not only great for making the booking process more time and cost efficient, but also for boosting your marketing and publicity. Your booking site can – and should – be linked from pretty much everywhere: your social media accounts, your email marketing, even give the address of your microsite pride of place on adverts, business cards, posters, and in-store if relevant. Being bookable online gives you something to really shout about across the web, and can help you stand out from the crowd with a whole new online audience.
If you have a Facebook page for your business, you can direct visitors to your booking microsite. This is a fantastic way to drive bookings and turn your Facebook page into a conversion machine! Take a look at our support article for a step-by-step guide on how to do this.
Start taking bookings from your microsite in under 2 minutes
With the Appointedd setup wizard, you can start taking bookings in less time than it takes to drink a cup of coffee. Check out our SlideShare to see the second-by-second breakdown of the signup process, then head here to start your free trial and try it for yourself.
Published on 6 March 2017