So you're thinking about using WordPress as your online booking system?
A WordPress website is a great way to showcase your business and it's easy to customise your website to fit in with how your day-to-day business operates.
WordPress is great at enabling you to build a great looking site really easily. But the most important thing is to turn your website into one which makes you some money…
When searching for a way to take bookings through your WordPress website, thanks to the strong community of developers and range of plugins it's easy to start taking bookings.
But there is another way, and you might find that it gives you all the flexibility of WordPress plugins, with the added benefit of a full business management system…
Using Appointedd:
If you've been looking at the WordPress booking plugins on offer and you're not sold by current systems in use, Appointedd can offer you a more comprehensive booking software that's not directly bound to WordPress. This allows you to take bookings and manage your business all in one place – directly connected to your WordPress website.
Being that our software doesn't work directly through WordPress means that you can manage the bookings you take from your WordPress website anywhere, anytime. You'll have the ability to take and manage your bookings through our desktop and mobile software. With our suite of tools and tricks Appointedd will make taking your online bookings simpler and faster.
Taking bookings with Appointedd through WordPress is easy. You can use Appointedd as your business's WordPress booking system by adding a website booking widget to any part of your WordPress website. The following four steps to add a website widget should only take you a max of 10 minutes to implement.
Adding your Appointedd booking widget to WordPress:
Step 1: The booking widget
You can sign up to Appointedd here.
Appointedd booking widget can be created by navigating to booking tools menu. This will take you to our widget creation area.
You can find out how to create a widget by going to our widget creation support page,
Step 2: Adding a widget to a WordPress page
Assuming you have created your widget and copied your widget's iframe code (found at the bottom of the widget creation page), adding the widget to a WordPress page is done by simply pasting the widget code into the same text areas as you would place content.
Please note: Make sure you have selected the Text tab in the content editor before posting your widget code. Highlighted in red.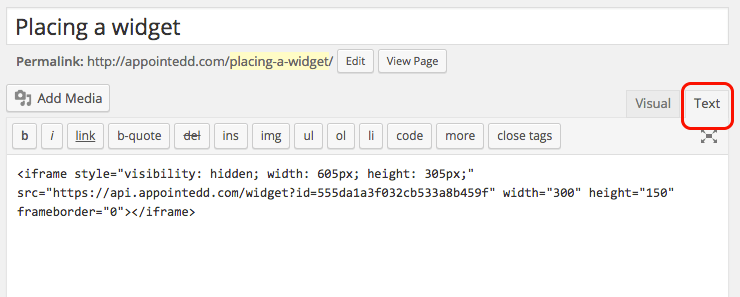 Step 3: Adding a widget to a WordPress sidebar
Before starting the process of adding your sidebar widget, make sure you have the portrait version of our widget, as this will fit in best with the layout of most WordPress website sidebars.
To add your widget:
At the WordPress dashboard, on the left hand side admin menu, navigate to Appearances and then Widgets. This takes you to the WordPress sidebar area.
In this area there is template widgets. Look for a text only widget. Then drag and drop this widget into your assigned sidebar. Note: Your WordPress website may use a different sidebar for both the website pages and blog pages.
Once you've dragged and dropped the blank text WordPress widget into the right sidebar. You can edit it by clicking on the blank text widget. This will bring up something similar to the below image.
Tip: Add a nice call to action or text to provide a website visitor with some background information on what the widget does. This isn't always apparent to new visitors.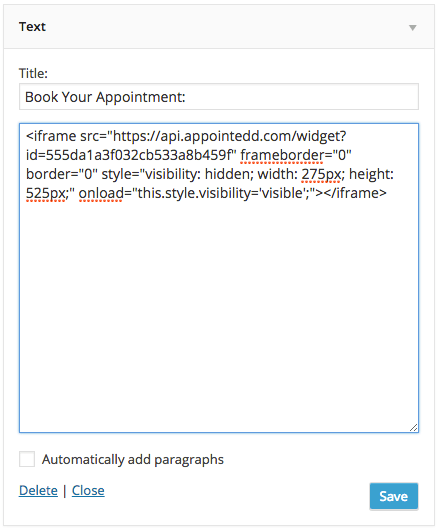 Step 4: Where to add your widget for maximum coverage
You can create and add as many widgets to your website as you'd like. Adding widgets to your main WordPress pages where the most traffic goes will increase your chances of bookings.
Test out widgets that fit in with your design and ones that stand out to see which has the best effect on bookings.
Create a page that is just for taking bookings and direct any social or customers to that page. Reducing the calls to action on these pages should help reduce bounce rates and a simpler page should help increase bookings.
Even if you don't have a WordPress website, you can take bookings with Appointedd on any websites thanks to how our booking widget works. If you use Facebook to promote your business, our widgets works with your Facebook page.
If you would like to start using Appointedd as your WordPress booking system. You can get a 14 day free trial: