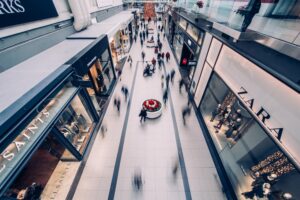 Attended by over 200 retailers every year, Future Stores brings together an impressive cast of leading experts to focus on the challenges and dynamics of the industry today. This year it was our pleasure to attend the event in London and find out for ourselves what's at the top of retailers' to-do lists right now, and how appointment scheduling and booking tools can help.
Omnichannel remains omnipresent
The emphasis on omnichannel is showing no signs of disappearing anytime soon. The fact is, delivering on omnichannel is fundamental to success in the current and future landscape, although perhaps not in the way retailers had previously been approaching it. While many have previously tackled 'omnichannel' primarily through an internally focused IT agenda, it is clear brands now realize that being truly omnichannel must come from a focus on customer experience. The real key to success is the benefit of an omnichannel approach to customers, allowing businesses to increase awareness, drive engagement, and maximize brand loyalty.
In-store and online
We are long past the stage of competition between in-store and online retail at this point. Surviving and thriving now rests on the ability to create harmony across channels so that the customer experience is seamless and consistent.
But the brick-and-mortar store remains the lynchpin of building strong relationships between companies and customers. It is in physical stores where retailers have the opportunity to deliver a fully immersive experience, generate true brand loyalty, and convert customers into advocates for the brand.
Bringing values into shopping
Increasingly important to shoppers are the values brands hold at an organizational level. Retailers need to crystallize their values and ensure these run through every aspect of the business, both internally and externally. This is crucial when it comes to customers identifying with brands and their ethos.
Luxury and aspirational brands particularly are creating stories around their products to appeal to a 'second layer' of customer connection. An example of this is Adidas, who don't simply preach their belief that sport has the power to change lives – they also practise it by encouraging employees to prioritize their health and fitness over their productivity at work knowing that productivity will come as a result. Similarly, one Swedish outdoor store sends two employees every year from every store on a 110km hike so that they can advocate for the brand's products. In order to deliver a truly immersive experience to customers, retailers must be prepared to offer absolute genuineness, staying consistent with their core driving values.
People at the heart of retail
Of course, values only live through people, and a strong focus on the people on both sides of the checkout is also proving more and more vital. In some senses, just like a nod to the old school customer-centric independent retailer mentality, today's personalized shopping agenda requires employees who are informed, trained, empowered, and encouraged to build relationships in order to deliver that optimum experience. Although technology will undoubtedly continue to play an important role in taking retailers forward, solutions that aid retailers to build and optimize relationships with customers will surely fare well.
With this in mind, it is time for retailers to focus less on their internal KPIs and 'selling', instead ploughing efforts into facilitating a buying journey by reducing friction, offering customers choice, making the right information transparently available where it is most needed, and maximizing brand loyalty through the experience.