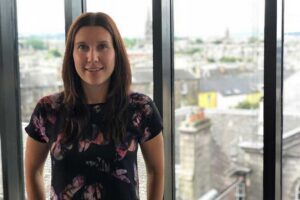 We are pleased to announce the appointment of Sarah Freestone, previously of travel giant Skyscanner, as new Operations Director at Appointedd, the online scheduling solution for businesses of all sizes.
Following on from Appointedd's focus on driving international expansion at the start of the year, Sarah joins Appointedd to help manage and coordinate this global growth, focusing on enterprise on-boarding and client success. In addition to the continued expansion of Appointedd's sales and marketing teams, this hire constitutes a major step in the continued development of the business.
Sarah will be taking on a comprehensive role within Appointed, taking responsibility for a number of key operational areas in the business including finance, legal, and HR, as well as working with the wider team to ensure the continued success in global client on-boarding. Sarah said: "By joining Appointedd at such a pivotal time in its growth, I'm looking forward to playing an important role in facilitating this new stage of operational development and ensuring the provision of world class service to Appointedd's customers."
After entering Skyscanner as one of the company's first HR hires in 2010, Sarah latterly moved into Internal Communications, a function which she established, and was instrumental in developing and capturing Skyscanner's culture. Sarah went on to lead the Internal Communications throughout Ctrip's acquisition of the company in 2016.
Sarah explained: "After playing a key role in Skyscanner's development, seeing them grow from a staff of just sixty to over nine-hundred across ten offices, it is wonderful to be able to join another exciting startup at this early stage. I'm looking forward to enjoying a similar aggressive growth story here at Appointedd."
Sarah continued: "The company is expanding rapidly, both in terms of ongoing recruitment and securing new clients. I'm really excited to join a passionate, dynamic team with a such great product where I can help shape the company's future success."
Published on 30 July 2018