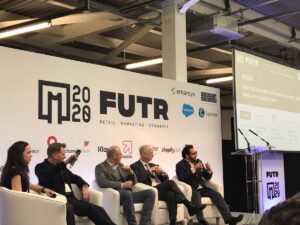 Last week in London, Appointedd had the pleasure of attending the Millennial 20/20 FUTR event where businesses from across the retail industry came together to discuss the future of commerce, marketing, and sales. We were in the thick of it, hearing from big names such as John Lewis, House of Fraser, Sainsbury's, Harrods, Made.com, and more, gaining insights into how brands are connecting with a new generation of shoppers.
Amidst the buzz, a few key themes stood out. Millennial consumers are looking for experiences, theatre, and quality, and they're tech savvy and mobile about getting it. Data and people are key to future success, driving brands to reinvigorate their offerings, engage millennials on their turf (i.e. digitally) and offer frictionless shopping for customers and staff alike.
Reinventing the brand
In order to reinvigorate brand relevance for shoppers, retailers need to embrace the tech that can nourish the customer experience.
At the event we heard from speakers from John Lewis Partnership, House of Fraser, and Sainsbury's-Argos. These household name brands know that retailers, traditionally physical businesses, need to focus on "people-led technology" and connect customers with that technology to ensure they engage with brands easily.
With retail being such a people-oriented industry, using technology to bring customers together with associates in-store is the best way to augment brands and cultivate loyalty among customers. By employing long-term technological evolution that solves real problems rather than short-term gimmicks, companies can bring sustainable value to the core of the business. This approach that puts people first and profit second embraces a more holistic approach that increases the opportunity for longevity and success.
Cloud-based and evergreen technologies also enable retailers to embrace changes at the same time as their consumer base embraces them in their day-to-day lives, vastly increasing the relevance of brands. The benefit of evergreen tech over software with a unique codebase is that there is no need for periodic updates or expensive upgrades: updates arrive as and when they become available, making your tech futureproof.
By marrying this digital fluency with the emotional connection shoppers have with physical stores, retailers engage on a deeper level and allow experiences to amplify their brand.
What's in store for retail?
Speaking on the subject of driving a new era of retail were representatives from Made.com, Harrods and Kering. The emphasis was on shopping as an experiential event rather than a basic necessity.
Knowing that within the next five years, 50% of the consumer base will be millennials, engaging with this generation is crucial. One advantage that retailers have is that as their customer base changes, so to does their staff. Millennial staff members use tech in their everyday lives and this adept group can and should be utilising this skill in the workplace.
For the 'Instagram' generation of shoppers, theatre is everything. Shops are increasingly seen as a destination in and of themselves, with the product taking a backseat to the aesthetics and experience of shopping itself. This is where the average UK high street is falling behind. Retail now needs to be exceptional, sensory, tactile, and personalised.
One way to offer this "Quality Uniqueness" is to elevate one-on-one services within stores. This allows the quality of customer service take centre-stage and customer wants to be satisfied with in-store knowledge. This was exciting, although not surprising, for us to hear, since this is exactly where Appointedd works so well for retailers like Marks and Spencer.
Technology can capture the interest of this generational market, but to capture loyalty it is interaction that is needed.
Bricks and mortar get smart
Omnichannel remains a cornerstone of effective modern retail, and speakers from the likes of Schuh, Dixons, Arcadia Group, and Jo Malone discussed what that in-store technology and omnichannel retail should look like.
The biggest issue for retailers in-store is the cost of rolling out tech and the pace and confidence of that roll out. With the stakes already high, staff and consumer adoption is key, and part of ensure utilisation and participation is ensuring that tech connects seamlessly.
Empowering staff by providing them access to the technology plays an important part, as does collaborating with customers throughout the implementation and gathering real feedback from the end user.
Above all, the digital experience must fit the customer experience, and infrastructure must be built into store for digital that enhances the customer journey rather than dictating it. To futureproof retail brands, companies must increase profitable customer engagements by digitising the customer journey from website to store. By making use of the best tools the market has to offer, brands can deliver excellent customer service and a connected experience across online and offline interactions.
Published on 20 March 2018