This is the second installment of a new series of blogs looking at how Team Appointedd uses the Appointedd system, giving you insights into the features we love and what we use them for. Find the first blog in the series all about our sales team here.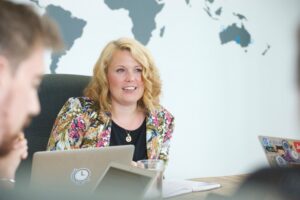 There's a lot going on behind the scenes at Appointedd HQ, and having a set of streamlined scheduling tools at our disposal is a godsend when all the juggling balls are in the air (i.e. all the time).
One of the main ways the whole team uses Appointedd on a daily basis is to manage the reservation of the office meeting rooms. Whether it's a twenty-minute chat or a two-hour board meeting, it all gets scheduled with Appointedd, using the back office part of the software for a quick view of when rooms are available. The simple calendar lets anyone in the office book a space for as long as they need in just a few clicks, and by transparently displaying the owner of the booking it's a quick procedure to find out who has the room you desperately need and get down to the vital business of bargaining.
But it's not just internal meetings we arrange with Appointedd. With any number of external meetings and calls to organize, offering booking tools allows partners, clients, and anyone else to book their preferred time for their appointment, streamlining the process for everyone involved. Automated confirmation emails and reminders keep everyone on top of their schedule and avoid unnecessary double-booking blunders.
As you might expect, Appointedd really is the backbone of our time management as a team, whether that's internally or externally. Having a robust and flexible system in place makes it possible to use the same software to manage a wide range of areas with equal ease and simplicity. Basically, we love how Appointedd helps us work in a more productive way by keeping our schedules on track and easy to manage.
If you want to learn more about using Appointedd to elevate your business's operations, a good place to start is by taking a look through our features and case studies to see what we can offer and how our customers use the software to suit their own business needs. Look out for our next 'How Appointedd uses Appointedd' blog.
Published on 14 August 2018