The beating heart of Appointedd
We've supported small businesses since 2011. At the very beginning of Appointedd, this included a small number of businesses across the UK within industries such as beauty, fitness, and finance. 
Ten years later, we're powering online booking for small, medium and enterprise businesses in 23 countries across a multitude of industries. On top of beauty, fitness, and finance, we now also power the online booking for health, recruitment, retail, and petcare industries (to name a few). 
Although our customers come in all shapes and sizes, small businesses will always be the beating heart of Appointedd. My role as Product Solutions Executive is to understand the online booking needs for every small business and demonstrate how our booking tools can meet your online booking and scheduling needs.
Flexible technology for your bespoke booking needs
We don't specialise within a particular industry, because we don't need to. Appointedd is armoured with an array of features for you to use at your disposal. We're constantly learning, growing and adding new features to our tech stack. By speaking with small business owners across the world, we learn and implement what's important to you.
I usually find that although the booking needs of each business are different, the pains we solve are similar across all businesses. Here are three of the most common pain points that Appointedd solves with our best-in-class tech…
I'm constantly emailing back and forth, rearranging appointments, changing my schedule every second, and I honestly can't keep up with it anymore!
Well I'm not surprised, it sounds exhausting! You need to put Appointedd's booking tools onto your website and tell your customers about it. They can book online, 24/7, on any device, and in as little as 7 seconds.
Our automated communications suite will do all the work for you; confirming your appointments, allowing customers to cancel, reminding customers of their appointments and encouraging new ones to be booked! Every message is automatically triggered by each individual booking. You can sit back and relax (sort of! You do need to work too).
Read more information on our automated communications
.
I'm trying to run a business and save money, but Covid has meant I've had to make lots of changes. I'm not even sure where to begin, but I know I need to do something.
In light of Covid, we've created a whole suite of features to ensure your business meets track and trace requirements and keeps social distancing and capacity levels in check. I'd recommend booking a call with our team to get these features setup and keep your mind at ease.
Read more about our Covid features.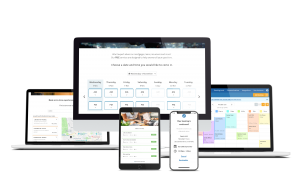 Appointedd isn't free, but if you're wanting to save money, we're a good choice! To use our online booking tools it costs £15 per month or £144 per year (or the equivalent in your local currency). You'll receive a 10% discount on top if you subscribe before your 14-day trial ends. The best part is there's no contract with us. If you want to pause your account if you're closed for a few months, we can do it.
I have a booking system already, but it's not great. I don't understand how to do any of this and I need a system that is user friendly and simple.
Don't let our feature-rich platform fool you! Appointedd isn't complicated. We have a number of helpful step-by-step guides and videos to help you along the way. This includes our wonderful online chat team, there for you 24/7.
If you are struggling, that's why we're here. Our team of experts are ready to speak with you over the phone or share their screen via Zoom to get you up and running with online booking. If you find the system easy to use, but have a couple of questions – go ahead and book. We're listening. 
Let's grow the Appointedd community
In the last 6 months alone, Appointedd has seen online bookings made from 158 different countries. We've gone through quite a journey together and we're so proud of what each small business has achieved. These unprecedented times are teaching us all to adapt, so we're here to support you and we look forward to welcoming and supporting more small businesses to our ever growing Appointedd community. 
Published on 14 January 2021