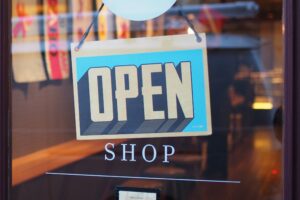 We love digital and online tools maybe more than most, but, even with all the increasingly advanced tech available, the most important thing for many businesses is still getting customers through the door.
Studies have shown that the vast majority of shoppers still prefer to go to a brick and mortar store over shopping online, and there's good reason for that. Seeing products in real life with your real life eyes gives you all kinds of information you can't get from a photo on the internet – it says it's your size, but does that coat actually fit? – not to mention the sensory experience of shopping, which is a draw in itself.
Nevertheless, the convenience of conducting purchases and engaging services online is impossible to deny. Customers today are busier than ever before and, even if they would prefer to go in-person, time constraints may force their hand.
That's why it's becoming increasingly clear to retailers and other businesses that the focus of their digital transformation must be on streamlining the customer journey across channels – using the ease of digital technology to make it more possible for them to visit physical stores and providing a seamless experience anywhere they interact with the brand.
Simple scheduling for time-poor customers
One of the biggest impedances to more people shopping in-store is a packed schedule that not only makes it difficult to find time to go to the shops but also makes it a stressful race to find everything in a small window of time.
Offering quick, easy online booking for in-store services such as personal shopping solves both of these issues. Customers can choose a time that suits them in advance and put it in the calendar, knowing that when they get to the store there will already be a selection of relevant products for them to choose from and they'll have the help of an associate to make the trip efficient. With Appointedd's online booking tools, custom questions can be added to the booking flow to gather any pertinent information about the customer's requirements so that associates can be prepared and give a highly tailored service from the very first moment.
A better experience
Far from dehumanising the service customers receive, using tools such as online booking has the ability to improve on the traditional retail experience with more personalisation and a more tailored offering.
Increasingly customers are looking for a shopping experience rather than purely a good product. That means retailers need to treat every store like their flagship and deliver a service that is experiential, memorable, and 'Instagrammable'. Online booking helps with this as it promotes one-on-one attention and a bespoke service, such as customers would receive at an exclusive boutique or a luxury furniture store, for example. With customisable online scheduling tools, this experience becomes available to all customers, with the added benefit of more efficient time management for the business which allows them to streamline their internal processes.
A winning combination
The reality is that we are becoming more and more reliant on digital technology in our daily lives, and it's no surprise when it has the ability to make almost any task substantially easier and less time-consuming. What technology can't replicate is the human element, which is why harnessing online tools to better provide that in-person interaction is the ultimate goal for service and retail businesses.
Published on 8 March 2018