Whilst waiting on a delayed King's Cross train a couple of weeks ago, I saw the announcement in the morning news of a £21 million project, going by the name Tech Nation, dedicated to boosting Britain's tech sector, as well as the government reaffirming its commitment to innovation in the UK. Along with doubling the number of visas available to the brightest and best talent from around the world, the Prime Minister also announced a new £20 million fund to help public services take advantage of UK expertise in innovative technologies like artificial intelligence.
The announcement came, not so coincidentally, on the same day that the PM and the Chancellor were hosting a reception at 10 Downing Street for people working in the technology industry. This was touted as a celebration of the economic and societal contribution of technology to the whole of the United Kingdom. And what a contribution it is! The digital economy is growing at twice the rate of the wider economy and now contributes around £97bn a year. Plus, the UK has attracted £28bn in technology investment since 2011!
And it is not just in London that the digital economy is excelling. Appointedd, along with hundreds of other technology start-ups and scale-ups, choose to base themselves away from the hustle and bustle of London, enjoying a truly entrepreneurial ecosystem right here in Auld Reekie.
As I read the varied articles online, most praising the announcements, I counted myself lucky. Not only to work in such a thriving industry, and for such an innovative company like Appointedd, but further, that in my bag I held a much coveted invitation to join Mrs May and Mr Hammond at 10 Downing Street that very evening! Should my train arrive on time, that is.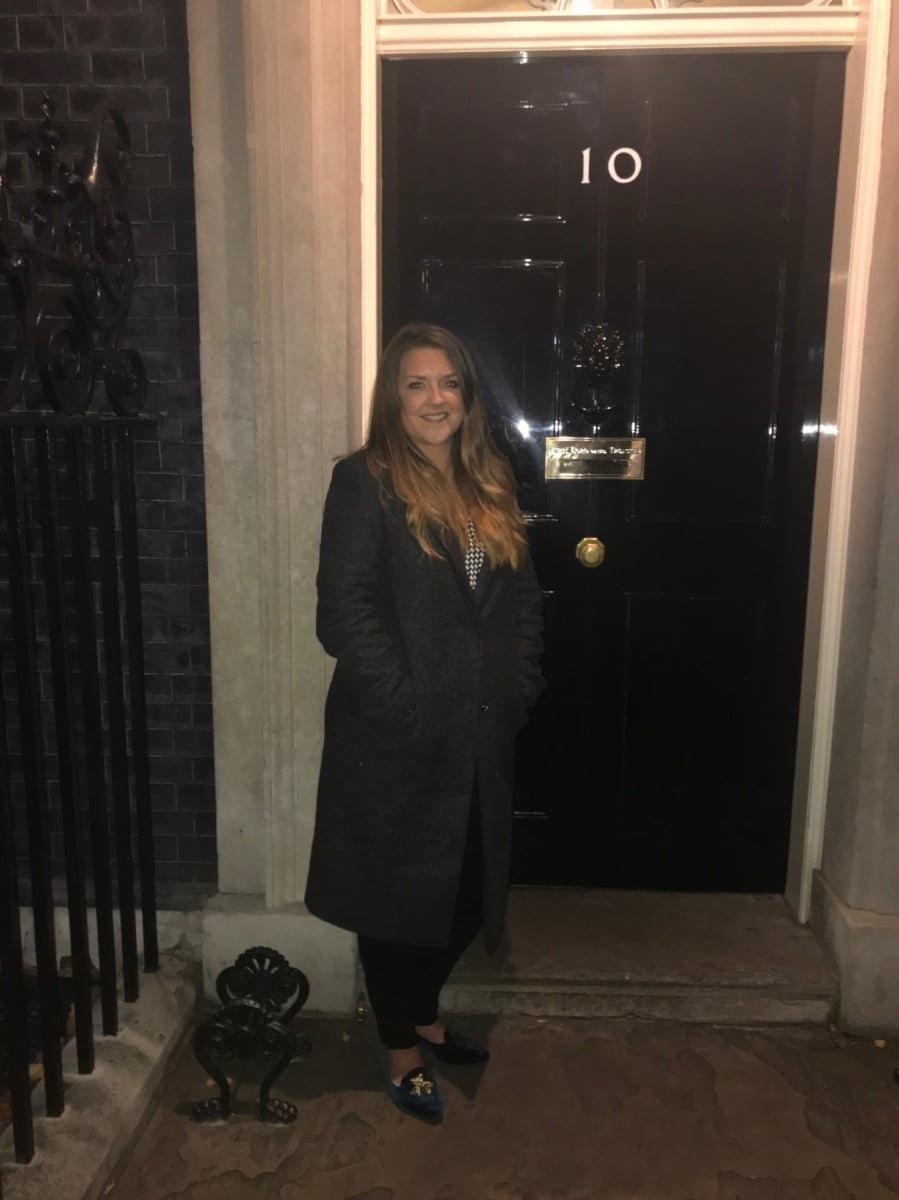 Thankfully, I made it. I joined the queue of innovators, investors, and entrepreneurs all waiting patiently to pass through the shiny black gates of Downing Street. As I climbed the stairs, the faces of all of our previous Prime Ministers looking down on me from the canary yellow walls, I felt a real flutter of excitement. Were these the very stairs Hugh danced down in Love Actually?
Amongst the visitors were employees from start-ups, scale-ups, and multinationals hailing from London, Glasgow, Windsor, and even New Zealand. Mrs May began by welcoming everyone and acknowledging the work of British pioneers such as Charles Babbage and Alan Turing, going on to give a nod to women in tech, specifically to Ada Lovelace whose large portrait hangs in the same room.
Being part of a female-led tech company myself, it was positive to hear praise where praise is due, but also hear the recognition that more needs to be done to ensure women are able to access the support and funding needed to launch their own start-ups. When Appointedd founder and CEO Leah Hutcheon spoke at the Scottish Parliament earlier in the year, she pointed out that if women started businesses at the same rate as men, they could generate an additional £7.6 billion to the Scottish economy alone – an amount that could neutralise the negative financial impact of Brexit! So imagine, then, what that figure could look like on a UK-wide scale?
Referencing some amazing tech companies such as Raspberry Pi, Mrs May went on to discuss reinvigorating STEM and ensuring we can provide digital education to equip young people for the workplaces of the future. The PM also talked of the launch of a £20 million cyber training programme for young people aged between 14 and 18. All extremely positive measures.
Echoing my earlier thoughts, I was encouraged to hear Mrs May say she was "keen to make sure that we don't just see the tech sector here in the UK as being very much concentrated in London," and with plans for new tech hubs in Birmingham, Cardiff, Belfast, Edinburgh and Glasgow supporting 40,000 entrepreneurs and up to 4,000 start-ups as they scale their businesses – it would seem that Tech Nation will certainly not be London-centric.
At Appointedd, we live and breathe innovation and entrepreneurship, so it was really encouraging to hear the PM celebrate the success of the tech industry, but also to hear her admit that we, along with the government, still have much work to do. With the budget announcing further commitment to digital innovation across industries, it's clear that technology underpins economic growth. More and more large corporations are seeing the absolute need for innovation and digital change within traditional businesses – from AI in public services, to automation in financial services. For any company wishing to future proof and remain ahead of the competition innovation is imperative.
Leaving 10 Downing Street feeling invigorated and inspired, I waited in line, like a true Brit, to secure my obligatory selfie at the front door – definitely one for the mantle, as well as the LinkedIn profile. Being asked to represent Appointedd and our part of the tech community in Edinburgh alongside such an incredible group of people was a real honour and one which will be hard to top. Saying that, being part of the crazy start-up world is always an adventure so you never know what's around the corner!
If anyone is looking to innovate their in-house services, embrace digital change, or simply have a discussion about the future of tech, Team Appointedd is always happy to help you there!
Published on 30 November 2017