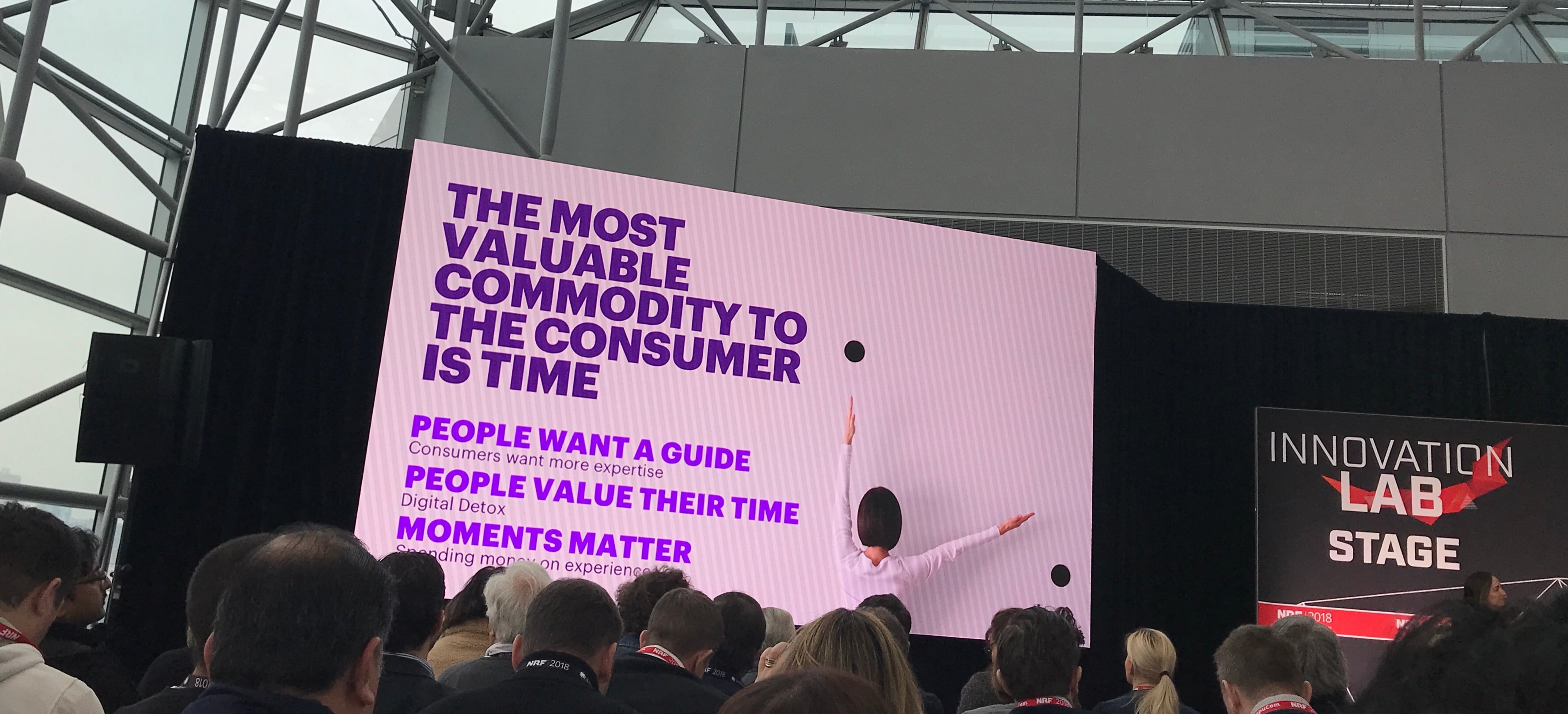 Three days, 35,000 people, 3,000 exhibitors, and me. The National Retail Federation Big Show lives up to its name as the biggest retail event of the year. This year I was there in New York on behalf of Appointedd to dive into what the future holds for the industry.
Over three days splitting at the seams with food for thought, a few central themes stood out as being crucial to retailers in the coming months. Not least among these was the huge question of bringing together the physical in-store experience with the convenience of online appointment booking tools, both of which have proved important to customers.
With a six-hour flight home on which to mull over everything I'd seen and heard, the buzz from the Big Show crystalised into a few key insights, all confirming that the retail industry is looking forward to an exciting time of change ahead…
Bringing the physical and the digital together
Day one of the conference was packed with mingling with other industry professionals and information sessions, and the topic on everyone's mind was the convergence of the physical and digital.
In the past, retail has largely treated its two arms as separate – the online, digital sphere disconnected from the physical store. But this is changing. Future emphasis will be on a truly omnichannel approach, with seamless engagement with the brand across the board. We're seeing this shift take place in high-profile cases such as Amazon moving into the physical space, while brands like Target move into the digital space.
Gartner Stats tell us that 89% of companies expect that user experience will be the only sustainable, competitive differentiator going forward, and that is certainly true for retailers. Shoppers are demanding more services accessible on mobile, for instance.
Amongst the companies focusing on developing their cross-channel customer experience, is Neiman Marcus. In his session, Scott Emmons, head of the Innovation Lab at Neiman Marcus said they wanted to build bridges between the digital experience and the in-store, solving real issues for their customers in the process and helping sales associates in-store with useful tools.

To do this they are looking to offer customer-facing tech in-store, as well as a strong web-based service, the goal being to deliver a global seamless experience regardless of location or channel.
Finishing the day at a networking evening overlooking Times Square, I met Karl McKeever, CEO of Visual Thinking, a leading retail consultancy that help brands and retailers improve their instore retail experience, and the wonderful team from Retail Focus. They have their fingers on the pulse and are influencing and reporting how the world of retail evolves. It was becoming clear that the big challenges in retail are increasing agility, and keeping in touch with customers' wants and needs.
The brick and mortar store strikes back
On day two of the show it was the brick and mortar store that took centre stage. Despite past predictions, it seems shoppers still like and want the physical in-store experience. But that doesn't mean there is no need for progress in this area – on the contrary, the brick and mortar store is on the cusp of big and important changes.
What do modern retail customers expect from customer services? The focus now is on creating a 'human' experience based on meaningful engagements, giving the customer a shopping experience personalized to them. The physical store is still the best arena for this personal touch to be achieved, but it is technology and data-driven personalization that will inform customer journeys with highly tailored recommendations, product news, and in-store interactions.
Experience is number one
On the last day, there was much discussion around the kind and quality of customers' engagements with brands. The act of shopping is seeing an elevation in importance above product itself, so that increasingly what retailers are 'selling' goes beyond the basic goods into less quantifiable assets, such as experiences, associations, and moments.
Brands are increasingly promoting and selling themselves through stories and narratives that drive loyalty through associations. An important cornerstone is the 'Instagrammable moment' which provides a point of connection between customer and brand beyond the traditional retailer/consumer relationship.
The cost of customer acquisition is high, but the cost of re-acquisition is even higher, so promoting loyalty is key. Customers want to talk to experts: they seek guidance and quality of service and product. They value time, and individual moments matter to them. The future of retail lies in appreciating the value of experiences.
Homeward bound
Leaving New York, my head was swimming with potential. At Appointedd we're always on the lookout for opportunities to innovate and with so much transformation afoot in the retail industry there is real drive to embrace progress and new ideas.
If there was one thing I was sure about after the NRF Big Show, it was that innovation is essential. Retailers must embrace new technologies to build customer loyalty, reduce costs, grow revenue, influence buying habits, and create more opportunities.
Everything I learnt also confirmed that Appointedd is ideally placed to help brands make a splash in these areas, with advanced online booking to drive customer back in-store, the capacity for 24/7 engagement online, and the tools to offer bespoke omnichannel experiences. We already work with retailers such as Marks and Spencer and The Wedding Gallery to deliver personalized one-on-one services that transform the shopping experience from a chore into something to be enjoyed and valued in itself.
The industry is looking forward in exciting new directions to maintain competitive advantages and thrive amid a constantly changing market. By promoting an open culture that is willing to learn from agile, tech-based startups, customer evolution can inform the progress of retailers, who can start to anticipate the shifting needs of their customer base. The future is bright for retailers committed to honing and adapting their customer experience across channels, and with a mind to the evolving landscape of both digital and physical retail.
Published on 24 January 2018