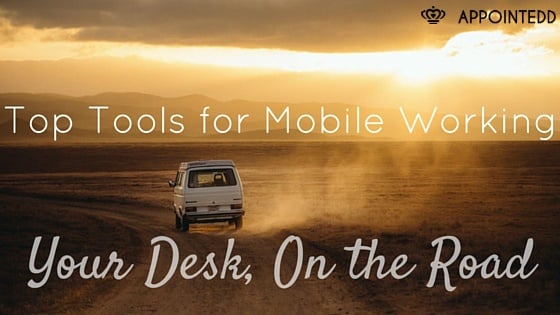 When you're to-ing and fro-ing, hither, thither and yon, you can't exactly lug your entire office around with you. We know this. What you need are some great useful tools that make doing business possible even while mobile. Here are our top picks:
Notes & To-Do Lists
Evernote
Everyone loves Evernote – it's a wonder app for people in any industry. Whether you want to clip things from the web, keep images, make audio notes, attach files, or set reminders, you can do pretty much any one of those wee note-taking actions with this tool. You can get the basic mobile app for free, and more feature-heavy packages for a subscription fee.
Remember the Milk
This one is great for making to do lists that won't just pour out of your organiser in a tidal wave of paper or get lost in coat pockets. You can use tags and deadlines to keep everything in order. It's a straight-forward idea done well – and it syncs with lots of other apps and tools, like your Google calendar, and Evernote.
Trello
This is one tool that the Appointedd team uses and loves: with Trello you can create different boards, move items from list to list, set due dates, colour code, and more! Best of all, it's free!
Money
iClaimIt
iClaimIt is a nifty mobile app for those of us who are always on the move. It's a must for anyone who has a major headache working out their travel expenses when it comes to tax return time. iClaimIt helps you keep track of your mileage, organise your receipts, and do the maths.
Wave
If you need an accountant in your phone, this is for you. It's designed with freelancers in mind and offers reports, the option to add multiple accounts, and helpful advice.
FreeAgent
One of Appointedd's best business pals, FreeAgent generates automatic invoices for you, lets you take deposits or full payments at the time of booking, and generally keeps your books up-to-date without you having to lift a finger (or a calculator). You can find out more about Appointedd's integration with FreeAgent here!
Storage & Organisation
LogMeIn
LogMeIn is great for if you need to access your PC or laptop when you're on the move, or travelling light. It lets you view and edit things on your computer, and use applications like Microsoft Office as though you're sitting at it. Easy to use, but you do need to sign up on the PC you're wanting to access beforehand.
Box
If you don't need the full access to your PC that LogMeIn gives you but you still need to be able to store, edit, and share files on the go, Box is a good way to go. With this cloud storage option you get 10GB of storage with the free version, with the option of upgrading for more. It's secure for work-related documents, and you can add notes in the app.
Maestrano
Maestrano is the maestro when it comes to coordinating your apps and online accounts! This seriously fantastic tool can get everything flawlessly synced so that you never have to add duplicate information on several different platforms. And in case you haven't heard, Maestrano has recently teamed up with Appointedd, which means your online booking system can be seamlessly integrated with all your other bits and pieces. Nice.
Published on 17 February 2016