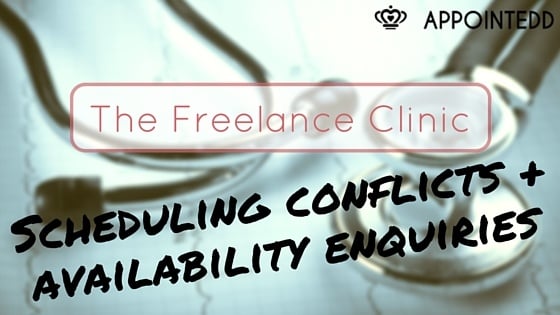 The great thing about freelancing is that you get to organise your own time. On the down side, you have to, you know, organise your own time. It's a double-edged sword that comes in handy sometimes, but at others simply feels like one more chore to deal with. And if you're constantly pestered by emails and phonecalls about your availability, it can really affect your work and productivity. More importantly, it's super annoying.
It's an issue quite a lot of people have when they're trying to juggle multiple jobs at once or just trying to line them up one after the other. You don't want to be discouraging potential clients from hiring you by having to tell them that you're unavailable, but you can't constantly be fielding questions about when your current job will be finished, how long a proposed job will take etc. You'd never actually get anything done, you know?
Availability Transparency

One simple option would be to set up a calendar on your website that shows when you already have projects scheduled, that way clients have a rough idea of when you could take on their job from the get-go. You could also write up some FAQ email responses, such as a set message for when you get an availability enquiry that you can quickly fire off without a second thought.
Another really useful thing would be an app you could embed, or a microsite you could direct people to, that would let them see your availability and arrange a time to meet or chat to you. Funnily enough, Appointedd offers a service just like this, and it has the added benefit of integrating with external calendars like Google calendar, so if you're the kind of person who tends to double-book yourself by making various arrangements and noting them down in different places, you wouldn't have to worry about that any more. Plus, Appointedd also has unique time zone conversion functionality so you can arrange calls with overseas clients really easily. You can find out more about all of that here.
The Right Tools
This is one issue that can really easily be resolved just by taking advantage of the tools at your disposal. By using Appointedd to manage your schedule you can completely remove the chance of conflicts, because only the hours you set are made available for people to book. And, if you ever do find you've made a mistake and need to reschedule, it's easy as pie to direct someone to your booking site and let them choose an alternative time that's convenient for them.
More from The Freelance Clinic:
Published on 18 April 2016