"It is a truth universally acknowledged that a freelancer in want of a client isn't really much of a freelancer at all," as Jane Austen (kind of) wrote. Freelancers, particularly those just starting out, quite often find themselves trapped in a perpetual stress cycle that looks something like this: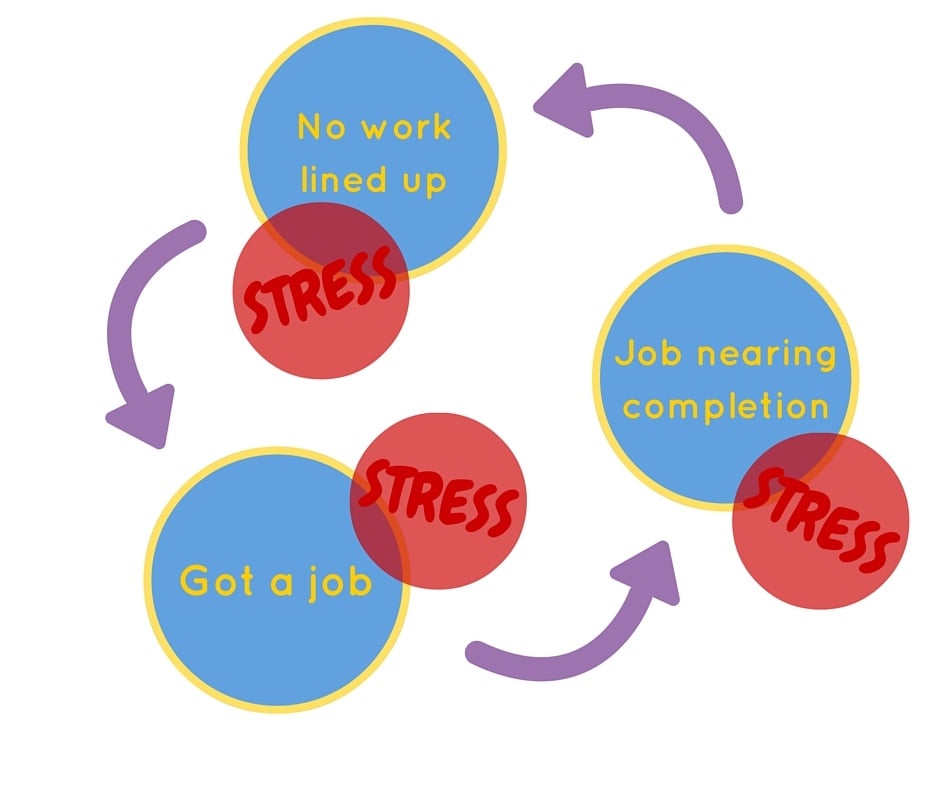 So what are the tricks to keeping the flow of the job river steady? Well, let's find out.
The First Job
"The first job is the hardest (to find)" as the P.P Arnold song (kind of) goes. In the last Freelance Clinic blog about the challenges of building a portfolio, I discussed the annoying no experience -> no work -> no experience eddy that it's all too easy to get stuck in. But there are ways to get your first paying job if you're willing to go after it and don't have too many delusions of landing a whale on your first crabbing trip. First of all, in this internet age we live in, there are a number of job sites specifically for freelancers that can offer you the chance to get your foot in the door of paid work. People Per Hour, We Work Remotely, Smashing Jobs, Elance, and Hubstaff Talent (which has the added benefit of being free to use!) to name a few. Websites like People Per Hour are particularly good for a quick job find, but the main issue is that there are lots of people offering their services all alongside each other, and those looking for freelancers in this kind of forum are often looking for a cheaper option so it can drive prices down. Still, it's a minimum-effort way of finding work.
The other old-fashioned method of getting your first gig is the classic family/friend referral. Often, just in the course of telling people about your freelance plans, some name will be mentioned and before you know it your mum's friend Kathy from church has had a word with someone and you've got yourself a job. If you want to harness the power of referrals in a more organised way, however, you can always send out offers of a referrer's fee, which allows you to contact a much broader spectrum of vague acquaintances and contacts by virtue of the professional arrangement. This can also keep the work coming in even after your first job.
Spread the Word
It goes without saying that networking and introducing yourself to people in your industry are necessary parts of building a successful freelance career. This can happen in person at organised networking events, or other general events where you think some of the right people might get together – but it can also happen in cyberspace. Social media is a great place to start reaching out to businesses or individuals that you'd like to work with: lurk around twitter accounts of interest and interact with them, try to build rapport and two-way interest by offering advice or just being conversational. You can also send out introductory emails to people you'd like to be potential clients – there's no guarantee you'll hear back from them, but it's worth doing if only to get your name in front of someone's face.
Another really great thing to do would be to offer something that can lead people to you – a useful blog, a how-to guide, etc. Something that people with mutual interests can stumble upon on their internet travels and link back to you. But don't leave it all to chance: once you have this Thing of Value you can start approaching people not just with a friendly hello but with something to offer, and that is far more likely to pique their interest.
Nurture Your Freelancing Family
It never hurts to have good links in a community that can offer advice and even give you a leg up. There are a number of general freelancing communities you can join online, as well as industry-specific groups all over the place. Facebook is, as ever, a great place to start.
Some people suggest reaching out to individual freelancers you admire and asking them for advice, which certainly can be helpful but tread carefully: many will generally charge for consultations and it won't necessarily go down well with them to just barrel straight in asking for their precious time and expertise for nothing.
Sadly there's no magic cave I can direct you to where all your future clients are hanging out, but by forging connections and seeking out experience where you can find it you'll find the process of locating your next job will become easier over time. "The road is long, with many a winding turn," as the song actually does go, but there are pit stops along the way to keep you going.
More from The Freelance Clinic:
Published on 28 March 2016