As a super busy VA you have your hands full helping your clients to run their businesses. We know that all too often the little tasks of the day build up and you can get bogged down with to-ing and fro-ing on email to arrange meetings, chasing payments and sending follow up messages to clients… Sound familiar?
At Appointedd, we are putting an end to the dreaded 'death by 5 minute tasks'. We have created the seamless, easy-to-use diary management tool that VAs the world over are raving about. This quick guide will give you an idea of the benefits…
Own time with Total Calendar control
Appointedd integrates with external calendars (iCal, Google calendar, Exchange and Outlook) so that appointments added in one calendar can be viewed in the other, and vice-versa. This provides you with a consistent diary system and allows you to view all of your VA's diaries at a glance.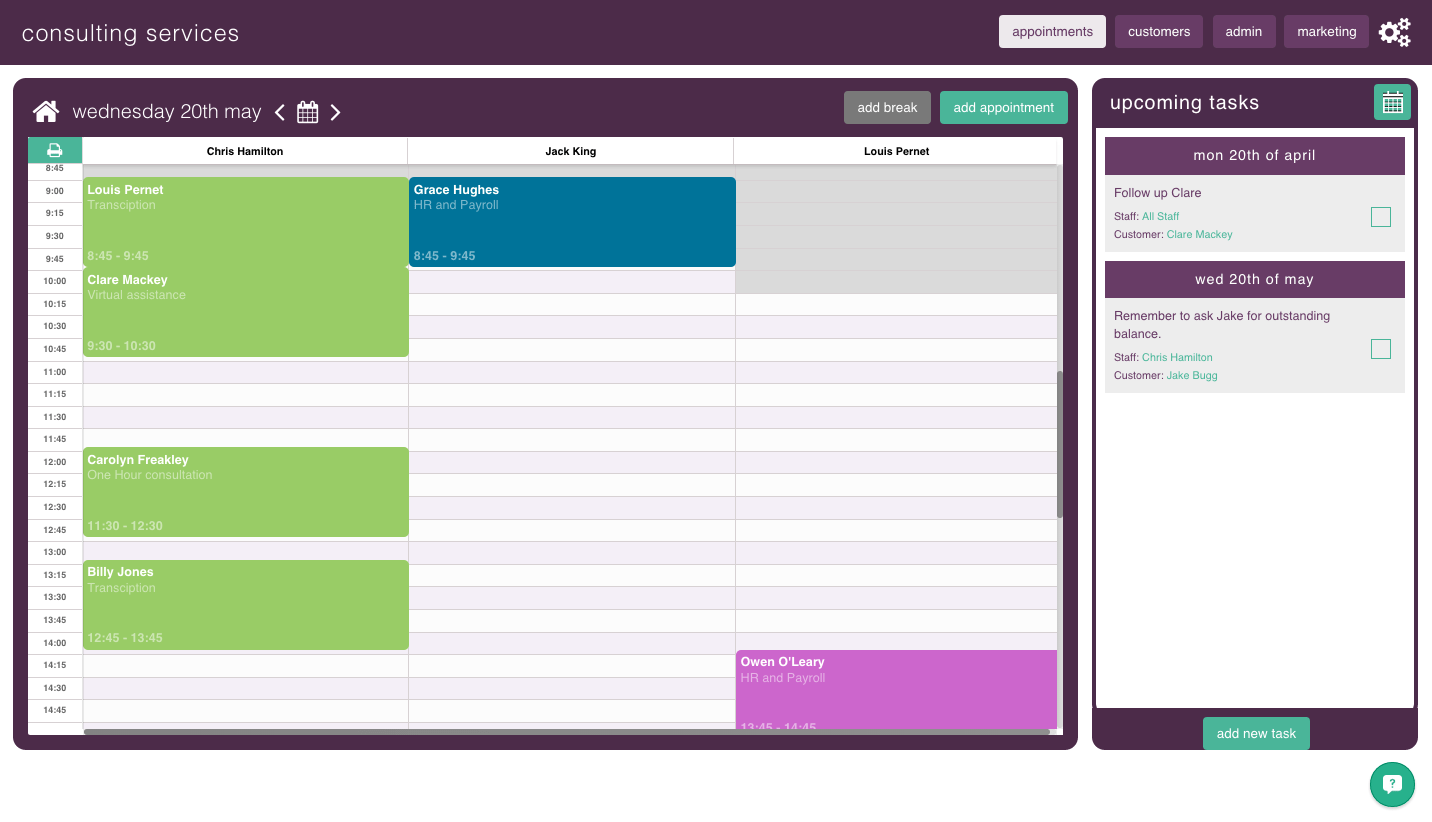 Powering your team to get more done
Appointedd includes a task management tool that allows your team to have full visibility of, and keep on top of, their to-do list. What's more, our handy staff reports allow you to view the number of hours worked and tasks completed by every VA in any custom time period. This makes it really easy for you to know who is producing the best results for your business.
Manage your clients easily and effectively
Appointedd includes a handy CRM tool that stores the contact information of every client you have completed work for. In one click you can view the number of hours they have used a VA in any time period, and which services they have used. You can even setup an automated SMS or email campaign to send to your current and past clients, utilising this information, sent straight from the system.
Grow your client base with online booking
Stand out from the crowd with online booking system and scheduling software. Allow your clients or potential clients to book an initial conversation to discuss the benefits of employing a VA 24/7 from your website and Facebook page. Or how about letting them book or request some of your services online? For some customers, being able to make bookings online, when and where they need you, is invaluable!
Build a global business
Appointedd's cutting-edge time zone functionality allows you to manage diaries across any time zone. This also allows you to take online booking from customers all over the world seamlessly – they will see your availability in their own time zone. For VAs who work with an international team, you can boast 24/7 scheduling if your team allows it – get in touch to hear more about this cutting edge feature!
Schedule seamlessly and cut down on admin with our powerful integrations
Adding appointments across multiple diaries is easy, tasks can even be moved swiftly from one VA to another. In addition, you can request payment from your clients online in the form of deposit or full amount. Check out our integration with cloud accounting experts, Freeagent to see how you can raise invoices straight from your diary.
Appointedd can be accessed anywhere, anyhow, all you need is the internet! Use Appointedd for your team for as little as £10 per month.
PS… Why not partner with us and use Appointedd for your clients and we can pay you money! We pay a reseller fee of 30% of the ongoing monthly subscription for any new paying customer you bring on board!