At Appointedd, we're always working to improve and develop our online booking and scheduling system, and one of the benefits of our cloud-based, evergreen model is that every improvement we make becomes available to every user as soon as it's released (you can keep on top of our latest updates in our release notes). The redesign of our back-office software has been something we've been looking forward to bringing you for some time, and we're beyond excited to finally be able to unveil the finished article!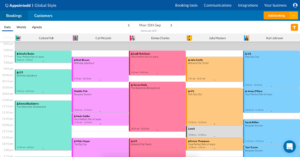 This big update not only brings you a fresh new-look Appointedd calendar, but also includes fantastic improvements to the navigation to make using your appointment scheduling software even more intuitive and enjoyable.
You can see our brand new look for yourself by logging in to your account or starting a 14-day free trial.
Published on 17 September 2018