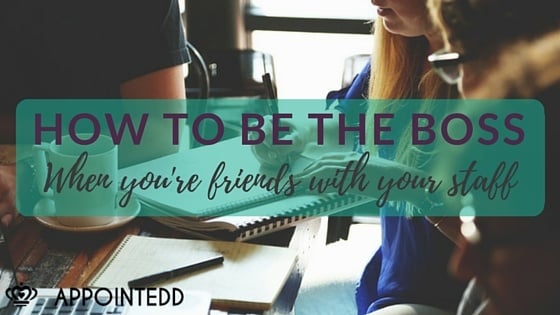 In any business, managing a team can be difficult. But when you're managing a small team in your own business it becomes even harder. You work with these people every day, and it can be hard to assert your authority among people you consider your friends. So how do you get the balance right? How can you get friends that you might go out for drinks with to also respect your authority? Here are four ways you can walk that tightrope with ease.
1. Be clear about what you expect and what their duties are
Immediately let your staff know exactly what they should be doing, in the most clear terms possible. It can be hard to explain exactly what you want done in a way that is understandable to a member of staff, particularly if it is something that you have done countless times before and could do with your eyes closed. You might run through it too fast, or assume your employee knows more than they do. A good way to get around this is planning out your instructions about certain tasks and trying them out on a friend that knows nothing about your business: your friend can be completely honest with you if they don't understand exactly what you mean, and you can make sure that you are giving your staff the best instructions you can, ensuring their respect.
2. If there's a problem, deal with it immediately

If you see someone doing something that you aren't happy with, say something immediately, and say why you don't like it. Then move on! Don't dwell on it! (Unless you see them doing it again.) Discuss something else: the weather, last night's TV, what you're having for lunch, anything! This way you seem completely professional, your employee will know they haven't offended you personally, and likewise, you won't have offended them personally.
3. Take their opinions into account
Ask your staff if there is anything that they would change! It's easy to do and will make a big difference! Chances are there will be some things they are not be completely happy with, or would do differently, taking their voice into account will show you respect them. It also puts your relationship on a level setting, just as you should feel comfortable telling your staff if you have any problems, they should feel comfortable coming to you with theirs.
4. Make their life easier
Show your staff how much you appreciate them and all their hard work by improving their work experience where possible. Appointedd's software provides your business with online booking, automated email or SMS confirmations and reminders to customers, and complete business management, streamlining your service and saving your staff heaps of time.
Published on 21 April 2016