This is the first installment of a new series of blogs looking at how Team Appointedd uses the Appointedd system, giving you insights into the features we love and what we use them for. To start things off, our sales team gives you the scoop.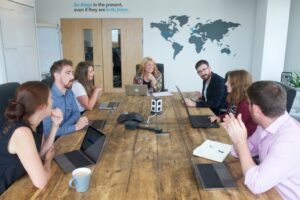 One of the most important tools we in the Appointedd sales team have at our disposal is Appointedd itself. We use our own scheduling tools throughout the sales process to make it as simple and convenient as possible for both the busy team here at HQ and our new customers.
By offering the chance to 'self convert' with the clear call to action a 'book now' option provides, prospects can quite literally come to us. When potential customers are looking for more information or to see a demo of the software, they can simply book a call directly from the website. Depending on the size of their organization or the industry they're in (info which is helpfully gathered during the booking flow) they can then be automatically allocated to the best person to speak to.
Plus, once a prospect is speaking with a member of the pre-sales team, it's fast and easy for us to refer them to one of our industry specialists by booking a follow-up call on their behalf. This removes the need for any long-winded email dialogues after the fact, and an expert will contact the customer at a prearranged convenient time. This time saving means the sales team can focus on delivering the best possible service to our potential customers instead of drowning in logistics and admin.
Another team-favourite feature of the Appointedd system is our two-way calendar sync that automatically drops all calls and meetings directly into our individual Gmail calendars, feeding into the real-time availability presented to customers on the booking apps!
Because Appointedd is a global booking solution working with companies across the world – from Taiwan to Australia, Singapore to France… – our multi-timezone functionality is also a lifesaver for us. With our booking tools automatically presenting the team's availability in the customer's own timezone, there's no timezone maths required for anyone. And, when the team is on the road, Appointedd also allows us to set our timezone exceptions in advance so our availability is always accurate.
Making use of Appointedd's booking tools for sales calls also means the team has all the contact details and client information we need in one place, and can easily track the history of interactions with each individual contact. This is even more comprehensive since we recently launched our new BCC function, allowing us to track even emails not sent from within Appointedd against customer records. This is a really useful tool for anyone who needs to keep a digital audit trail for compliance reasons, or just anyone who wants to stay on top of their customer interactions!
Head over here to learn more about how sales teams use Appointedd to drive engagement and conversion, and look out for our next 'How Appointedd uses Appointedd' blog.
Published on 1 August 2018