This is the third installment of a new series of blogs looking at how Team Appointedd uses the Appointedd system, giving you insights into the features we love and what we use them for. Find the first blog in the series all about our sales team here, and the second about our operations here.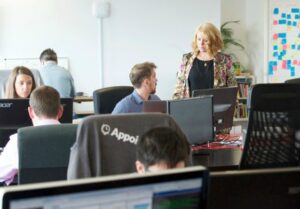 Here at Appointedd we definitely walk the walk when it comes to using our own online booking and customer experience software. That means we get pretty excited about new functionality and love to try out new ways of putting it to use.
With the unveiling of the newest arm of our powerful reporting suite – booking app reports – the Appointedd marketing team has been enjoying the brand new insights available. The reports show us which booking apps generate the most bookings, across various website pages and microsites, so that we gain a deeper understanding of how visitors interact with the Appointedd website and which locations attract more engagement than others.
By giving us this insight into user flow, we can focus our marketing resources to maximize conversion rates and compare online and offline booking statistics. The Appointedd report function gives us a holistic measure of cross-channel interactions.
To try this out with your own marketing team, take a look at our step-by-step support guide and discover everything Appointedd's detailed reports – including service, resource, and customer insights – have to offer and how to use them. Look out for our next 'How Appointedd uses Appointedd' blog.
Published on 30 August 2018