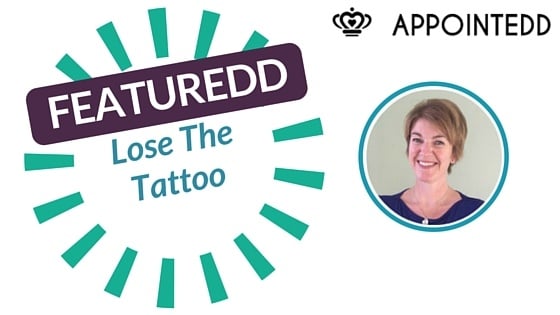 Here at Appointedd we like to tell you how we can help you get that work-life balance you've always dreamed of. Our online booking software helps take care of a lot of those niggling tasks that always seem to be eating into that free time you set aside for seeing friends, going to the gym, or just for a cheeky wee nap.
So, this time, we've asked one of our amazing customers, Dr. Caroline Whymark of Lose The Tattoo, how Appointedd has changed her life. Caroline is an NHS anesthetist who has recently set up her own tattoo removal business in Glasgow. Here are three ways Appointedd has helped her run her business, and keep her life going at the same time.
1. No to-ing and fro-ing
Before signing up to our online booking tools, Caroline would end up being stuck in long email exchanges with potential clients, trying to find a mutually convenient time for her to work her laser magic. Now customers can see all the times she is available immediately through her website or her Facebook page, saving themselves and Caroline a lot of time.
"Before I started using Appointedd with my business, arranging appointments could easily take 15-20 messages back and forth with a customer," she says.
2. Reduced Customer No-Shows
Customer no-shows can be extremely damaging to small businesses: if a customer forgets to show up they not only waste someone's valuable time, they also cost that business money. That's not meant as a slight on customers, because we've all been there: you decide to treat yourself to a haircut, or a massage (or in this case getting rid of that tattoo you've always hated) but life somehow gets in the way and before you know it, you've completely forgotten and somehow scheduled an important meeting slap-bang in your appointment slot.
At Appointedd we know what it's like on both sides of the counter and our tools can help. When a customer books through Appointedd, whether on your website or your Facebook page, they will automatically receive a confirmation email, and they will receive a reminder email and/or text closer to the time. Caroline used to have to spend the evenings before her clinic days going through her appointment book and sending messages to the clients who had booked in. Having Appointedd means she doesn't have to worry about this any more and can spend those evenings getting some much needed relaxation. Using Appointedd also means she can take a 50% deposit when a client books online, insuring against any no-shows. Caroline says that her customer no-shows have reduced noticeably since joining Appointedd, and if she is faced with a no-show, she can now call it a "paid tea break".
3. Setting Boundaries
When you're running your own business it can be hard to remember to take a breath and take a step back for a while. It sometimes seems like you can always go one step further down that road to success. Caroline used to find that, before Appointedd, she would try and rearrange her personal diary in order to fit clients in, meaning that work would often take over. Now Caroline is only open the set hours that she chooses, meaning work doesn't precedence over her life, whether that's a 9-5 or an evening shift, a customer can only book in the hours she makes available. Appointedd also syncs with her personal diary, so if she has arranged a coffee with a friend, no-one will be able to book with her for this time, meaning her other appointments get to take priority sometimes.
"I feel my brain is no longer scrambled […] Setting my working hours in black and white and predetermining exceptions to these times means I am more disciplined and better able to maintain a work life balance without having to continually make a decision to do so."
Find out more about Caroline's business at losethetattoo.co.uk

And listen to the full interview with Caroline here