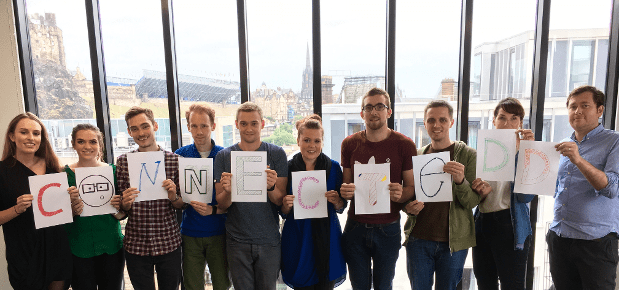 As if finances weren't complicated enough, running a business brings all kinds of new challenges to the table. If it's not keeping track of your expenses, or chasing outstanding invoices, it's figuring out payroll, or taxes (ew). Luckily for you, we have the solution. There'll be no more battles with your calculator when you get Connectedd.
But hold on, what on earth does that significantly bolded misspelling mean? Well, Connectedd is Appointedd's portal for discovering the range of apps, tools, and software that integrate with the Appointedd system, to make running your business as streamlined and stress-free as possible. Nice, right? Today we're taking a closer look at the Connectedd Accounting section, to see how much simpler your money matters could become.
FreeAgent
FreeAgent provides online accounting software for small business owners, freelancers and partnerships. With FreeAgent, you can automate invoicing, track expenses, and even file your tax return with the click of a button, giving you more time and energy to focus on the exciting bits of business.
FreeAgent is also fully-integrated with Appointedd, meaning you can connect to FreeAgent directly from within your Appointedd system. With the Appointedd integration, FreeAgent customers can seamlessly take bookings online and automatically raise invoices against them. For those keen to free themselves from admin, Appointedd will not only take bookings online but also allow them to manage all of their customer details, staff rotas, and online marketing activity through the software. Every new customer that books through Appointedd is also automatically added to your FreeAgent contacts folder, which is nifty as heck if you ask us.
Find out more about getting Connectedd to FreeAgent
Quickbooks
Quickbooks is a top business accounting app that makes it easy to generate invoices, keep on top of finances, and manage payroll. Let your money manage itself and cut out all the leg work and tiresome number-crunching.
You can integrate your Appointedd account with Quickbooks really easily through our partner Maestrano, whose platform is totally free to use and allows the two systems to share data such as customer and booking information so that your accounts are always kept accurate.
Learn more about getting Connectedd with Quickbooks
Xero

Xero lets you keep on top of your cash flow wherever you are, on Mac, PC, tablet, or mobile. Track inventory, payroll, expense claims, and more. Your finances needn't be a chore when they can be ticking over in the background while you get on with the important stuff.
Xero also integrates with Appointedd through Maestrano so that the two systems interact you can see KPIs from both systems side-by-side in whatever configuration you like on the customisable dashboard.
Read about the Xero integration on Connectedd
Sage One
Sage One is a range of cloud based online accounting and payroll software, offering everything you need to run the accounts and payroll side of your small business or startup. No need for an accountant, you can keep on top of everything yourself when you have Sage to help.
Your Appointedd account can integrate with Sage again via Maestrano. This gives you access to both apps with a single login and consolidates their cost into one convenient monthly payment, as well as enabling them to share data to make sure both systems are always accurate without having to duplicate information.
Find out more about the Connectedd integration with Sage One
By integrating your Appointedd online booking system with any of these leading accounting systems you can smooth out those bumps that try to trip you up day-to-day and simply make it easier to run your business. Rather than trying to juggle all your different tools and systems, why not get them working together for seamless business management that will really make a difference to the way you work. Find out more about our integrations on Connectedd:
Published on 8 September 2016