Appointedd Finds A New Edinburgh Home
By Imogene Keane, COO at Appointedd
It's been four months since I hung up my SICCAR boots and joined the fast-paced scale-up whirlwind that is Appointedd. As Appointedd is a well-known Edinburgh success story, I often get asked by people what it's like to work here?
Confession – it rocks. Super supportive, collaborative, diverse, ambitious team who work at a million miles a minute and hold no punches. I feel privileged to be part of this amazing team, removing frictions to success as COO's do. Shortly after I started, I joined the ongoing conversation about whether we should or shouldn't return to the office and this is my experience.
As an enterprise SaaS license provider the decision to go remote during Covid was easy, natural and well facilitated. Appointedd is the type of business that could remain permanently remote-based if we wanted to, but the team felt we were losing something by following that path. I'd shy away from saying it's the cliched water cooler moments that the team were craving, as it's probably more likely to be the coffee machine where the important conversations happen. But, after much debate the decision was made that we were going hybrid.
When we set about finding our new Edinburgh home, these were some of the key things we considered in our search:
Not everybody needs a full time desk. We've deliberately opted for an office with fewer seats than people so that no-one feels obliged to be in every day.
We need to be as central as possible as the team won't be used to commuting.
Coming to the office should feel like a treat not a chore, so we needed to find a really beautiful space to inhabit.
The office spaces should be bookable. Of course we've used our famous booking tool to allow colleagues to book desks, meeting rooms and the all important one well-behaved dug (Scottish for dog) a day.
Now that we've closed the deal and are moving in as we speak, these are the perks of hybrid working that we are really looking forward to:
Cross-Team Collaboration
While collaborative work is really well managed at Appointedd with the use of tools like Notion and Miro, we're looking forward to the cross-team collaboration that comes from overhearing a Development brainstorming session or a Commercial team kick off. The "have you thought about this" or the "can I help you with that" opportunities that we slide into naturally when all in the same room.
Change of Scene
There can't be a remote-based worker alive who is not sick of the sight of their home's four walls some days, no matter how beautifully painted they may be. I see the office as a place I will be able to escape to; where there's no washing, or cleaning or DIY projects nagging at your consciousness and I know many colleagues who feel the same.
Workspace for Out of Towners
Being a remote-first company has allowed us to hire team members from all over the country, something we might not have considered before Covid. But when these 'out of towners' come to Edinburgh they can often feel out of place with no set place to work, surfing coffee shops and co-working spaces. Now they'll have a home from home in Edinburgh too, in our new global HQ.
Final Interviews
I think companies lose some insight and validation from not doing final interviews face to face. Reading body language, building rapport, and seeing how individuals respond to stressors in real life are all valuable indicators of a successful future partnership but impossible to read on a video call. We look forward to doing lots more interviews in our new space. (We are hiring).
Shared History
If you've spent time together during the work day, watching colleagues navigate a tricky sales meeting or warming up their haddock in the microwave at lunch (yes, you Ruta), you'll have more to talk about when it comes to those organized team days or events. You'll have common history beyond the work that you do and more diverse conversation points.
Spontaneous Fun
I was in a meeting recently where a colleague spurted out "there is such a thing as too much planned fun," and never a truer word has been said. Like most businesses during the pandemic we penciled in an hour every Friday for 'Zoom Fun' and while it worked very well initially, it eventually died off as the team became 'Zoomed out' and couldn't face another video call on a Friday. As a result we are missing scheduled (or otherwise) fun in our work week. Returning to the office will allow the team to find their own moments of "look it's a Tuesday but we just signed a big deal, let's hit the pub" spontaneous fun. We still aim to have the 'planned fun' but hopefully that should feel more natural too.
Friendships
I won't discount the fact that it is possible to make friends on Zoom, but some of the deepest and most long-lasting friendships of my life have been made by slogging next to someone at work, when the above forces such as shared history and spontaneous fun magically combine. These are work friendships that open doors for you in later life, that provide guidance and support when tough decisions are to be made. They are the friendships that keep you working hard for a company long after your sell-by date, as the team has become much more than just a team to you.
So let's welcome this new era of hybrid-working beautiful Appointedd team with face to face collaboration, fun, success and perhaps a few friends made along the way.
Appointedd Unwrapped 2021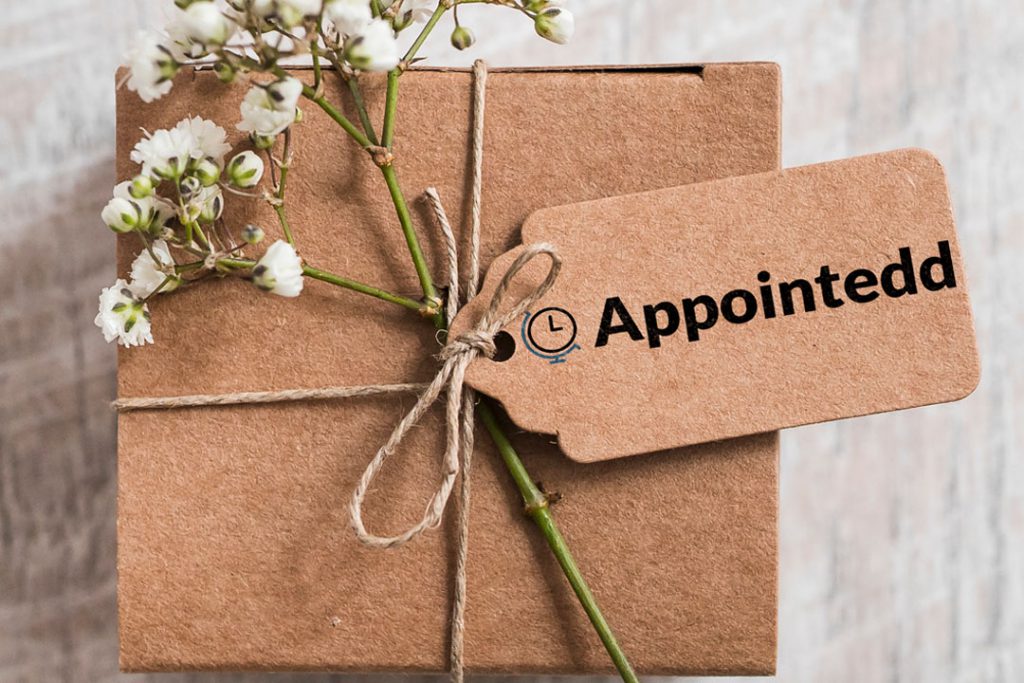 2021 has been a challenging year for us all, a year full of highs and lows. When it comes to the rollercoaster we're on at the moment it can be tough to look on the bright side, but as the year draws to a close we want to end on a positive celebration of everything we've helped our clients and partners achieve. Join us as we take a look over our highlights of the year and look towards 2022 which we're confident will be our best year yet! Here's why…
Bigger, better, bolder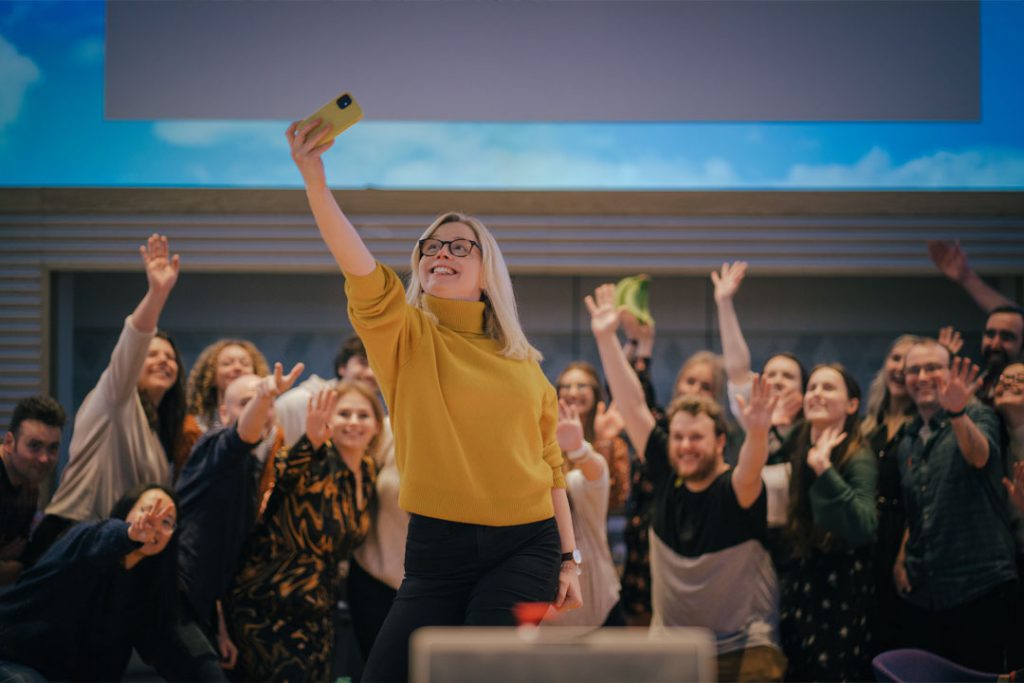 This year we are proud to be powering bookings in no less than 167 countries! That's around 86% of the planet. Unlike other online booking solutions, we enable global organisations to provide amazing service worldwide with our multi timezone functionality. Based on your local timezone, we can now automatically display appointment availability for the timezone the resource is set to – no more confusing timezone math required!
To provide greater support and agility, our client services team has grown 100% YoY! If you've not yet had the pleasure of meeting our all star commercial team, we have 3 squads of industry-specific experts on hand to help you get started automating your manual processes and enhancing your customer experience.
"It's the people we work with at Appointedd – nothing is too much to ask. If we're having any issues, I get an email back within an hour with multiple solutions. The people that we work with on our account – they're just brilliant." – Retailer in the fashion industry
During these unpredictable times we're honored to be able to support our customers get back on track, whether it's adapting to virtual customer behaviours or planning the return to the office. The demand for bookable services is increasing and we're so happy to share our successes with our partners and the individuals they serve.
"We saw a 300% rise in appointment demand from pre to post pandemic, then apply a 80% conversion rate, it has turned out to be quite an exciting environment to be in. Appointedd has been a fundamental tool for us to understand our customers desires, needs and wants and ultimately convert them to paying customers." – Paul McBride – Head of Operations, Moss Bros
"When Covid struck we needed to ensure social distancing for our volunteers and foodbank clients. The online booking system allowed us to set this up quickly, easily and has been invaluable in allowing us to continue to support our communities." – Mid Cheshire Foodbank, member of the Trussell Trust Foodbank Network
Evolution of our software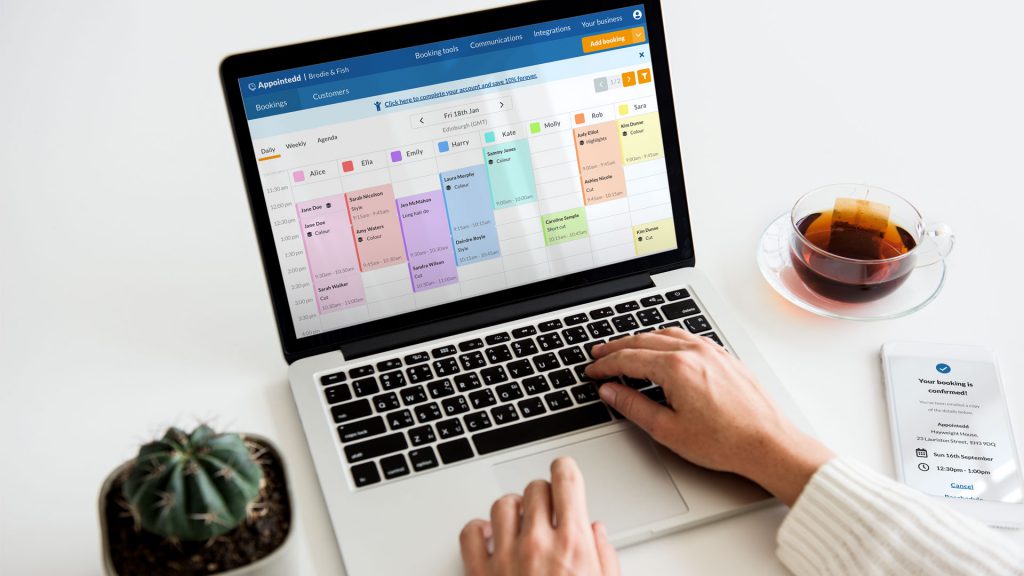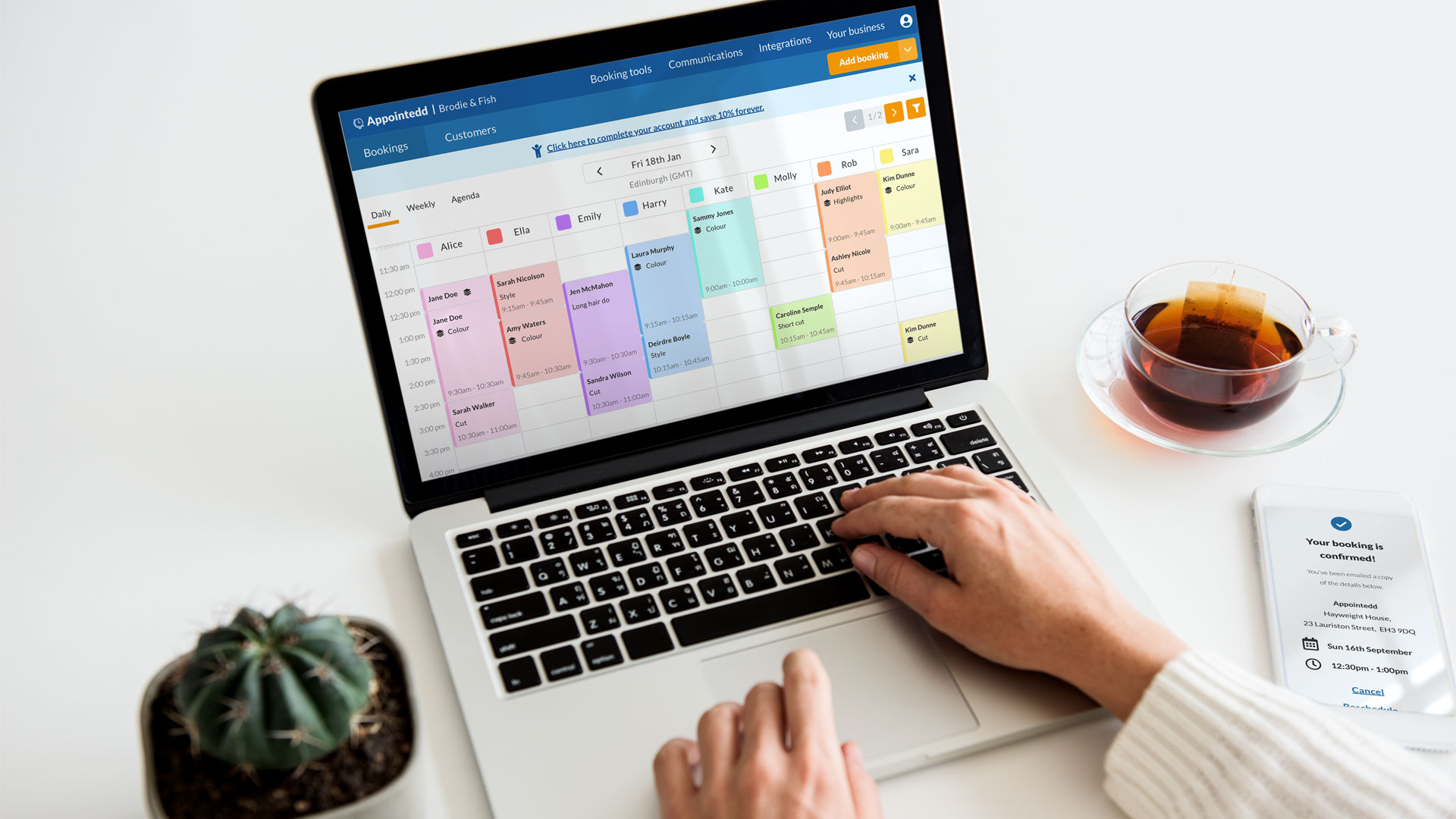 Our clients asked, and of course we listened! This year we introduced a new MS Teams integration, allowing our clients in the finance and professional services industries to offer their customers a seamless virtual journey from start to finish.
Continuing to lead the race when it comes to flexibility, we introduced multiple resource allocation! In order to provide your end users with more choice, Appointedd now allows you to set up services to be bookable with multiple resources when all of those resources are available.
"Appointedd makes changes very, very quickly… which is so important to the Mamas & Papas team – what Appointedd say they are doing, they do, we never feel like we're stuck in a long queue. When we speak, they listen, which makes it easy for us to influence change."
As part of our tech-first mission, it's our priority to make our software a pleasure for developers to interact with. Coming just in time for New Year is our new API documentation and API endpoint. Following feedback from developers in our user community, we've given our documentation's UI an overhaul to aid usability and launched an Open Recipe Builder to allow you to test queries & responses without having to connect to your Appointedd account's API.
Our family of partners is growing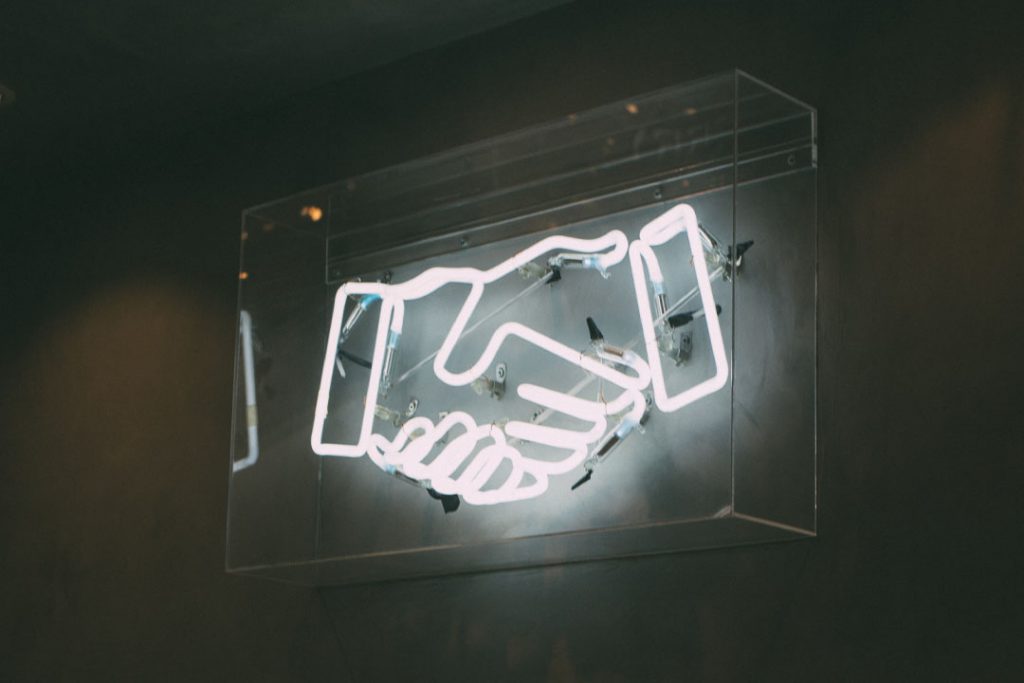 A big focus for us this year was expanding our circle of partners. By creating more partnerships we've been able to significantly improve what we can offer to clients and their customers, specifically in the retail industry – enabling them to offer multiple services in one place.
Our partnerships directly fuel innovation in the product. 2021 was the year we launched ShapeUp, a new agile development cycle enabling us to integrate feedback and recommendations from our partners into the evolution of the product. We are thrilled to be able to collaborate with brands that share our vision to enable more seamless customer experiences for the end user.
Leah Hutcheon, CEO and Founder of Appointedd shares her reflections on what has been a busy and productive year.

"I'm so proud of everything the team has achieved this year. We're bigger and better than ever before despite 2021's challenges and I am so excited to see some of our big plans crystallizing. When I look at how much positive change we've enabled our clients and partners to make during turbulent times, I can't wait to see how much more impact we can have in 2022."
That's a wrap! If you'd like to stay in the loop with our exciting developments or find out more about how we could remove friction in your customer journey, sign up for our newsletter below.
Happy holidays,
Team Appointedd
Day in the life of Team Appointedd: Alice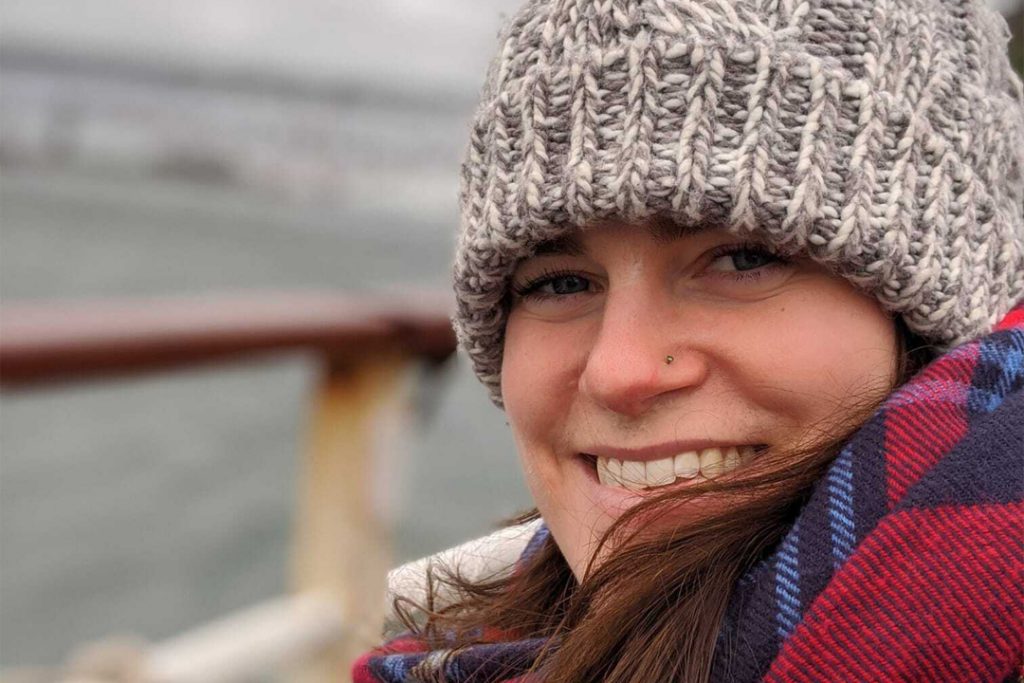 Please tell us your name and how long you've been in the team
Alice, and I've been with Appointed just under 2 years (started Dec 2019).
Tell us a little bit about you
I'm half Scottish, half English. I grew up in Nottingham, went to uni in Manchester and made the best decision moving to Edinburgh in 2011. I'm born on a leap year so I thorough enjoy acting my true leap year age, often a little immature and love a silly joke.
I'm getting married in September and from one ridiculous surname to another, I'll become Mrs Wildgoose.
What is your role at Appointed?
I'm Senior Client Partner, so involves speaking regularly to our wonderful enterprise clients – building relationships with them to strengthen our engagement with them, and see what other ways we can work with their teams so they can save all the time in the world!
What does that involve, day to day?
Lots of emails, and Zoom calls (internal and external). Team work makes the dream work as there's lots of things that need to get done so Client Services enjoy a divide and conquer situ; and creative thinking!
Your favourite Appointedd moment?
Ooo a tough one! I really enjoy the full team being together (albeit hasn't happened for a while) so for me it may be Christmas 2019, ghost tour and drinks. Everyone really relaxed and on great form. Looking forward to it returning!
One thing you'd love to book?
I would love to book a weekly massages, and it all just be pre-booked in my calendar so I don't need to do anything, apart from turn up!
Day in the life of Team Appointedd: Tom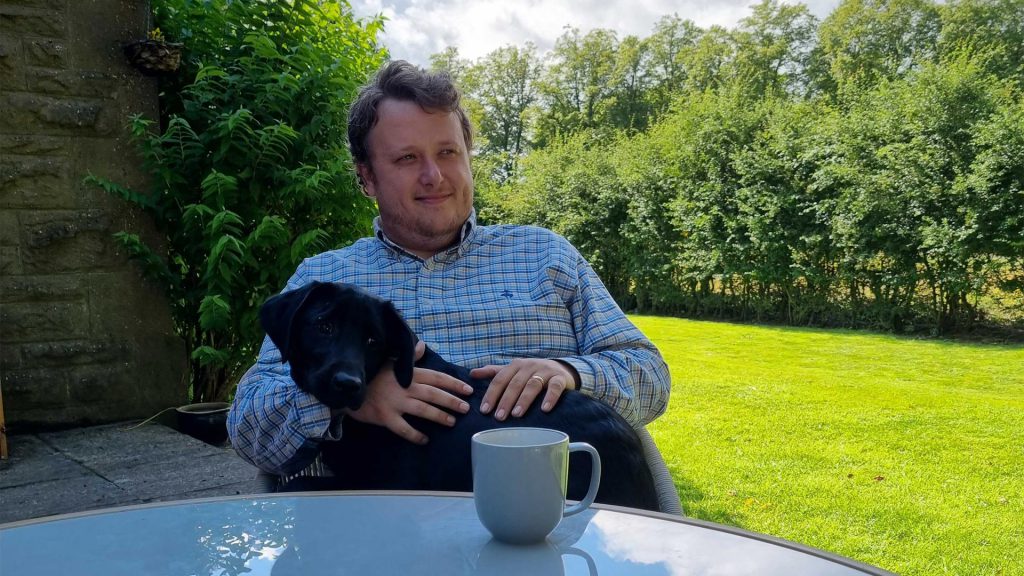 Please tell us your name and how long you've been in the team
My name is Tom, I've been at Appointedd for coming up on 2 1/2 years.
Tell us a little bit about you?
From Dundee originally, got started in the life sciences, studying Chemistry at Edinburgh. Briefly did some work as an analytical scientist doing Mass Spectrometry, but got itchy feet and moved into science education as it was more fun ??. Wasn't settled in teaching so ditched Chemistry altogether and retrained as a software engineer through Codeclan.
I pretty much fit every nerdy trope you can think of. Love Star Trek, circuit boards and hacking. When not indulging my inner nerd I also love camping, cycling, playing with my dog and DIY.
What is your role at Appointed?
Full stack software engineer. I'll either be squashing bugs or working on our latest feature (trying not to put too many bugs back in ?).
What does that involve, day to day?
Typically I'll log on, review some code from the other devs and check slack. A wee pre-standup with my squad to say good morning. Then standup proper with the devs rolls around so I'll go over my plan for that day briefly and listen to the other devs in turn.
Once any blockers are unblocked, grab another cup of coffee, put on some synthwave and start coding/debugging/triaging.
Your favourite Appointedd moment?
Launching our first Zoom integration, it was my first big project and in those days we didn't have squads, so it was a mostly solo piece of work. Watching all those bookings getting created with Zoom meetings whizzing by in the logs made me feel super proud ?
One thing you'd love to book?
Wouldn't say no to a cheeky trip to space.
Day in the life of Team Appointedd: Matt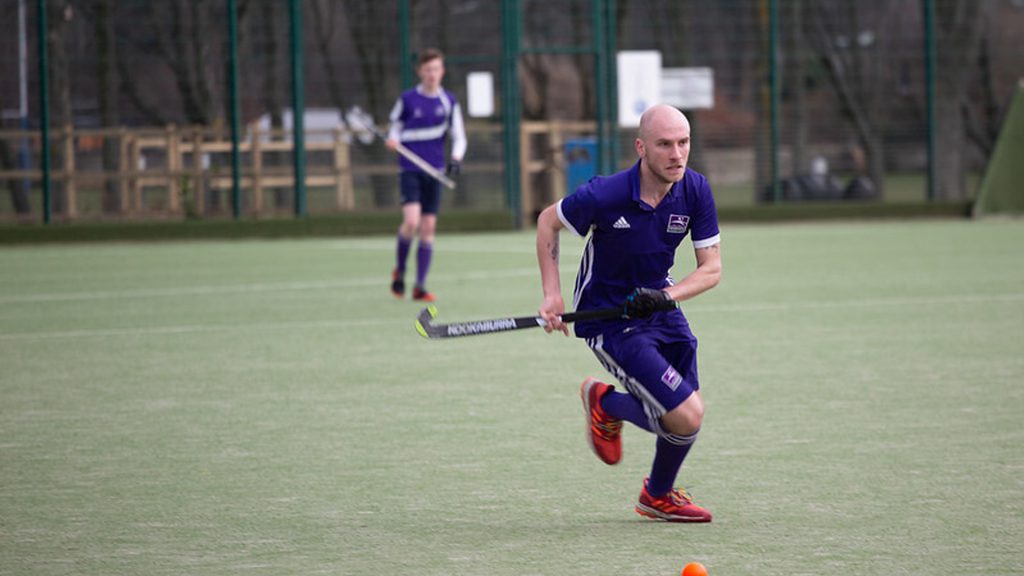 Please tell us your name and how long you've been in the team
My name is Matt and I've been on the team for around 5 months.
Tell us a little bit about you?
I'm born and bred in Edinburgh and have lived in Leith for the majority of my life, I lived in Glasgow for 2 years while I studied Commercial Music at University of the West of Scotland.
I have worked as a bar manager, in banking and more recently worked for Scottish Rugby Hospitality, Hibernian Football Club, and Edinburgh Chamber of Commerce. In my spare time I play and coach hockey for Inverleith Hockey Club!
What is your role at Appointed?
Business Development Representative – this is a fairly new role within Appointedd so it has been a lot of fun getting to grips with what the role looks like and figuring out how we can look at businesses of all sizes to help improve their internal processes but also how they can really make the customer journey easy and enjoyable!
What does that involve, day to day?
It sounds like a cliché but no two days are the same in this role. We get a lot of new sign ups to try out Appointedd every day so I get in touch with anybody who books a trial with us to better understand their business, get to know them a little bit and finally give them any help or support they might need in getting set up.
I do a lot of outreach to businesses that I believe could benefit from adopting Appointedd and starting off those conversations. I operate across both out Business Development team and our Self Serve team and I absolutely love the huge range of businesses I get to speak to on a daily basis!
Your favourite Appointedd moment?
My 1-1 chats with the team when I started. Everybody was so supportive in helping me learn about the business and there was no question too small. The team were so welcoming and feel like one big family!
One thing you'd love to book?
A trip to New York.
Day in the life of Team Appointedd: Elspeth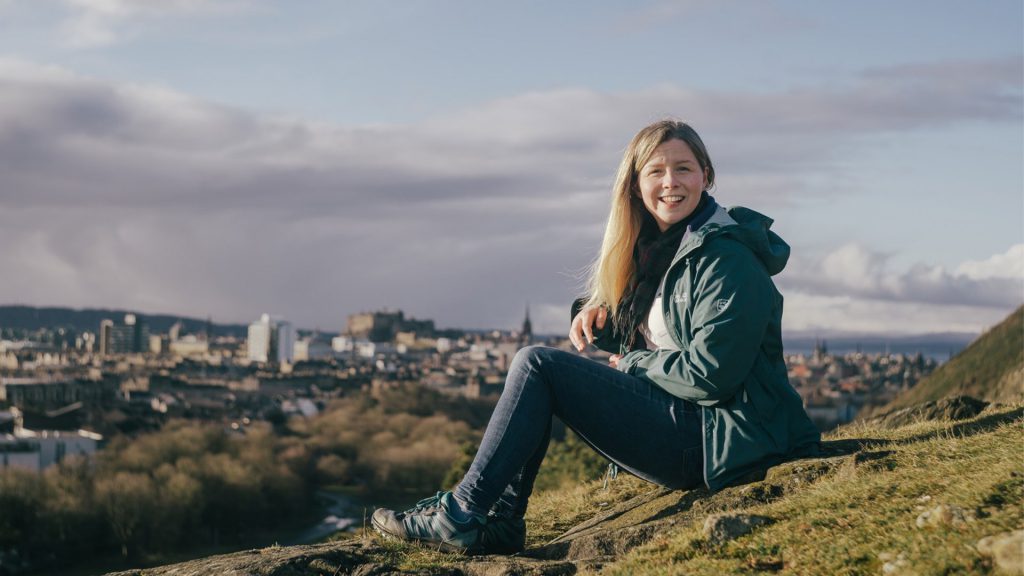 Please tell us your name and how long you've been in the team
My name is Elspeth and I joined the team at Appointedd just under a year ago.
Tell us a little bit about you
I'm originally from Blaidrummond (famous for the safari park!) but after a few years in Glasgow, I moved down to London. Back in 2018, I happily returned to Scotland where I proudly live in Leith, and where I love nothing more than exploring and enjoying the great pubs and restaurants it has to offer.
I trained as a teacher, worked in events for a bit then took a role supporting career changers move into technology. Before joining Appointedd, I did a brief stint in consultancy.
What is your role at Appointed?
I'm Head of Client Services, so I lead our team of wizards who look after our clients day to day – from everything throughout implementation and configuration, day to day account management and understanding strategically where clients are looking to roll out Appointedd across the organisation.
Generally, our team will be helping all sorts of different customers make the most of our software to help their businesses become more efficient!
What does that involve, day to day?
All sorts! We have a 24/7 in app messenger where our customers can get in touch with any query or point they might need support on. That's often their first port of call, so we need to make sure we're helping them out on there and pointing them in the right direction.
We also provide loads of in depth reporting for our clients, across all sorts of different industries, so sometimes we'll be conducting data insights sessions, or providing audits on how clients booking tools can better perform.
I also have the privilege of spending lots of time with the whole team and hearing about their career aspirations and personal development. This is something that's really important to me and the wider team at Appointedd, so we always want to make sure we're making space for our colleagues to grow and thrive.
Your favourite Appointedd moment?
For me, it was seeing the hockey stick graph of booking numbers as we started to emerge from lockdown – we're so proud to be able to support so many different businesses as the world begins to be (a wee bit) more normal.
One thing you'd love to book?
One day I might book a sky dive, but I'm not sure I'm quite brave enough…
Reigniting the retail customer experiences: Appointedd X Confer With Partnership
Appointedd is teaming up with live video shopping specialists Confer With, empowering retailers to engage the new post-pandemic customer. Transforming the virtual retail experience, the integration of our cutting-edge technologies actively drives higher basket values, quality conversions and personalized retail experiences. 
This new partnership will help retailers capitalize on the opportunities and mitigate the pressures of ever-changing consumer expectations. By offering customers virtual appointments, businesses can expect to see average order value increase north of 30%, in addition to the 10 x conversion rate from appointment booking to paying customer.
Reinventing the virtual experience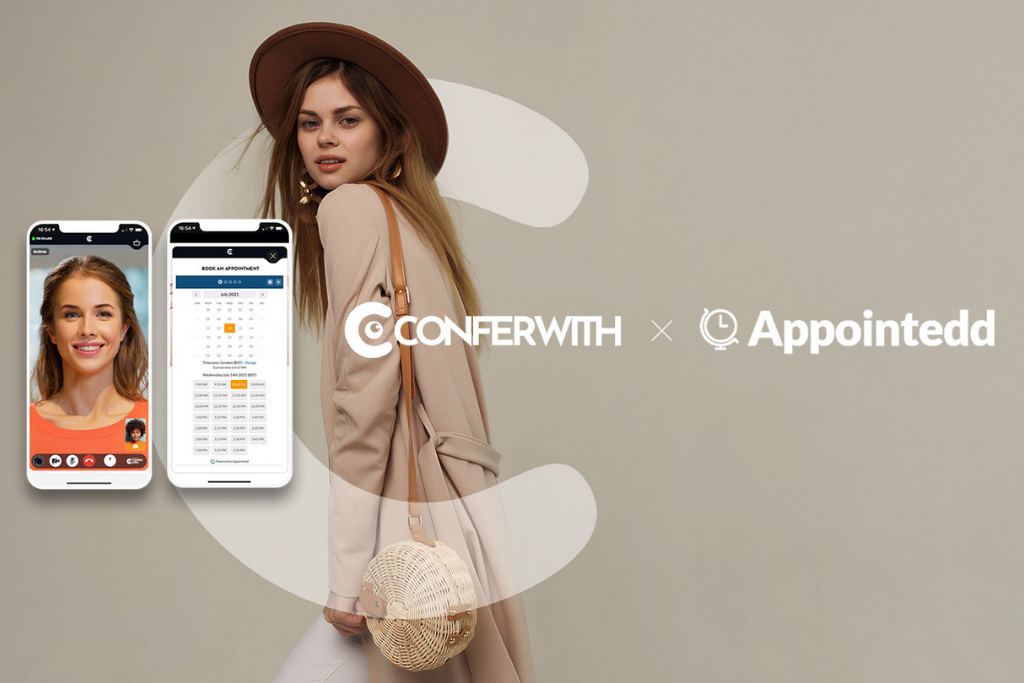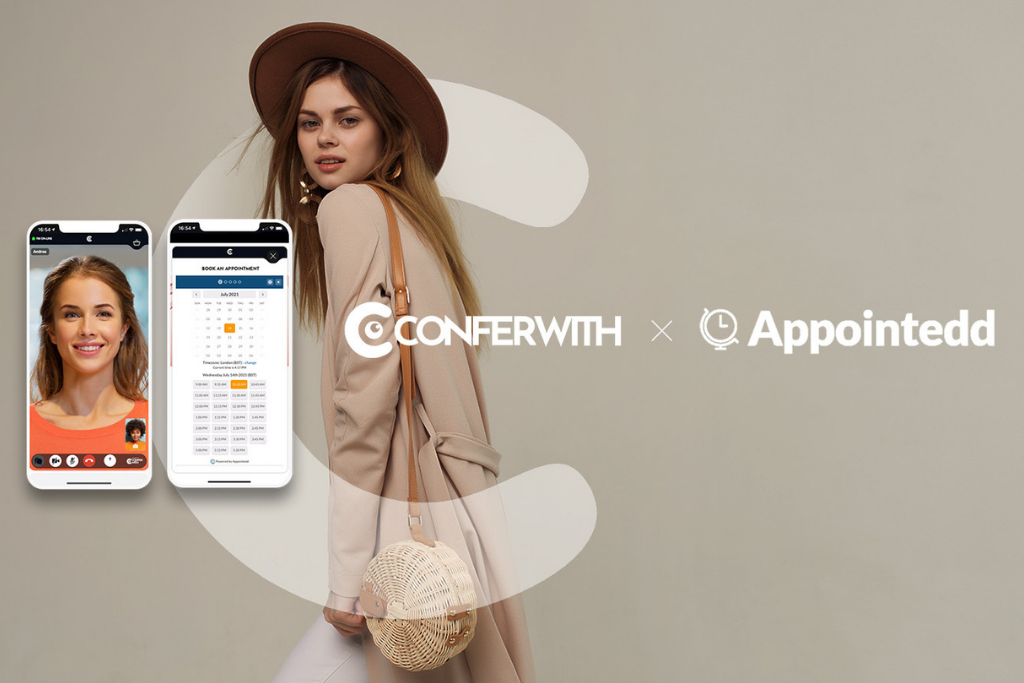 You don't have to look too far to realize that customer expectations are changing. 71% of consumers now think more carefully about purchases, using technology to gather and compare information across several branded platforms. However, retailers are still grappling with orchestrating unified experiences across these platforms.
Omni-channel experiences are no longer exceptional but expected, and retailers are searching for ways to get ahead of the competition.
Frictionless search and buying experiences, matched with hyper-personalization are proving to revolutionize the online shopping experience, forever changing the way we interact with brands. 
Appointedd's online booking tools, partnered with Confer With's video shopping platform are empowering retailers to not only take part but lead this retail revolution.
The live video shopping journey revolves around four core pillars: match, engage, immerse and convert. Core pillars that when implemented by forward-thinking retail brands, can increase online customer enquiries by 360%.
Match: with customers where it matters most 
McKinsey's recent research into global consumer sentiment found that 56% of consumers express discomfort when interacting with online user experiences, with many even struggling to find sufficient product information. Taking into consideration that 70% of consumers would actively consider other options if it took more than a few clicks to access what they wanted, brands can no longer afford to possess anything other than a flawless online customer experience.
The new Appointedd X Confer With partnership empowers retailers to connect customers with sales reps when they are most engaged. Allowing customers to make well-informed decisions with the most in-depth product knowledge available.
Appointedd's award-winning online booking tools seamlessly integrate with Confer With's software, not only allowing customers to book virtual appointments in a matter of seconds but enabling retailers to both automate and manage all bookings, rescheduling and cancellations, saving staff up to 8 hours of manual scheduling a week.
Strengthening the frictionless customer journey, Appointedd's automated communication suite ensures that when a booking is made, cancelled or rescheduled, customers receive an automatic email notification, reducing appointment no-shows by 67%.
Multi-time zone features ensure retailers can engage a global customer base with their new Confer With virtual appointments by taking the stress out of confusing time zone math.
To further enhance the customer journey, custom question fields during the booking process ensure each virtual assistant is fully equipped with the customers' unique preference information, enabling a truly personalised experience and basket to be created on the call.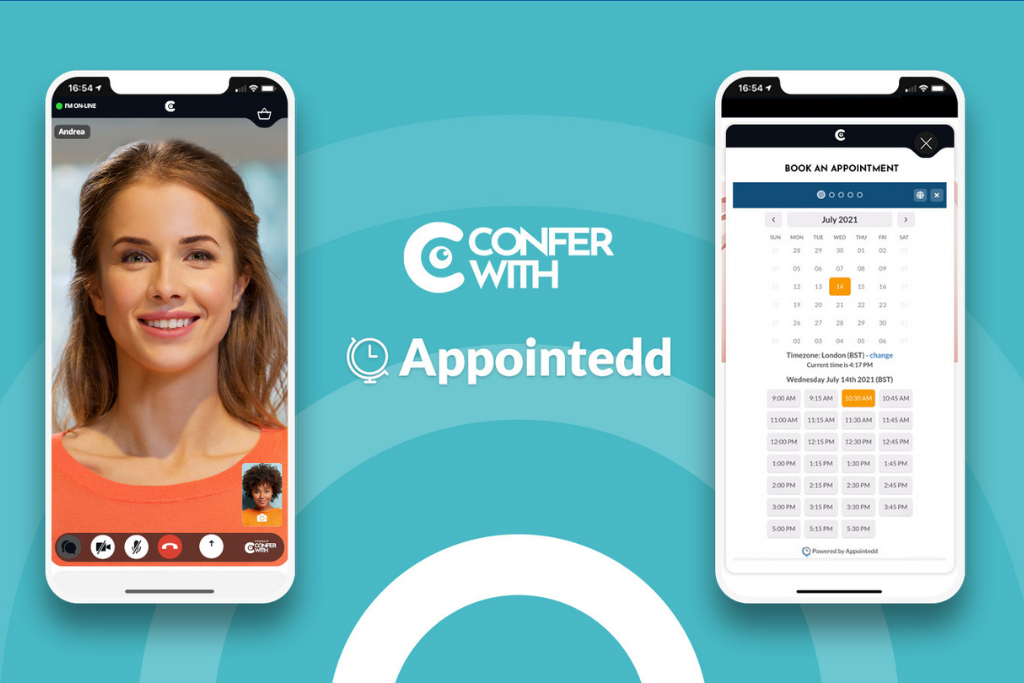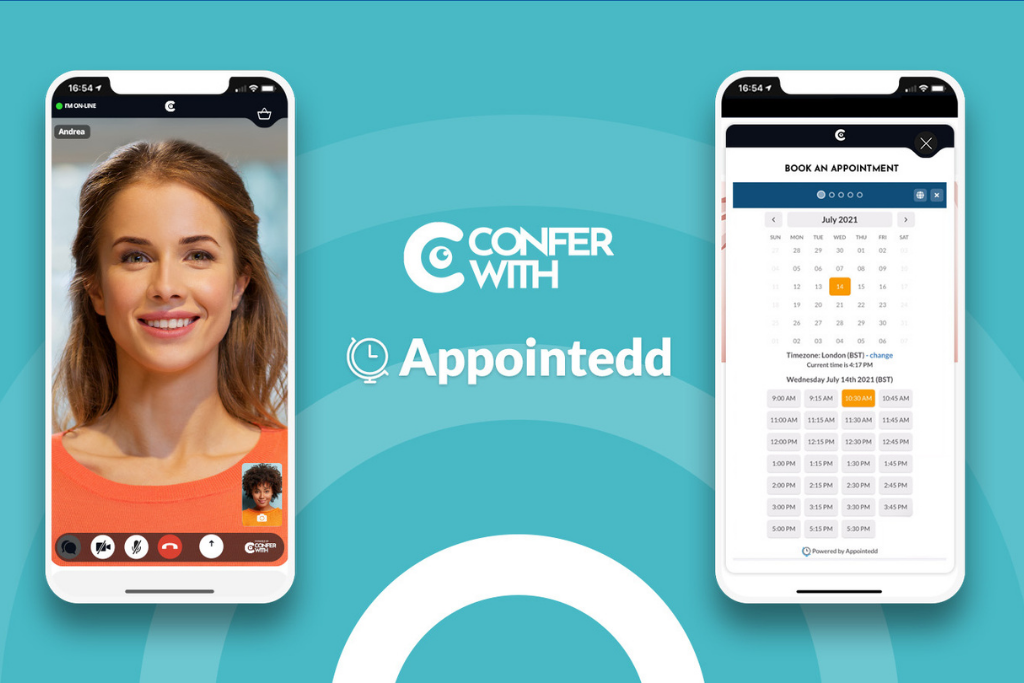 Engage: customers with personalized expert knowledge 
Establishing a quality digital dialogue that is rooted in personalization has been found to have an immense impact on purchase intentions. Recent research has found that 80% of shoppers are more likely to purchase from brands that deliver a personalized experience. 
Therefore, engaging with a virtual assistant is key to that success. Once a customer interacts with a product or schedules a virtual appointment, they are connected to a one-to-one video call. Inside the video call, your specialists can perform a needs-based analysis to personalize the customer journey. Creating effective digital dialogue equips your team with valuable customer knowledge built on trust and transparency.
Immerse: the customer in a unified experience
Whilst conventional video calls possess little to no immersion, Confer With seamlessly integrates with your product catalogue, enabling sales specialists to guide customers through your entire product offering. Combining your product catalogue with Confer With's software also allows you to:
Monitor stock levels 
Combine unique customizable packages for each customer
Demonstrate your products in a visually engaging manner
Schedule future online and in-store appointments
Empowering your sales specialists with hyper-personalized tools to collaborate with customers, instead of just selling, creates a conversion rich environment.
Unlocking the power of upselling
In contrast, a low conversion environment can best be visualised as the aimless scrolling of rows upon rows of options. It's a core hurdle to achieving average order value targets.
The Appointedd X Confer With retail solution integrated with any ecosystem, allows businesses to immediately capitalize on the endless upselling opportunities through:
Alternatives – The collaborative nature of a retail consultation allows sales specialists to further understand the customer, showcasing the most suited products.
Additions – Once the customer has revealed their preferences, specialists can display products straight from their recommendation engine, immersing the customer with visually engaging imagery of other relevant products based on their purchase behaviour.
Build loyal customer relationships that convert 
Appointedd X Confer With retail technology ensures a flawless customer experience from booking to purchase. Allowing customers to book your specialists in a matter of seconds transforms transient website traffic into engaged opportunities, establishing a quality transition to the Confer With platform.
With Confer With's basket technology, the customer and specialists can both add items to the virtual shopping basket. Once the session is complete, the virtual basket is automatically transferred to the eCommerce basket on the company's website, allowing the customer to review and purchase.
Appointedd also allows customers to book time with specific sales specialists, allowing them to build relationships with customers. Our automated appointment follow-up comms provides a personalized touchpoint, encouraging customers to make repeat bookings with their favourite specialist.
Want to learn how Appointedd X Confer With's cutting edge retail technology can power your virtual customer experiences? Book a call today
Financial services waste no time capitalising on post lockdown opportunities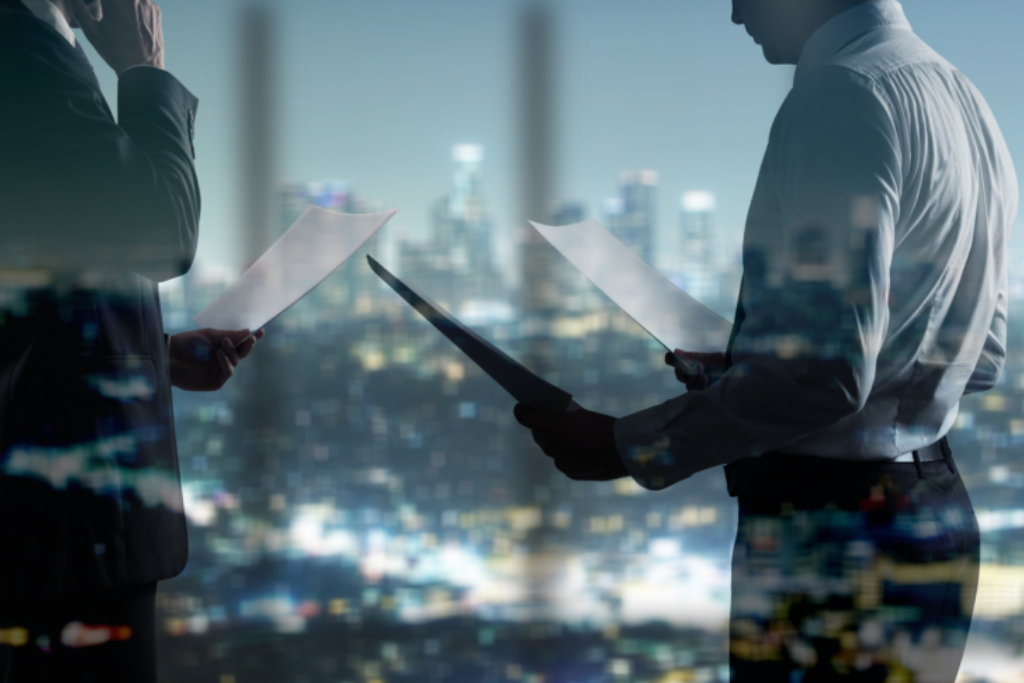 It is clear that the financial service sector has successfully adapted to the crisis environment of the national lockdown. However, it is also clear that to successfully emerge from lockdown, a shift in perspective is required.
Whilst the reactive crisis management solutions of 2020 have been so effective in mitigating the immediate impact of COVID-19, in order to fully capitalise on the opportunities of post lockdown markets, financial service firms are required to pivot towards long-term proactive digital solutions.
These opportunities include:
Accelerating the drive for internal efficiencies
Flexing to meet evolving clients expectations
Optimising the new normal (virtual clienteling)
Simplifying solution adoption
Here at Appointedd, we exist to understand the nuances of your business and collaborate with you to seize these opportunities. By using our smart scheduling system, we have helped our clients – including two of the Big 4 – create seamless client journeys, enabling staff to spend less time on manual scheduling, and more time collaborating with clients, accelerating company growth.
Accelerating the drive for internal efficiencies
Financial service providers do not have any easy job, particularly at the moment, with economic fundamentals such as consumer spending, borrowing and confidence changing rapidly, resulting in significant turbulence. This unsettling of once reliable revenue streams, paired with the rising costs of dispersed operations has reignited the drive for enhancing internal efficiencies and productivity. The stress test of the national lockdown has clearly identified areas of operations that have struggled to adapt, particularly in areas that have relied on extensive manual processing.
Arguably the largest enemy of healthy utilisation rates are the time consuming administrative tasks, reducing billable hours and having an immediate impact on the bottom line. According to research by MsKinsey, the average professional spends 28% of their day reading and answering emails, with another 14% spent on internal communication. One of the most time consuming administrative tasks is the back and forth required to organise both internal team and external client meetings. In our own experience, a global client calculated that to confirm an external meeting, it required an average of 18 back and forth emails. Accepting these manual tasks as a simple reality weighs down client facing staff, limiting their billable hours.
Working closely with financial institutions, Appointedd enables end-to-end digitisation and modernisation of a manual scheduling process via our leading online booking technology. By making consultants seamlessly bookable online and with two-way calendar synchronization, consultants can continuously communicate availability with clients, eliminating the need for those long email chains. Using our ROI generator, you can calculate just how much revenue you can generate by streamlining client scheduling with Appoinedd – a solution that has been tried and tested with the world's largest professional service organisations. Throughout early 2020, in response to the new lockdown restrictions, Appointedd assisted one of the big four consulting firms move all in-person appointments online. In less than an hour, Appointedd overhauled an entire team's operations allowing them to achieve some fantastic results.
Increasing the booking conversion rate across all clients to 94%.
Achieving a 40% increase in overall appointments booked.
Increasing department efficiency by 35%.
Bookings made in only 7 seconds.
When 100% of bookings are made with Appointedd, 0 hours are spent on manual scheduling.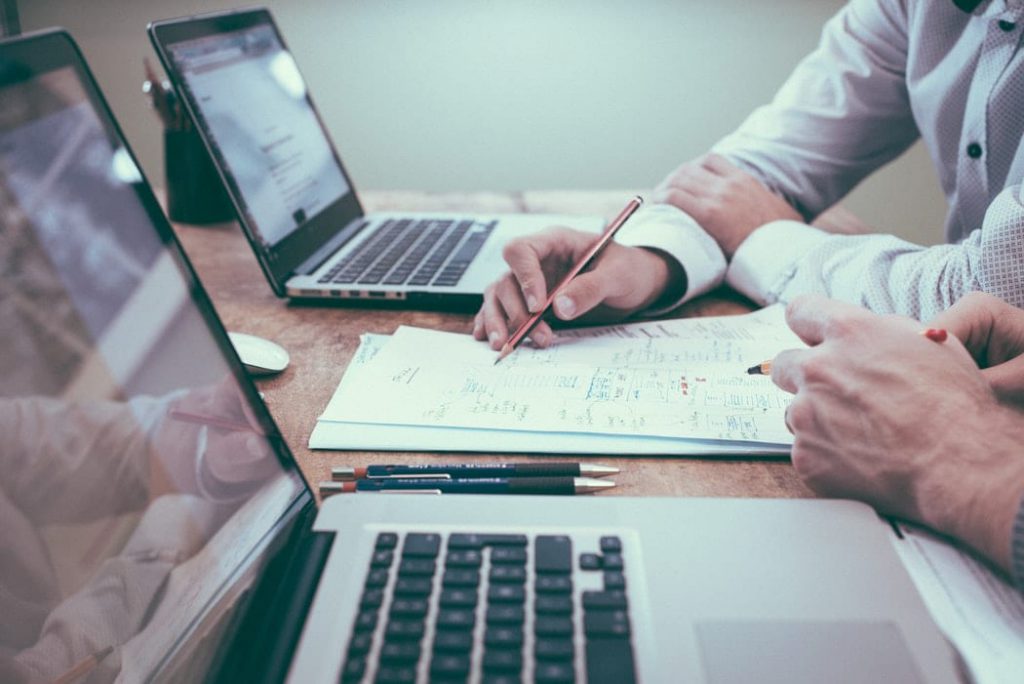 Flexing to meet evolving clients expectations
It is clear that throughout lockdown, everyone from primary school children, to pensioners have adapted to the increasingly digital environment. With us all relying so heavily on digital solutions over the past year, the digital expectations of consumers and clients alike have evolved fundamentally. Recent research found that this heightened reliance on digital means that clients expect service providers to deliver a seamless and personalised digital experience, with an emphasis on seamless. It's no secret that as digital transformation touches near every part of life, we become less patient and expect more. With 70% of consumers willing to consider alternatives when it takes more than a few clicks to access what they want, and 65% willing to do the same when the website is too slow, it is clear that a seamless digital experience provides a vital competitive edge. So would you expect your fee paying clients to navigate manual contact forms or long email chains to book an appointment?
At Appointedd, we understand the monumental importance of providing your clients a seamless journey, from the very first click That is why our evergreen booking technology provides your consultants the flexibility to present customisable booking tools to clients when they're most likely to make a booking. Embed consultant booking tools into your website, set up a personalised microsite for teams or include links to book a consultation in your email footer. Working with several international financial service providers, our multi-time zone and multi-language functionality allows consultants to effortlessly engage a global clientele. Clients can view and book appointments in their local timezone and native language. Every consultant in your team also has the ability to operate in a different timezone, independent of the business and the rest of the team. To further impress your clients, you can further streamline communication with our automated comms functionality, allowing you to send booking confirmations, reminders and follow-up emails, to maintain consistent touch points with negligible time invested.
That's how, when working with Appointedd, several financial service firms have:
increased appointment attendance to 98%,
increased booking conversion to 94% across all client services.
Optimize the new normal
The rate of change over the last year has been self-evident. Working from home, how we communicate, connect and create. Many are coming to the realisation that to adapt and thrive in this new environment, rapid evolution is required. A flexible return to office is littered with complications, many of which lay hidden beneath the water line. In our article 'Flexible return to office – how to mitigate the hidden complexities' we discuss the polarising intentions of employees in relinquishing the flexibility of working from home. But what is clear, is that clients are people too, that also want to maintain the advantages of this new normal. Moving forward, it is clear that clients want the flexibility of options, whether to meet in person or virtually.
That's why Appointedd's online booking tools integrate with video conferencing platforms Zoom and Microsoft teams, allowing clients to book your consultants in as little as 7 seconds. Automatically generating virtual meeting links, sharing them with automated comms and updating with any relevant changes removes the barriers between consultants and clients, letting your client-facing staff focus on delighting your clients.
Simplifying solution adoption
Financial services are often unfairly branded as large, slow and traditional organisations stuck in their ways. Whilst most evidence leads to the contrary, including the aforementioned digital transformations, there is slight truth to these preconceptions. Change management is often hugely complex and it's no wonder. With organisations built of many moving parts, running the length and breadth of the business, disturbing this rhythm and flow can either be hugely disruptive or unlock greater possibilities.
Understanding the idiosyncrasies of our financial service clients allowed us to develop world leading scheduling software that enables access to said opportunities, whilst requiring minimal change management. With over 30 integrations with leading business management applications, your digital transformation can be fast and simple. Appointedd works with your existing tools, shares information, and saves time all while you maintain the quality of engagement with your clients. As experts in our field, working across industries, we collaborate with every client, creating a bespoke solution for your exact needs. With Appointedd enterprise clients receiving a named account manager, we ensure our solution is implemented seamlessly and efficiently, as well as operating to its fullest potential.

If you would like to learn more about how Appointedd's online booking tools can enable your financial service firm to capitalise on these post lockdown opportunities, you can book a consultation call with our team here.
International Women's Day 2021
As a female-led organisation, we're always delighted to take a moment to stop and celebrate the great success, progress and ambition of women in the workplace. At Appointedd, we believe wholeheartedly in creating an inclusive, equal and equitable workplace where successes are celebrated regardless of background.
We love this year's theme to "Choose to Challenge" – we align to the statement that a challenged world is an alert world and from challenge comes change, and at Appointedd, we always choose to challenge.
There are so many initiatives, attitudes and approaches to celebrate IWD and today, we wanted to ensure we put a spotlight on celebrating women's achievement across the Appointedd community by featuring the amazing female-led businesses that we power with online booking.
Charlotte Tilbury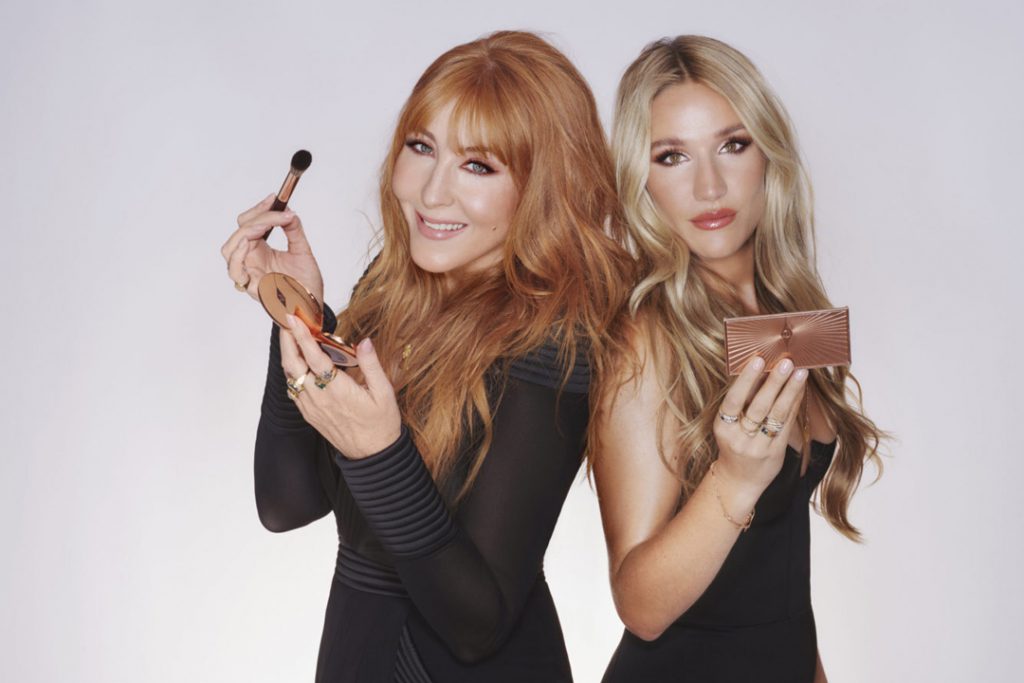 Launching in 2013, Charlotte Tilbury set up her own beauty brand which has grown to exist across the UK, US, Canada and Europe. At Appointedd, we've partnered closely with Charlotte Tilbury since April 2020 to deliver virtual consultations and masterclasses.
As a female-founded business, we are always delighted to work with fellow female-led organisations, and they don't come much more glamorous than this! We love this line, which beautifully sums up how we love to work and how we feel this International Women's Day "Dare to dream, make it happen, break all the rules."
Check out Charlotte Tilbury's bookable experiences here.
Sligo Speech Therapy
Faye Godsell established Sligo Speech Therapy in 2012 to provide assessment, therapy, training and consultation to families, schools and organisations. In April 2020, Faye grew her team by welcoming Aisling Burke, and together they continue to support the growing numbers of families and organisations that benefit from their services.
Faye joined the Appointedd community when she introduced online booking for 9 services that are offered via her website. Faye said:
"Appointedd helped us meet the needs of all families who wish to access our services online. Covid-19 presented many challenges for my business, but Appointedd empowered us to adapt. I love that Appointedd has so many strong females on their team. I am regularly in contact with the Appointedd Team who have been so helpful and contributed towards our online booking success. I love Appointedd – two female founded businesses supporting each other is something that is very special to me."
Dreamee Teepees
Tara is a business owner and mum to five boys! With five dedicated little helpers, Tara runs her own business from Leeds, West Yorkshire. Tara started her very own sleepover party business after she was helping her eldest son look for an unusual way to spend his 9th birthday. The idea of a sleepover in a den was how Dreamee Teepees began.
Three of Tara's five sons have a rare lifelong blood condition called haemophilia, so starting their very own sleepover party business was the perfect option for Tara and her family.
"Dreamee Teepees enables me to give the boys the attention they need whilst also being able to pay the bills too, and what better business to have than one that my son and I came up with together? Being part of Appointedd's community has given me so much more flexibility, I spend less time booking people in via the phone, people simply book online. It's really taken off!"
Tara is now using her knowledge and expertise to coach other women to allow them to have the freedom to work around their family commitments. Check out www.dreameeteepeesacademy.com
Glow Tanning and Beauty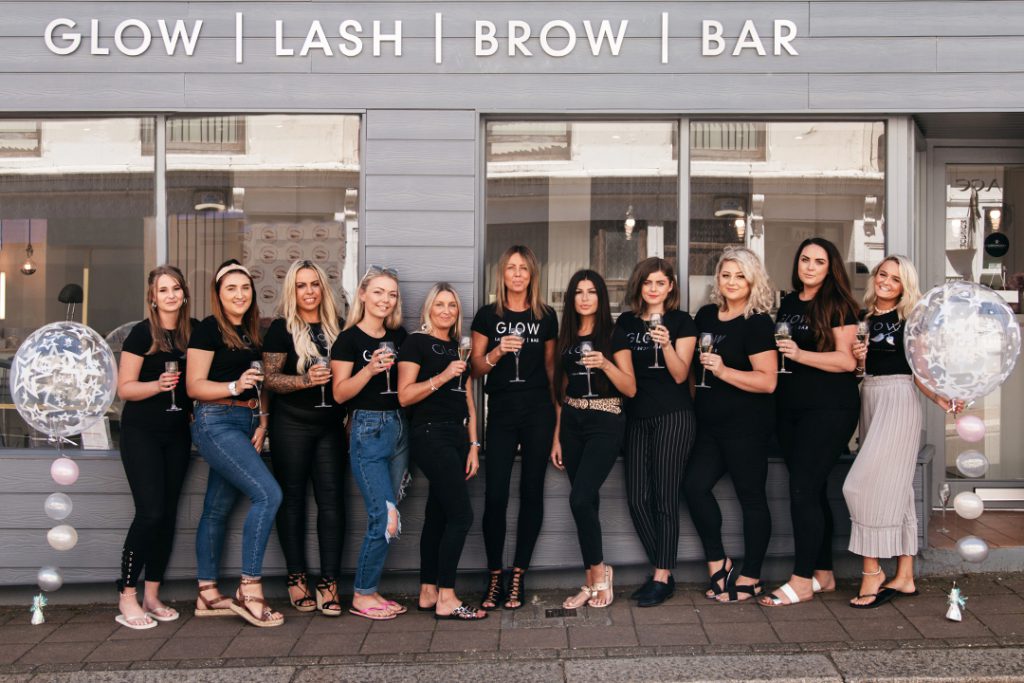 It's been 7 years since Lisa Watson founded Glow Tanning Nails and Beauty in the heart of Cornwall, England. Lisa and her team provide acrylic nails, spray tans, facials, massages, manicures, and pedicures to a whole host of customers.
With the help of Appointedd, the business has grown year on year and enabled Lisa to open a sister salon, Glow Lash & Brow Bar, in 2019. Glow Lash & Brow Bar specializes in eyelash extensions, dermaplaning, microdermabrasion, makeup, and brow treatments including microblading. It even has a gin and prosecco bar, so they've added makeup pamper and fizz bookings to their ever growing list of services bookable via Appointedd!
Lisa says:
"I love the marketing research element of Appointedd which has been fantastic for performing customer integration charts, and working out who the most loyal customers are. I also love how you can really get a strong idea of how our business is performing and the popularity of particular treatments and beauticians."
Red Ant
Red Ant has been delivering innovative technology for some of the world's best retail and lifestyle brands for the past 20 years, and we are delighted to partner with them to elevate our joint proposition: enabling retail customers to connect with amazing brands from the comfort of their own homes.
Together, we power the female-led Charlotte Tilbury with amazing technology, which you can check out in action here.
Like Appointedd, Red Ant is led by a female CEO, Sarah Friswell – Sarah said:
"It's great to partner with a business that is as diverse and inclusive as Appointedd. We share not only values, but our aim to make experiences more accessible to retail customers. We're proud of what we have achieved together with Charlotte Tilbury, but it doesn't stop there. We are planning on working with more leading retail and lifestyle brands in the coming year"
You can read more about Red Ant and Appointedd here.
Appointedd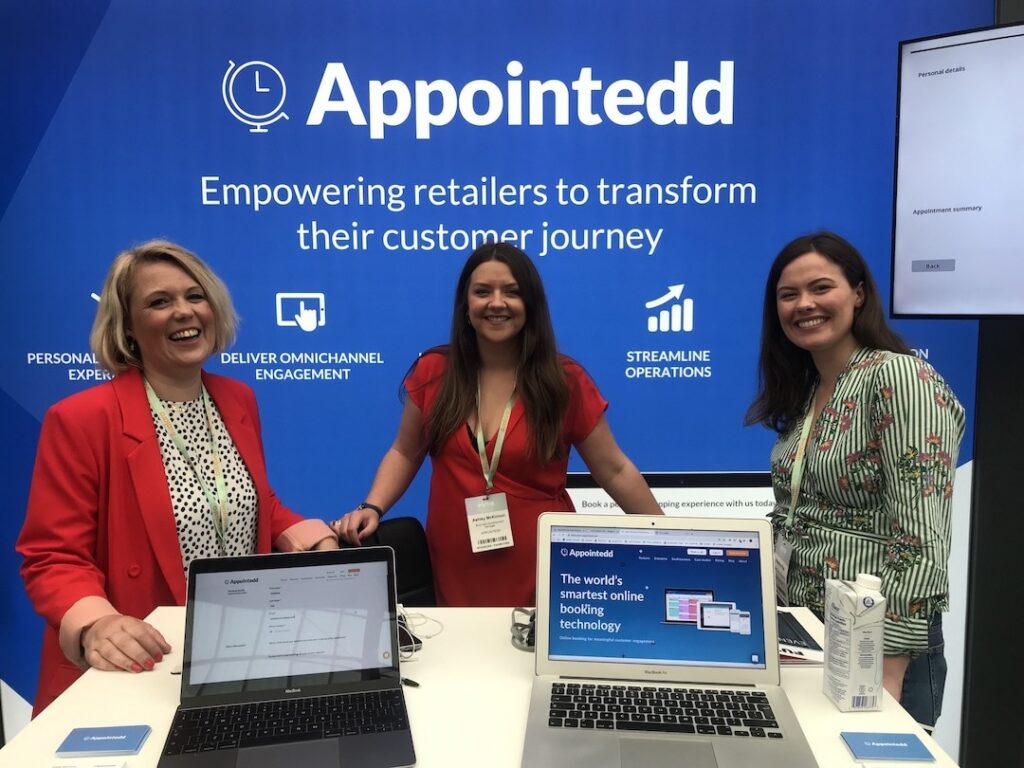 Leah Hutcheon is Founder & CEO of Appointedd. Leah was a former magazine editor and comedy producer who started Appointedd because she struggled to find the time to book hairdressers appointment. There was a real gap in the market for 24/7 online booking, and that's when Appointedd was born.
Leah's tech startup now powers some of the world's best brands who connect with their customers via bookable experiences. Leah said:
"International Women's Day is so important because I think it starts the conversation for us. I know for Appointedd, as a team its prompted us to talk about amazing women; the businesses we mention here are just a handful which are led by strong, passionate women. There's hundreds and thousands of them and IWD is a chance to really celebrate all the hard work that is being done."
Leah has many accolades under her belt. She was previously named NatWest UK Small Business Entrepreneur of the Year and a winner of a Scottish EDGE Award, as well as featuring in a BBC documentary on entrepreneurship.
Product Day with Team Appointedd
Coming together as a team is something which we all know is important, but in a remote world, some hurdles exist to this happening in a way that we're used to. However, on Friday, Team Appointedd came together as one to reflect on the year that's passed, our achievements and struggles, and to look to the future and the excitement and great opportunities that await us.
We kicked off the day with an introduction from our Founder and CEO Leah Hutcheon, who shared some fabulous success stories from businesses who've used Appointedd to survive and thrive in 2020. We reflected on how our product, team and business has changed and evolved over time – consistently pushing ourselves out of our comfort zone to go above and beyond. With change as the only constant, of course it hasn't been easy, but we took a step back to reflect on the incredible growth and impressive graphs which show the massive up-tick in booking numbers, particularly in the last year.
The number of bookings taken via Appointedd between Dec 2019 and Oct 2020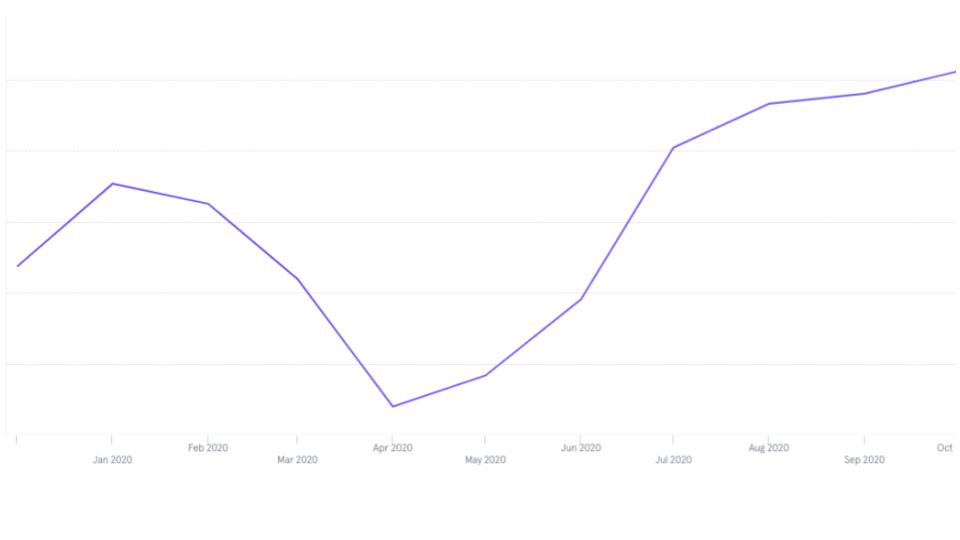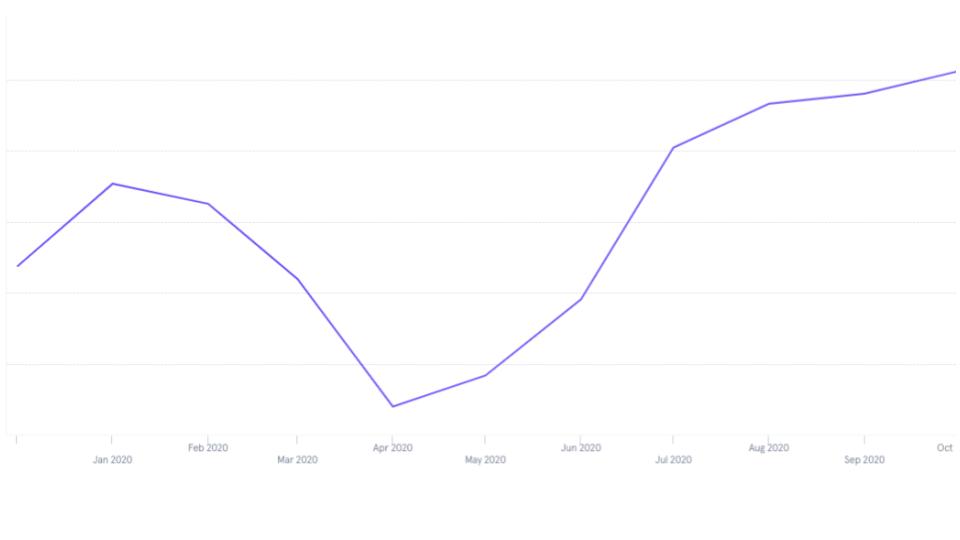 We then spent some time reflecting on our product roadmap – what's worked well and less well over the past few months. If 2020 has taught us one thing, it's not the strongest that survives… it's those most adaptable to change. As an organisation, we've been reading up and reflecting on how we can best iterate and respond to these changes as we build, develop and enhance our product.
We reflected on the creativity of our clients and how they have used Appointedd's product to meet the "new" needs of their customers. Leah shared the ins and outs of how luxury beauty retailer, SpaceNK meet their customers virtually, whether that be in-store or at home. They limited in-person interactions but built genuine customer relationships via face-to-face consultations, masterclasses or events – all powered by Appointedd ? I think we all had a 'pinch yourself, you're not dreaming' moment when reflecting on just how many companies we helped adapt (and survive) in 2020, from leading retailers like Charlotte Tilbury and Furniture Village, to the NHS trusts and two of the Big Four accounting firms.
We even powered a virtual beauty masterclass hosted by Pat McGrath Labs x Naomi Campbell!
After a wee coffee break and some time away from Zoom (more important now than ever!) we re-grouped to go through our customer journey, from marketing, business development, account management, legal, compliance, implementation and growth, hearing from everyone who gets involved at different stages of the journey and understanding how we best serve our customers. We've seen this evolve drastically in 2020 as businesses are faced with urgent and ever-changing restrictions and deadlines to get set up to deliver virtual services and ensure they are fully equipped to face a remote-first world.
Throughout the day, we had our "Wall of Love" live – where each person in the team had a page for colleagues to share appreciation, shout-out and thanks for that individual's hard work, efforts and contribution to the team. This grew and grew throughout the day with countless stories of where the team have gone above and beyond.
After another wee Zoom interval, we took to our screens for a superb session with our CTO Greg Dickson and Account Executive Eszter Boldog on advanced widget usage, developing our understanding of how customers can utilise our booking widgets to enhance their customer experience and online presence. The seemingly endless opportunities that our booking functionality offers was a real eye-opener and left us all feeling very excited about helping our customers to use Appointedd in the best way possible.
Next up, lunchtime – a wee break for fresh air and sustenance, and for some of us, an exciting knock at the door as our Sips cocktails arrived – more on that later (time to pop them in the fridge for now…).
There was no danger of a post-lunch slump for the team as we did a deep dive into our new dynamic comms functionality – allowing our clients to take control of their email content. We then had an insightful overview of our Infrastructure and learnt about some of the new technologies we are using from the newest member of our team, Software Developer Helena Kolberg.
Friday the 13th isn't necessarily a day that superstitious folks might choose for a team day, but we were not deterred – in fact we took action to individually reflect on what we feel lucky for: from family, great colleagues, mobility, a lack of boredom, fabulous customers… it was a long list that left us all feeling very grateful.
To wrap up the day, Greg and Leah gave an overview of basecamp's Shape Up – a book by Basecamp which looks at the product management life cycle and how we structure teams and development around this. All the while, the Wall of Love was filling up!
The wrap up
We wrapped up the day and came back together for a team chat and debrief, before a quick costume change for some and a nip to the fridge to tuck into our Sips cocktails.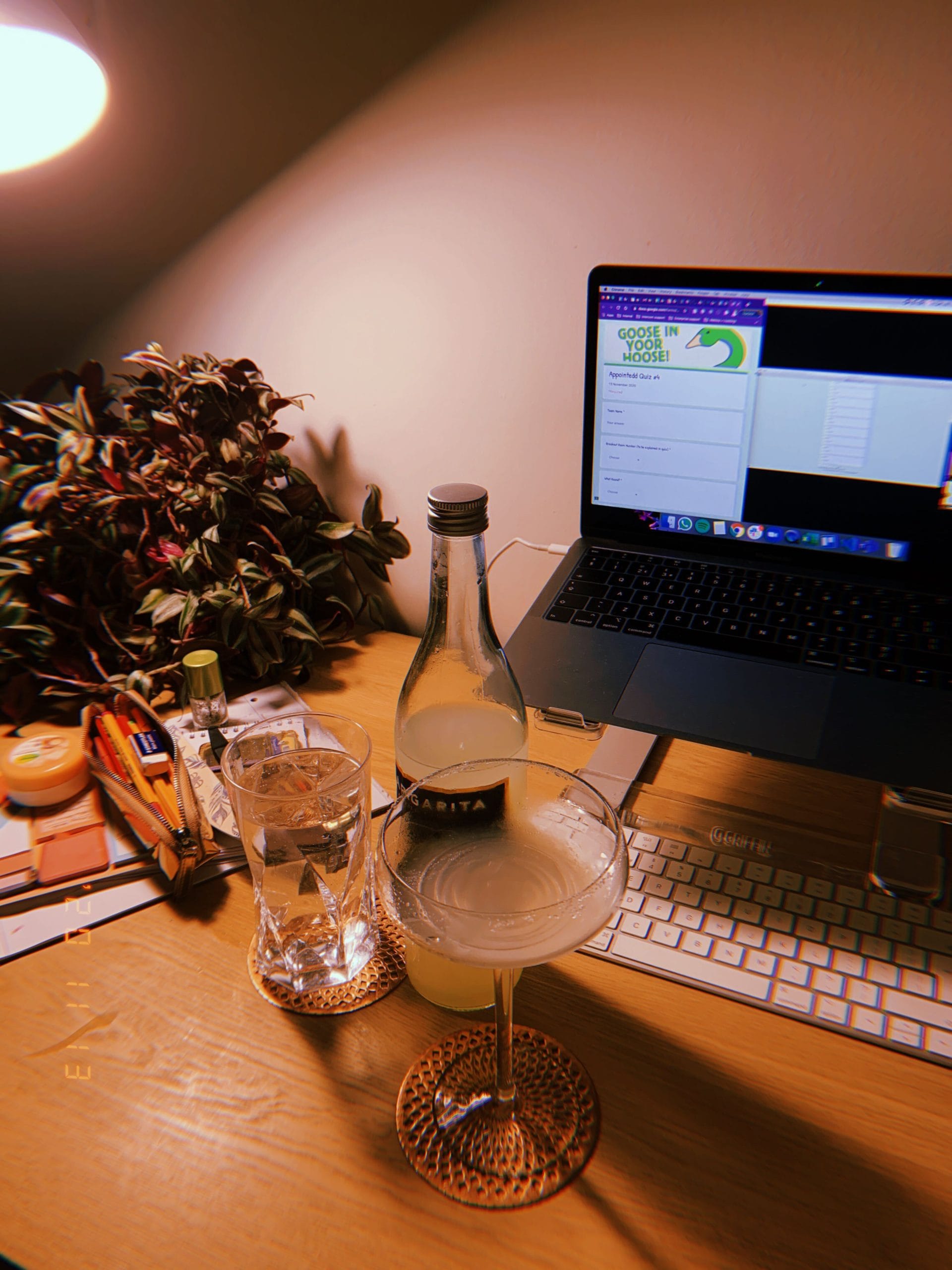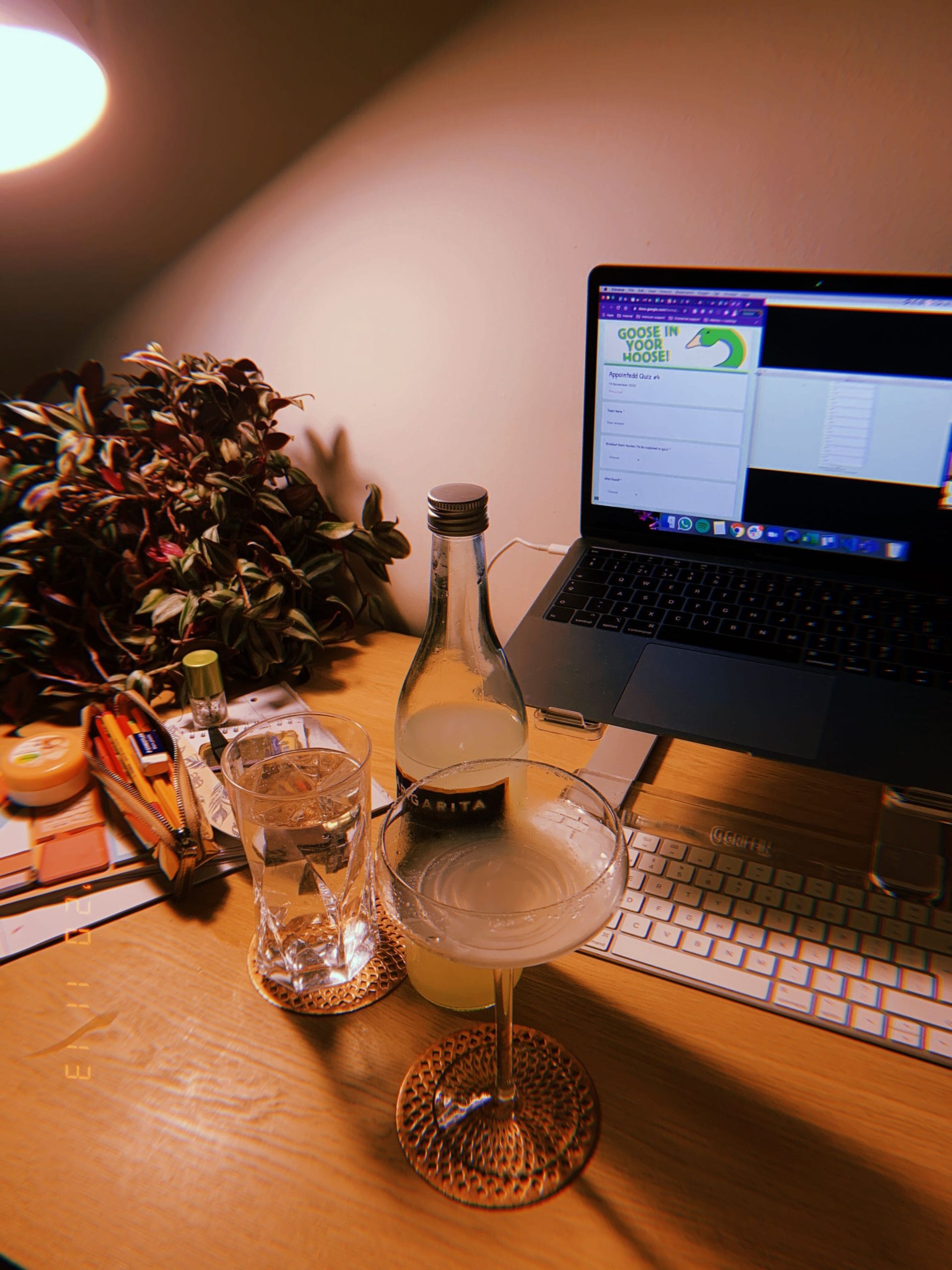 At 6pm, we were joined by Goose's Quizzes for a fab session of flexing our general knowledge muscles and a music round which saw some truly dazzling Appointedd dance moves. We wrapped up the evening with some Quaraoke (Quarantine-Karaoke) and some members of the team even treated us to some live music. An excellent end to an excellent day which left us all feeling thankful for a great team and very excited for the future.