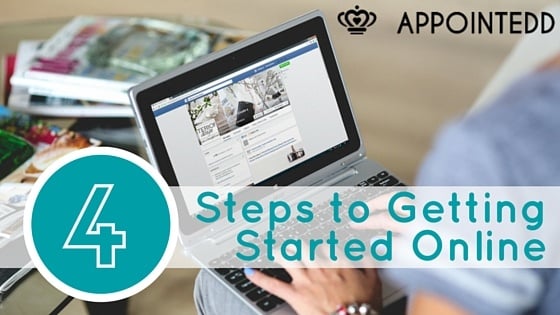 "The secret to getting ahead is getting started" – Mark Twain
We know starting a small business can be challenging: you're probably contemplating whether it's the right move for you right now. Well, let us reassure you, here at Appointedd we know there is nothing more rewarding than when you LOVE what you do!
The online component of your business may come as an afterthought, but in an ever growing digital world – where we have more information than ever at our fingertips – you simply can't afford to miss out. After all, when was the last time you used the Yellow Pages or a phonebook to search for anything?
To get you started, we've put together a few essential tips to help you on your way to becoming an online pro. If you're an entrepreneur or a small business owner and want to grab bull by the horns (technologically speaking) then listen up, because this is for you!
1. Unlock the power of social
We understand that small businesses sometimes feel like they're talking to an empty room when engaging on social media. And although social media is free, your time certainly is not!
So, how do you make social media work for your business?
A fantastic rule of thumb is to stick with one platform and don't jump into another until you have conquered the first. The worst thing you can do is to start a page only later to abandon it with your prospective (and current!) customers left stranded at sea.
Instead, ensure you have some killer content to distribute to your followers on a consistent and regular basis. You don't even have to produce the content yourself, there are some awesome RSS feeds, like Google Alerts, that you can use to curate a list of content ready for distribution.
Also – sorry to be abrupt – but don't forget the bottom line! How else do you really know if you efforts are paying off? It's great your customers are engaging with you, but engagement doesn't pay the bills. So give your customers the opportunity to book online, or sign up to your service as they engage. When you use Appointedd you can harness the power of a widget embedded on your Facebook page, for example. Be sure to check out our guide on how to take bookings from your Facebook page to help you get the most out of your social media efforts.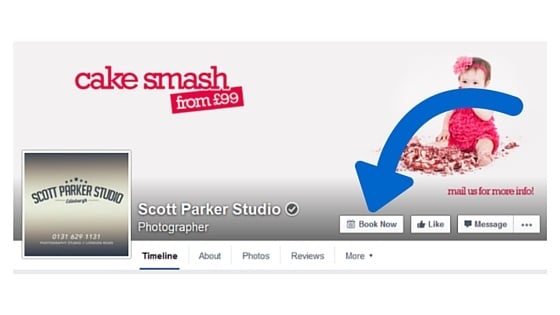 2. Build a customer friendly website
Think about what you're trying to achieve here for a minute. Are you building the website for yourself or the customer?
It's too easy to get carried away in the excitement of creating a new website to supplement your shiny new business, so be sure to put yourself in your customer's shoes when you're building it. This will help to keep yourself in check. Is the necessary information (e.g. location, phone number, price) easily accessible? Do you have a clear call-to-action so the potential customer can easily book online? If you're using Weebly and operate a booking-based business, then you're in luck! Using Weebly's drag-and-drop feature, you can add an Appointedd booking button in seconds. Meaning you can create a live online booking microsite for your business. It's that easy.
One more thing, don't forget your main strength as a small business – your personality!
Although you need to clearly and effectively communicate your business proposition to potential customers, this doesn't mean you need to be overly clinical. Humanize your website with fresh and up to date content or colorful staff profiles – what's important is that the user enjoys the online experience you've created!
3. Local SEO…
OK, so what the heck is "local SEO"?
By strict definition: it's a form of internet marketing, allowing you to promote your business to local customers using search engines like Google and Yahoo.
Sounds serious, I know! But, if you're not on the first page of the search engine then you literally may as well be hiding from your customer.
To help you maximize the effectiveness of your online efforts, we recommend starting with these little gems:
Local keywords optimization
The reality is you're competing with hundreds of businesses in your sector to be seen on the first page! To differentiate yourself in the eyes of the search engine, be sure to subtly optimize keywords specific to your location that will resonate with those in your local community.
Make your website responsive
By having a responsive website design your site will be able to adapt to the screen size of any device. With a growing number of people purchasing goods and services on mobile, it's vital you don't get left behind.
Content, Content, Content
By this stage I probably sound like a broken record, but without fresh and relevant content you'll quickly find yourself dropping down the search engine rankings. To ensure this doesn't happen we recommend keeping a weekly blog to help keep your prospective and current customers engaged.
For more insights into how to improve your general SEO score, just check out the Weebly Help Center!
Automation is key!
Everyone has to start somewhere, so take your time and build from the ground up. Part of making sure you have the strongest foundation in place is ensuring that you have the best technology at your disposal. There are management softwares you can use to help automate administrative tasks allowing you to focus on what really matters – growing your business.
Enter Appointedd! If there's an annoying bugbear you have about running your business, the chances are we've thought of it too, and done our best to solve it. With Appointedd's online booking and management software you're able to control the entirety of your business from a single application. From allowing your customers to book online, to producing financial and productivity reports on business activity, to syncing your calendars into one appointment book, to allocating resources, to automating marketing emails and SMS messages… Appointedd has you covered. Soon you'll find that your business will be working for you!
If you need more inspiration, you can find a treasure trove of tips and resources right here on the Appointedd blog. So if you're ready to take your business online, there's no reason to wait. Time and tide and twitter wait for no man, as they say.
Over to you.
Good luck!
Published on 18 March 2016