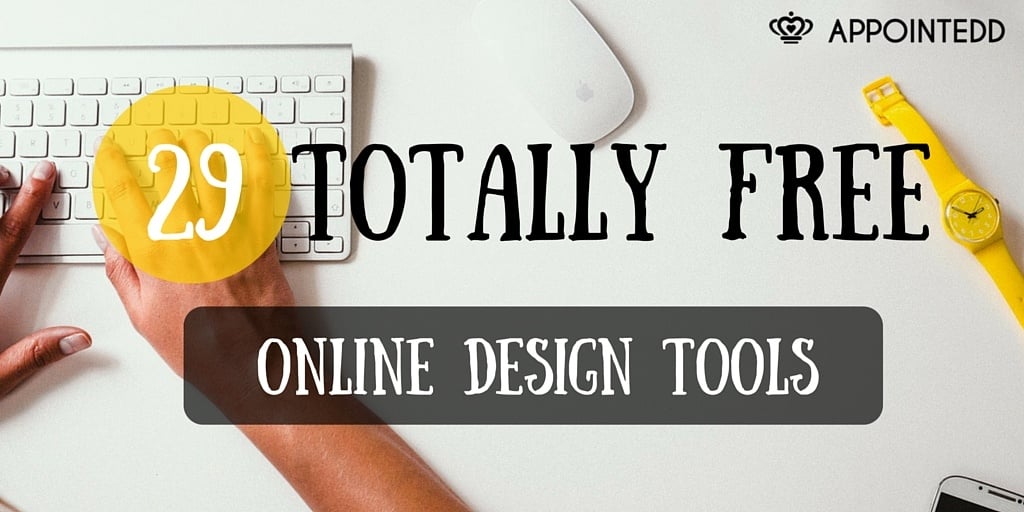 Time for a little treat!
Designing and branding your business online can seem like a mega task. But hey, it's an important one! So where can you find all the best FREE tools out there, without trudging through 1000s of Google pages? Well right here with us at Team Appointedd of course!
Looking for free photos to use on your website, social media and emails etc. but don't know where to find them? Want to create your own brand, logo, and unique designs that fit with your brand?
Well, look no further because we're sharing with you all our secrets and tricks of the trade. Feast your eyes on this big fat list of 29 totally free online design tools. What's more, is that we've tried and tested them all and brought the best ones to you now.
A little prezzie from us at Appointedd.
FREE STOCK PHOTOS
To use anywhere, anyhow, any which way you like
FREE NOTE-TAKING
Take notes and organise your ideas on the go
FREE TASK MANAGERS
Create and manage all your tasks for you and your team
FREE INFOGRAPHIC CREATORS
Create gorgeous visual infographics to promote your business
FREE LOGO MAKER
Design your own logo for your business
FREE WRITING/ BLOGGING TOOLS
See how successful your blog headlines will be with a score
CoSchedule – Headline Analyser
FREE FONTS
WhatTheFont – Find out what any font is
GOOGLE FONTS – Free downloadable font selection
Font Squirrel – Free downloadable fonts
SCREENSHOTS/ ANNOTATING
Take screenshots of your laptop and add arrows
FREE DESIGN TOOLS
Eye dropper – find out what the hex code for any colour is
Palette for Chrome – make a colour palette from any photo
HTML colour picker – for selecting colours to use for branding online
FREE ONLINE MARKETING/ SOCIAL MEDIA POST CREATORS
FREE TOOLS TO HELP CREATE IDEAS
Sumopaint – online paint
Pixlr – online photo editor
FREE ICONS
Search and use handy icons for your online business
WEB DOMAINS
LeanDomain – search for website name and twitter name too

So there you have it! 29 totally free online design tools, just for you. Go ahead, start using them and let the world know where you found them!
Have you got any more gems to add to this list?
Published on 2 February 2016